Has already achieved initial goal of attracting 300 tenant companies to Valley by 2018: revising new goal of attracting 350 tenant companies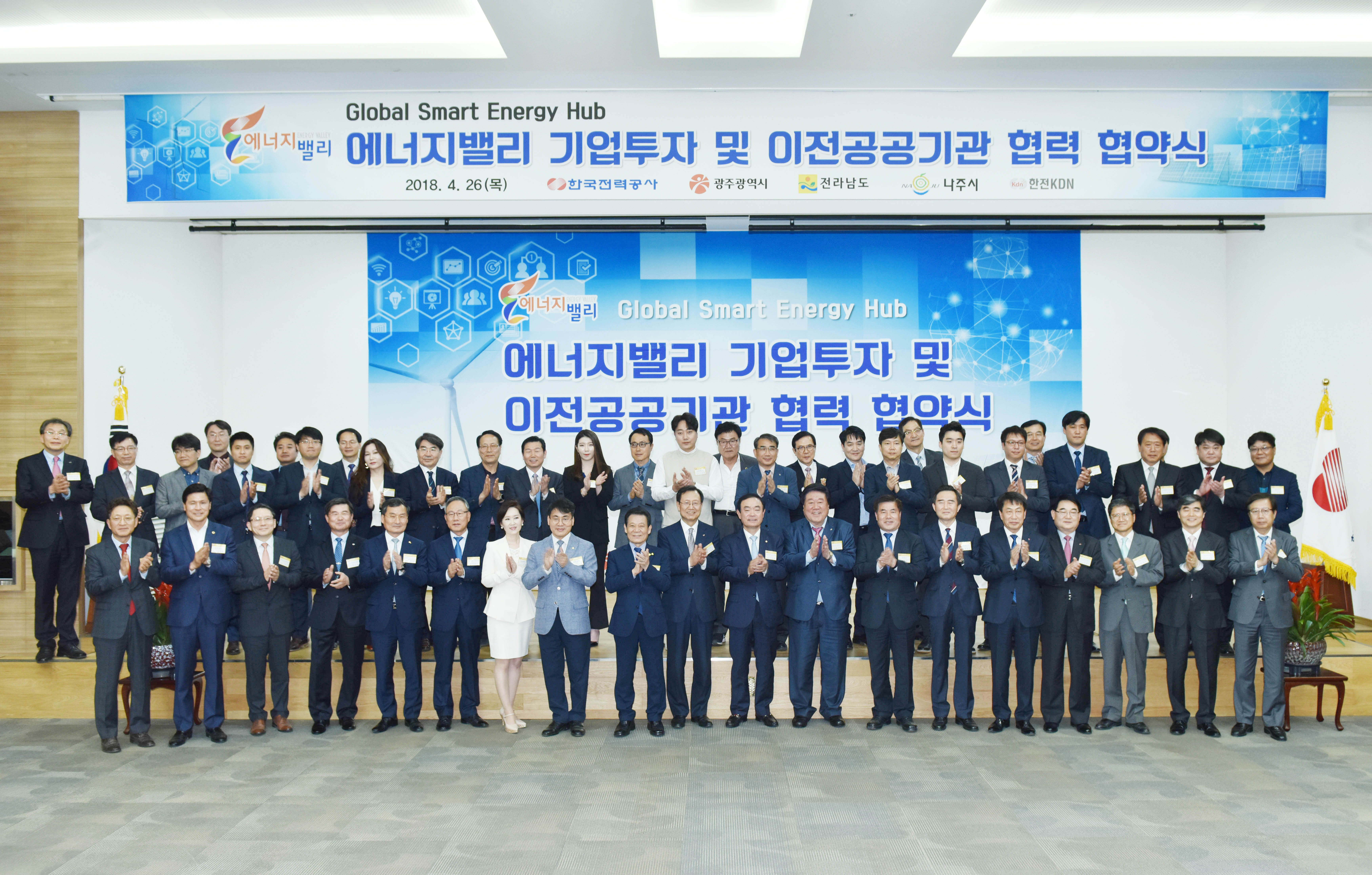 Dignitaries, including KEPCO President Kim Jong-kap, and Chairman Chang Byung-wan of the National Assembly Trade, Industry, Energy, SMEs and Startups Committee, participate in a ceremony in which Korea Electric Power Corp. (KEPCO) signed MOUs on investment into the "Energy Valley" in Naju, Jeollanam-do, with 30 companies at KEPCO headquarters in Naju on April 26. (Photo: KEPCO)
Korea Electric Power Corp. (KEPCO) signed MOUs on investment in the "Energy Valley" in Naju, Jeollanam-do, with 30 companies, including LG Electronics and Enornoc Korea, in cooperation with the Gwangju Metropolitan City government, Jeollanam-do provincial government and KEPCO KDN.
Among those present on the signing ceremony at the KEPCO headquarters held on April 26 were KEPCO President Kim Jong-kap, Chairman Chang Byung-wan of the National Assembly Trade, Industry, Energy, SMEs and Startups Committee, Gwangju Mayor Yoon Jang-hyun and Acting Jeollanam-do Gov. Lee Jae-young.
The new signatory companies bring to 310 the number of companies who have signed MOUs to invest in the Energy Valley. Accumulated investments stand at 1.267 trillion won so far, and they are expected to have an impact of creating 8,142 jobs.
KEPCO has unveiled a vision of attracting 350 tenant companies by 2020. KEPCO, one of the nation's largest public entities, has already surpassed an initial goal of attracting 300 companies to the valley by 2018 on the back of regulatory reform by the local governments and KEPCO's active support.
KEPCO, having revised upward the goal of attracting tenant companies, is implementing diverse projects, including ones to attract more companies, build infrastructure, and develop manpower in cooperation with the local government and related organizations.
Among the latest signatories are 20 companies specializing in such new energy industries as power ICT and ESS. Out of the total, 12 have already begun to invest by signing land contracts, contributing greatly to building a new energy industry cluster and enhancing execution of investments.
On the same day, MOUs on the establishment of an energy-oriented convergence industry eco-system were also signed among Korea Rural Community Corp., Korea Internet & Security Agency, National Radio Research Agency, and Korea Communications Agency ― the four ICT and agricultural life science institutions relocated to Naju, the innovative city of Gwangju and Jeollanam-do.
The agreements call for attracting companies related to the Energy Valley and exploring convergence tasks in such areas as information security, consulting, and water photovoltaic power.
KEPCO President Kim said, "The Energy Valley is an exemplary practice of reinvigorating the regional economy through relocation of public entities, and it will be made into an innovative hub creating Korea's new growth engines contributing to reinvigorating the regional economy and creating jobs by attracting companies creating jobs and added values and accelerating establishment of a new energy industry eco-system based on a support system tailored to meet corporate views."
Chairman Jang of the National Assembly said a legal foundation on the establishment of the Energy Valley has been secured with the enactment of a special act on new energy industry convergence, which went into effect last December, and enforcement degrees, including the ones concerning supporting investment companies, are to be promulgated in June, so that the Energy Valley project will be accelerated more than ever.
Gwangju Mayor Yoon said the municipal government will not spare any efforts to establish an energy-oriented convergence industry eco-system by ramping up solidarity and collaboration with local governments and relocated public entities in order to create future bread winners and good jobs.
Acting Jeollanam-do Gov. Lee said he extended congratulations to KEPCO President Kim's taking office and expressed hope the energy industry in Gwangju and Jeollanam-do will make great strides. Lee said he was sure that a leap into a global "energy valley" will be accelerated with the enactment of the special law, calling for fresh government support.
한국전력(대표이사 사장 김종갑)은 4월 26일 본사에서 광주광역시(시장 윤장현), 전라남도(지사권한대행 이재영), 나주시(시장권한대행 조재윤), 한전KDN(사장 박성철)과 함께 LG전자, 에너낙코리아 등 30개 기업과 함께 에너지밸리 투자협약을 체결하였다.
이번 30개사와의 협약 체결을 통해 한전은 누적 310개사와 에너지밸리 투자협약을 체결하였으며, 누적 투자금액 1조2,678억원과 8,142명의 고용창출 효과를 예상된다.
한전은 2020년까지 500개의 기업유치 비전을 제시하고 2018년까지 300개의 기업유치 목표를 수립한 이후 지자체와 정부의 에너지산업융복합단지 특별법 및 혁신도시특별법 등 관련 법제도의 제·개정에 따른 우호적인 투자환경 조성과 함께 한전의 적극적인 기업투자유치 활동을 통해 기업유치 목표를 초과 달성하였다.
올해는 기업유치 목표를 350개로 상향 조정하고 광주광역시, 전라남도 및 관련 유관기관들과 함께 기업유치부터 인프라 구축, 인력양성에 이르는 다양한 분야의 협력 사업을 추진 중이다.
이번 협약에 참가한 30개 기업 중 20개사는 전력 ICT, ESS 등 에너지신산업 분야 기업이며, 12개 기업은 이미 용지계약 등을 통해 투자를 실행한 상태여서 에너지신산업 클러스터 구축과 함께 투자실행률 제고에도 큰 기여를 하였다.
또한 이번 협약식에서는 광주전남공동혁신도시에 이전해 있는 한국농어촌공사, 한국인터넷진흥원, 국립전파연구원, 한국방송통신전파진흥원 4개의 ICT 및 농생명 기관들과 에너지중심의 융복합 산업생태계 구축을 위한 업무협약도 동시에 체결하였다.
협약내용은 기관별 전문역량을 활용한 에너지밸리 연관기업 유치와 정보보안, 컨설팅, 수상태양광 등 에너지신산업 분야 융복합 과제발굴이다.
김종갑 사장은 "에너지밸리는 공공기관 지방이전을 통한 지역경제 활성화의 모범사례이며, 앞으로는 고용 및 부가가치 창출 위주의 기업을 유치하고, 기업의견을 반영한 지원제도를 바탕으로 에너지산업의 생태계 조성에 박차를 가하여 지역경제 활성화는 물론 국가균형발전과 일자리 창출에 기여하는 '대한민국의 새로운 성장동력을 창출하는 혁신거점'으로 조성해 나가겠다"고 밝혔다.장병완 국회 산업통상자원중소벤처기업위원장은 축사를 통해 "지난해 12월 제정된 에너지산업융복합 특별법으로 에너지밸리 조성사업에 대한 법적근거가 확보되었다고 말하고, 투자기업 지원 등과 관련된 세부 시행령이 올해 6월중 공포될 예정인 만큼 에너지밸리 사업이 지금보다 더욱 가속화될 환경이 구축되었다"고 말했다.
윤장현 광주광역시장은 "에너지중심 융복합 산업생태계 구축을 통해 미래 먹거리와 양질의 일자리를 만들어내기 위해 지자체와 광주전남공동혁신도시 이전공공기관 그리고 기업들과 연대와 협업의 끈을 더욱 단단히 하면서 행·재정적 지원을 아끼지 않겠다"고 약속했다.
이재영 전라남도 권한대행은 "한전사장으로 취임한 김종갑 사장의 취임축하와 함께 광주·전남의 에너지산업의 큰 발전을 기대한다고 말하고, 특별법 제정 등을 통해 에너지산업에 정부지원이 가능해짐에 따라 세계적인 에너지밸리로 도약하는 것이 빨라질 것으로 확신한다"라고 말했다.
<출처:한국전력>