President Nah Jae-cheol of Daishin Securities has been retained to serve a 4th term as CEO of the securities firm. The board met on March 5 and agreed to name Nah to his 4th consecutive term, which will be made official at a shareholders' meeting on March 23. His new term expires in March 2020. His first term as the CEO began in February 2012.
President Nah has been given credit for the company's stable growth by diversifying its operation over the past six years, which was a period noted for competition in making securities firms bigger.
In particular, he was given credit for both Daishin F&I and Daishin Savings Bank's stable earnings since being taken over by Daishin Securities, which came after Daishin Asset Management started turning profits last year.
South Korea's Daishin Financial Group is set to roll out new businesses to leverage its expertise to provide proxy advisory services to institutional investors who lack influential proxy guidance.
The company, which runs a securities and savings bank business, last month decided to expand a corporate governance research organization under Daishin Economic Research Institute to provide corporate governance solutions to the financial community. The company has already begun staffing the new unit.
The decision was inspired by U.S.-based ISS (Institutional Shareholder Services), the world's largest firm that examines the corporate practices of companies and advises institutional investors on how to vote on various company issues.
"Although the social environment is right for shareholder activism with the introduction of the Stewardship Code in Korea, institutional investors still lack infrastructure for exercising their voting rights properly," said Kim Ho-jun, who will lead the new organization. It will be renamed Daishin Corporate Governance Research Institute.
In Korea, only four to five companies including Korea Corporate Governance Service and Sustinvest are able to provide related proxy services.
"We are recruiting experts such as lawyers and accountants. Corporate governance consulting encompasses complex issues beyond voting right exercises and it requires deep domain expertise from legal and accounting professionals," he added.
The new organization has hired 17 additional analysts, investment bankers and consultants. The financial group formed a team under its research institute to study corporate governance issues three years ago.
In 2015, it completed an analysis of some 400 listed companies and expanded its research scope to 600 last year.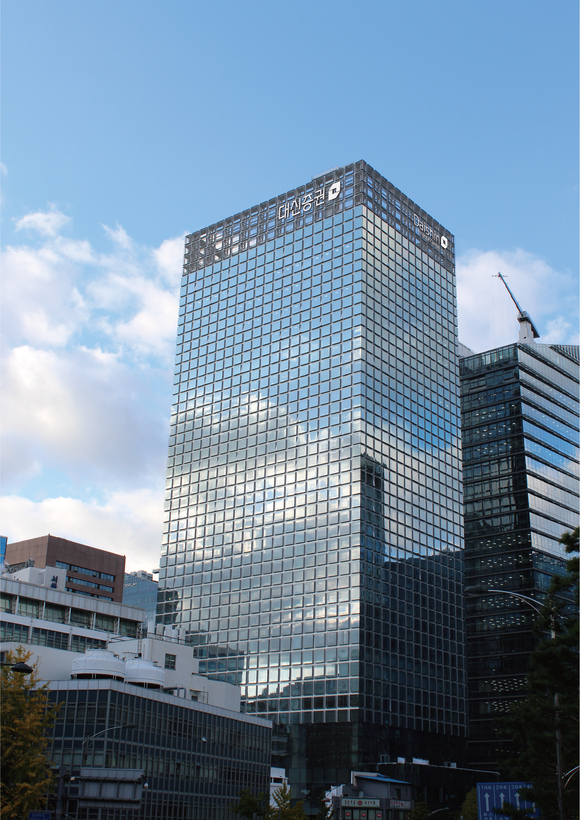 A view of the Daishin Securities Building in Myeongdong, downtown Seoul, where the securities firm has its head office.(Photos: Daishin Securities)