Korea Land & Housing Corp. (LH) President Park Sang-woo stressed the quality improvement of public apartment units built by LH. He is determined to reinvent the general misconception that public apartments are cheaper, but lack quality.
In a meeting with reporters celebrating his second year in office on April 5, LH President Park said, "Apartments being supplied by LH will be the ones deemed to be strong and have no faults down the road." "We've so far focused on supplying apartments cheaper to reduce unit prices, but from now on, upgrading their quality will be the buzzword."
To this end, he said, a "skill maestro system" has been introducing as a pilot program. The system calls for selecting seasoned experts with a career of 20 years or more in nine finishing work specifications, including wallpaper, waterproof and equipment installation, which have been identified as areas that need improvement. The experts will be dispatched to oversee and evaluate field crews and their work. LH is now studying a technician's grade system in which technicians who receive higher grades would be given a preference in landing jobs at LH sites, and the related database would be handed over to an association of specialized construction contractors, Park said.
President Park also revealed a blueprint to strengthen its public unit supplies as part of efforts to comply with the government's housing welfare roadmap.
"LH has recently supplied about 5,000 units annually with a focus on the building of rental houses, but we have to raise the number to up to 26,000 units in line with the housing welfare roadmap," he said. LH aims to build and allot two or three "Newly-wed Hope Towns" in the Seoul metropolitan area, President Park added.
LH will make all-out efforts to secure new housing construction sites in cooperation with the government and related entities. Securing new housing construction sites in the Seoul metropolitan area is the most important, and looking into the east, west, south and north of Seoul, they will be made sizeable, he said.
Asked about concerns over the financial burden incurred by the projects, Park said LH is implementing government policy projects, but they are carried out under the principle of "living within means." LH has a target of reducing its debuts from 76 trillion won late last year to a level of 60 trillion won this year, he said.
Replying to suggestions of creating housing areas substituting for Gangnam (south of the Han River) to stabilize housing prices there, President Park said unlike 20 years ago when Bundang was built as a new satellite city, Gangnam has no idle land, and the version of substituting for Gangnam is the same old story, and it is more desirable to prevent inclination into Gangnam by dispersing the area's functions like the development of Gangbuk.
President Park said LH will expand its rental houses' social functions. An exemplary case related to public rental units is the building of public facilities like child care centers plus the provision of jobs for the elderly, he said.
For instance, a rental house complex in the Yeosu District of Seongnam, south of Seoul, offers diverse facilities and services, including state- and public-operated joint child care center, a mom's cafe, a small library, a home for the elderly, a vegetable garden, and car pool system. A home delivery start-up was also launched.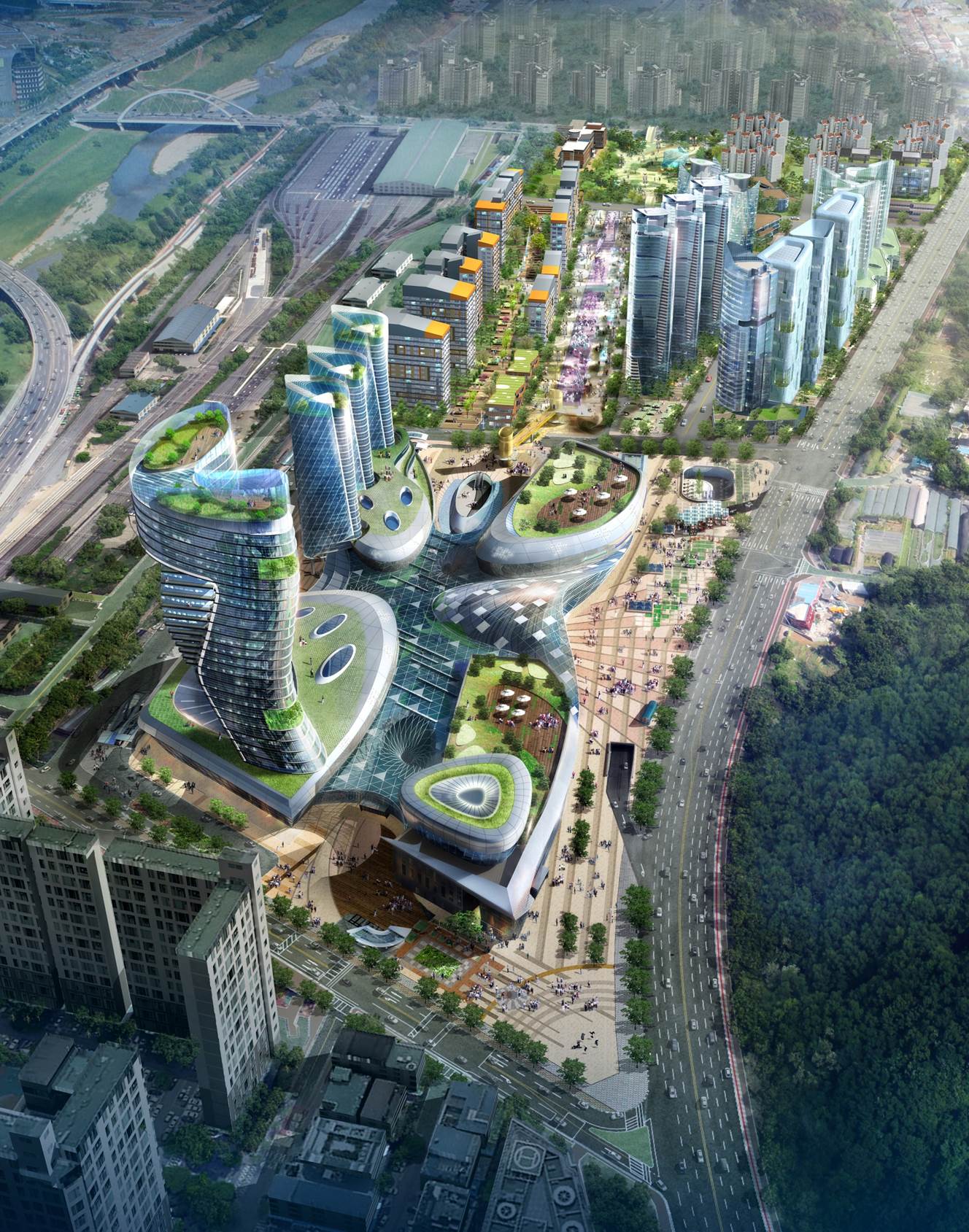 An artist's conception showing "Hope Town for Newly Weds" in Suseo Subway Station in Gangnam-gu. (Photo: Gangnam Ward Office)