Samsung Group celebrated its 80th anniversary on March 22, but the group did not hold a ceremony. The group has maintained a low profile as it has been victimized by "Samsung bashing" by some political parties and media outlets.
Samsung chose "coexistence" as the theme to make a breakthrough with the public. The group stressed its determination to make Samsung a corporation committed to "walking with society" and "coexisting with the world" by extending the meaning of the group's founding management tenet: launching a business to service the nation.
On the same day, Samsung released a video, titled "Dynamic Samsung, 80, Opens a New Future" via its in-house broadcasting network. The seven-minute documentary footage was divided into three parts: Challenging Road, getting about for pioneering; Road to Become Super Top, ascending to the world; and Future Road, Samsung making preparations for its centennial.
"Challenging Road" started with the showing of the late Samsung founder Lee Byung-chul, who established Samsung Trading Co. in 1938. The reason the late Lee, 28, founded the company dealing in fresh fruits and dried fish exports was to contribute to the economy of the nation, which lacked basic supplies at the time.
The late Lee launched new businesses to extend a helping hand to people and the state. Despite his executives' opposition, he acquired Korea Semiconductor, now the semiconductor business of Samsung Electronics, in 1974.
"Road to Become Super Top" depicted the inauguration of Samsung Group Chairman Lee Kun-hee in 1987. Chairman Lee declared a new management tenet calling for a paradigm shift from a quantity mode to quality in a group executives' meeting in Frankfurt, Germany in 1993. At that time, Chairman Lee urged his executives and staff to "change everything except their wives and siblings." Following the declaration of the new management tenet, Samsung has been catapulted to maintain the No. 1 position in the memory chip sector for the 25th consecutive year, rank 1st in the smartphone sector in the world and top in the TV sector for the 12th consecutive year.
"Future Road" gave a glimpse into the uncertainties facing Samsung. Samsung concluded that conventional juggernauts such as Samsung are threatened by startups with the advent of such new technologies as AI, self-driving vehicles, IoT and 5G telecom networks. It had interviews with renowned experts, including Kevin Lane Keller, a professor with Dartmouth College, who stressed the importance of bettering people's lives. The video ended with a speech by Samsung Electronics Chairman Kwon Oh-hyun, who called for his executives and staff members to change their mindset and ways of working.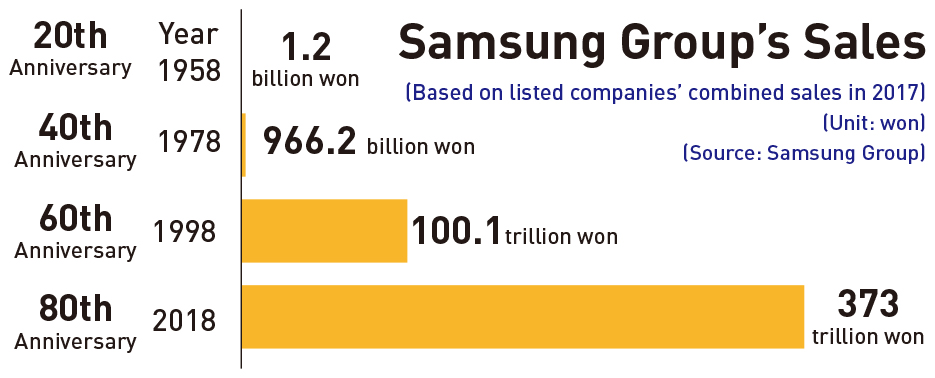 Vice Chmn. Lee Jay-yong Resumes Management Activities
Samsung Electronics Vice Chairman Lee Jay-yong left for an official business trip to Europe on March 22, on the day of the 80th anniversary. Lee, who refrained from conducing outside activities since he was free from prison, appeared to have resumed his management activities.
Vice Chairman Lee embarked on an official business visit to Europe designed to explore new growth engines and meet with global business partners, a company official said. He was believed to have scheduled a meeting with executives of Exor, which has a controlling stakes in Fiat Chrysler Automobiles.
In 2016, Samsung Electronics was said to have interest in acquiring Magneti Marell, the automotive part unit of FAC Group.
Samsung Electronics & Others Join in Anniversary volunteering Activiies
Twenty-three subsidiareis of Samsung Group, including Samsung Electornics condcuted volunteering activities to help the needy neighbors on the occasion of the 80th anniversary.
Executives and staff at Samsung Electronics and other subsiaires were involved in volunteering activities for one month on the occasion of the anniversary. They conducted volunteering actvities at welfare facilities, were engaged in sharing their gift to students, supported rural and fishing villages with which they have a sisterhood ties, and they carried out other regional diverse activities.