KEPCO NF (KNF) has declared its new management tenets and catchphrase with the goal of rising to a global nuclear power company. The new management tenets are "realizing an open-minded organization," "securing customers' trust," "achieving innovative growth," and "realizing social values."
Its new slogan, meanwhile, is "Fuel the Future, Value-Up KNF!" KNF held a ceremony to declare the new management tenets and slogans to achieve innovative growth and realize social values at the KNF headquarters in Daejeon on March 5.
In order to decide the new management tenets and catchphrases, KNF held two public hearings targeting all staff members to gather diverse views. The intent was to spur their proactive participation and enhance their determination to put the new goals into practice, instead of the conventional top-down method. Neighborhood residents, cooperative companies and labor representatives' participation was sought. Members of a committee designed to screen winning entries took on significance in terms of "open-minded management."
KNF executives and staff members pledged to secure trust from people and customers by putting into practice the new management tenets, fulfill its roles and responsibilities as a public entity and rise to a global nuclear power company through innovation as an advanced corporation leading the 4th Industrial Revolution.
The new catchphrase signifies KNF staff's sense of pride as a flag bearer of national energy self-sufficiency and their desire and determination to enhance corporate values of the future. KNF President Jeong Sang-bong said, "(We're required to) have the wisdom to seize up environment changes caused by an energy policy paradigm shift as both a crisis and opportunities." He called for harmony among executives and staff members to realize the harmonizing of sustainability management for future development and social values and gaining trust from regional community and people and communicating with them.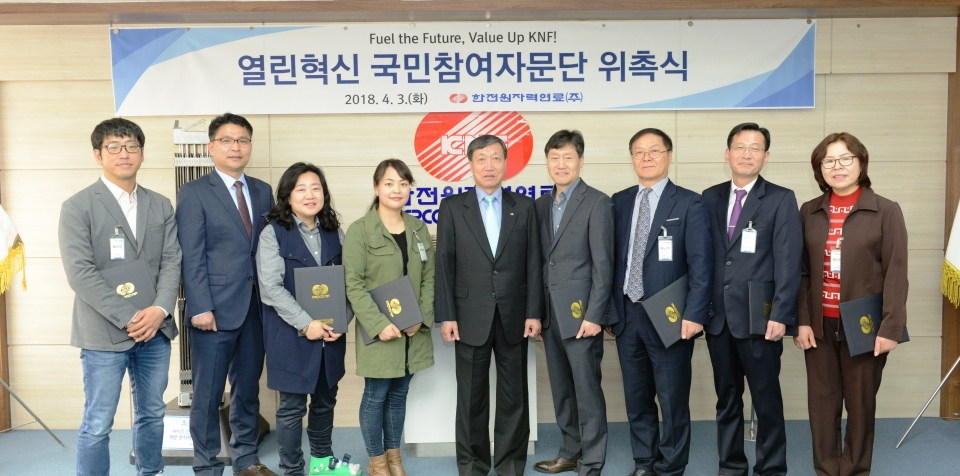 KNF President Jeong poses with members of a people's participatory group at a ceremony to commission the group on April 3. (Photos: KNF)
KNF's Inaugurating Civic Participatory Group
KNF held a ceremony to commission a people's participatory group on April 3 to serve as a bridge of communication and participation between people and the company.
The newly inaugurated civic participatory group offers advises and views on tasks KNF's "Open Innovation Committee" is implementing. The group is composed of eight people in four areas matters related to safety, people's participation, regional cooperation, and shared growth. It will be operated for two years.
Late last year, KNF established eight top tasks based on communication and cooperation with people to enhance social values and offer services tailored to meet people's needs. It also formed the Open Innovation Committee, chaired by KNF president, which was designed to spur people's proactive participation and execution.
At the commissioning ceremony, KNF President Jeong told the civic participatory group to provide honest consultations and many advises to a member of KNF down the road. He expressed hope that the group's working for smooth communication between people and KNF and active participation will be conducive to the company's future development.