N
ew President Kim Jong-gap of Korea Electric Power Corp. (KEPCO) declared an emergency management footing for the company on April 13 that will last until it is able to revive its bottom line.
"KEPCO has seen its profitability worsen as the operating profit for the fourth quarter of last year reversed its course to a loss, and KEPCO will go into an emergency management footing until its restructuring, being joined by subsidiaries and group companies, will improve it," President Kim said. Kim called for all departments to examine additional steps through retrenchment and the improving of return on investment, saying that KEPCO's financial state is not good.
On the day, KEPCO President revealed management tenets and ambitions as he took office as the 20th president of the power company at the KEPCO headquarters in Naju, Jeollanam-do. His term is three years. Kim urged his executives and staff to pursue a balance between the public interest as a public entity and shareholders' value based on cost efficiency. He stressed the redoubling of efforts to reach a public consensus on an energy policy paradigm shift and a related precise action plan.
New KEPCO President Kim, a native of Andong, Gyeongsangbuk-do, graduated from Sungkyunkwan University Public Administration Department. He obtained a doctorate in public administration from the same university. He passed the 17th higher administration exam and held such public positions as deputy ministry of the Ministry of Trade, Industry and Energy, commissioner of Korea Intellectual Property Office. He also served as president of Hynix Semiconductor and chairman of Siemens in Korea.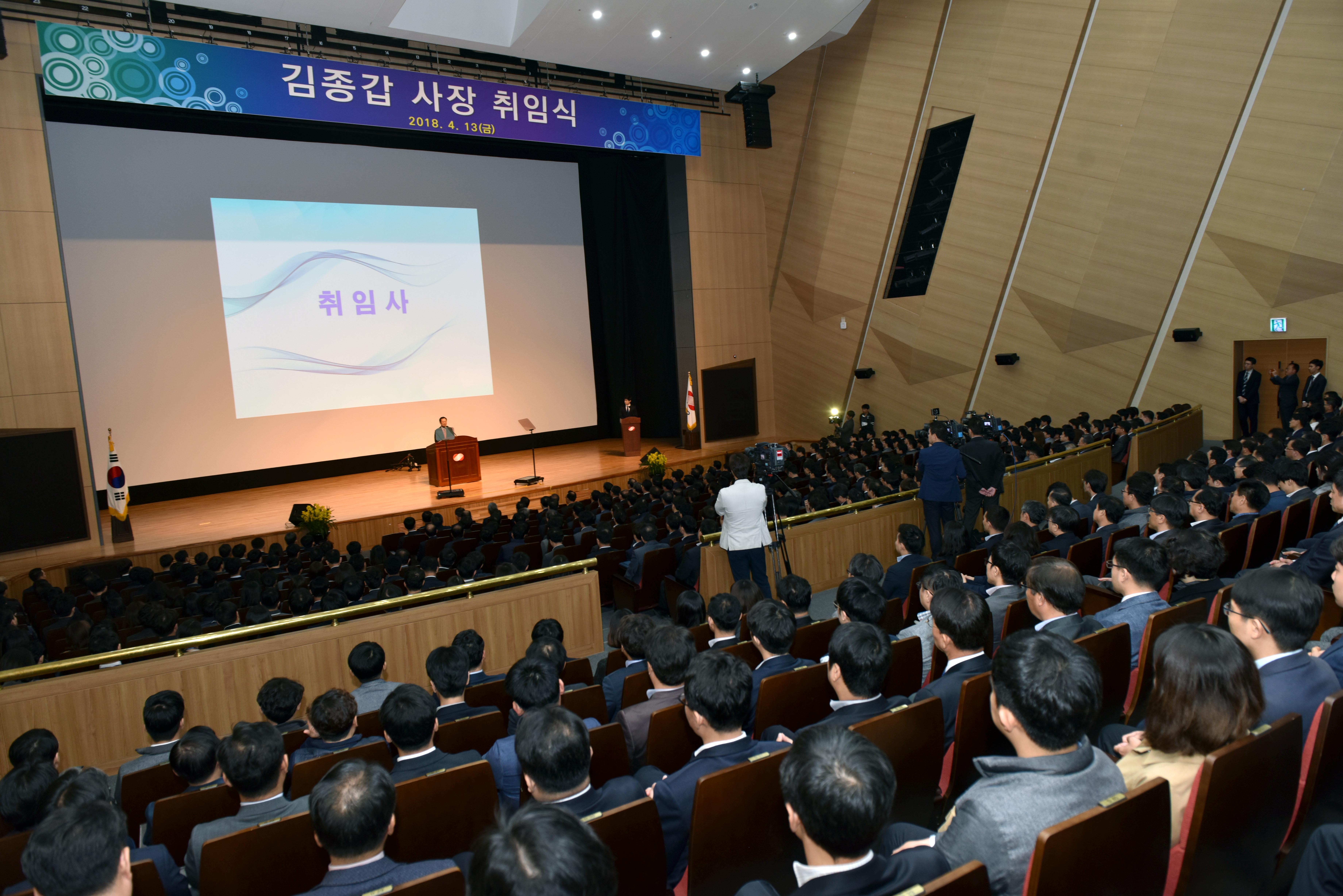 New President Kim Jong-gap of KEPCO delivers his inaugural speech as he took office as president of the power company at KEPCO headquarters in Naju on April 13. (Photos: KEPCO)
Following is the gist of his inauguration speech:
First, (we at KEPCO) will have to focus on the improving of profitability above all things. Our final state is not good as shown by a loss in the fourth quarter of 2017. I know you have been making efforts to reduce unit prices and improve profitability on investments. From now on, I ask for all departments to consider additional measures on the overall operation of our company. I will go into an emergency management footing until profitability reaches a point of improvement structurally.
KEPCO is evaluated for its business performances based on a consolidated financial statement. The whole of KEPCO Group will have to strive for management improvement by sharing information and resources among KEPCO, power subsidiaries, and group companies, minimizing redundancies, and ramping up collaboration.
Second, KEPCO should be a public entity pursuing a balance between the public interest and corporate values. The public interest should be pursued, but cost efficiency is also needed. We have to pursue shareholder's profits, while suiting national interests. Ordinary companies pursing profit is committed to fulfilling social responsibility to secure sustainability. Globally respected companies have already set management tenets of pursuing both shareholder's profits and all stakeholders' profits. I want KEPCO to present a good practice of managing a public entity suiting trends of the times.
Third, let's make more efforts to reach a public consensus on an energy policy paradigm shift. Precise forecasting of new energy resources representing a new trend of digital transformation and new/renewable energies is not easy. KEPCO, power subsidiaries and group companies will have to continue to make joint efforts to accomplish functions through precise predicting and thorough implementation by mobilizing a minimum of resources. Fourth, let's invest in R&D and create good jobs.
Fifth, let's make strenuous efforts to find new growth engines. We have a capability to carry out high-level projects in the energy sector. Let's make continuous efforts to expand the exporting of nuclear power units and other energy business exports. I consider that it is essential for us to maximize our core capabilities and form the most competitive team by promoting partnerships with foreign companies in areas with insufficient capabilities. Borders still remain the highest barriers, so we have to have a full look into political and policy risks the way return on investments can be maxed out.
Digital transformation, utilizing KEPCO's data, is not only essential for its operation, but also creating new businesses by utilizing the data will be possible. All of you have to know digitalization. Awareness toward it needs to be enhanced through in-house training programs, and a shortage of manpower should be filled. Let's make KEPCO a company creating an ecosystem of launching new tech companies.