President Moon Chang-yong of Korea Asset Management Corp. (Kamco) said if Kamco is to help people in financial distress, it has to help them get back on their own two feet by earning a living, paying off debts and finding a job.
In an interview with a local daily newspaper, the Kamco CEO said the company's self-help program to help that assists individuals get back on their own two feet again has been working because it includes finding jobs for everyone benefitting from the program.
Kamco was initially launched to take care of bankrupt financial institutions as a semi-government institution. The company had its work cut out for it after the financial crisis 1998 sent many companies out of business.
But Kamco started helping individuals in dire financially straights in July 2010, with the financial market recapturing its normalcy. The company has been helping to reduce the debts of financially strapped individuals, in addition to finding jobs for them under the self-help program that Kamco launched the same year.
Kamco takes over the debts from people and reduces the principal and interests on the debts so the debtors can repay them on schedules. So far Kamco helped around 7,500 people as of the end of last year under the program.
More than 70 percent of those financially troubled men were more than 50 years old with some 66 percent of them being high school graduates. They had a hard time finding jobs, but they eventually found employment with the help of the program. Many of them who found jobs have been able to pay off their debts as their monthly average earnings amounted to 1.67 million won.
The number of those who found jobs after getting job training under Kamco's self help program has been rising over the past three years. The number rose to 1,387 in 2016 from 1,051 in the previous year, and it jumped again to 1,950 in 2017, rising 32 percent and 40 percent, respectively.
CEO Moon plans to boost the number of those who enter the self help program from this month. Those who have more than 10 million won in debt and have been unable to pay it off for the past 10 years with no assets will be entitled to join the program. Around 2,500 new participants are expected to enter the program this year, which will bring a total number of those who got the help from the program since 2010 to 10,000.
The program, however, has not been a cakewalk for every participant. Some have been unable to keep their jobs as they include physical labor, which is hard for some people over the age of 50.
Kamco interviewed some 600 of the 1,950 who joined the program last year, and 78 percent of them stayed on the job for at least 3 months. Kamco has been taking measures to help those who quit their jobs regain employment so they can continue to pay off their debts.
Kamco plans to create some 14,000 new jobs by 2020 by launching a project to develop land owned by public or the government that was left undeveloped. Moon said Kamco will do its utmost to have those financially distressed people to rejuvenate themselves to have a second chance in their lives to be socially active again.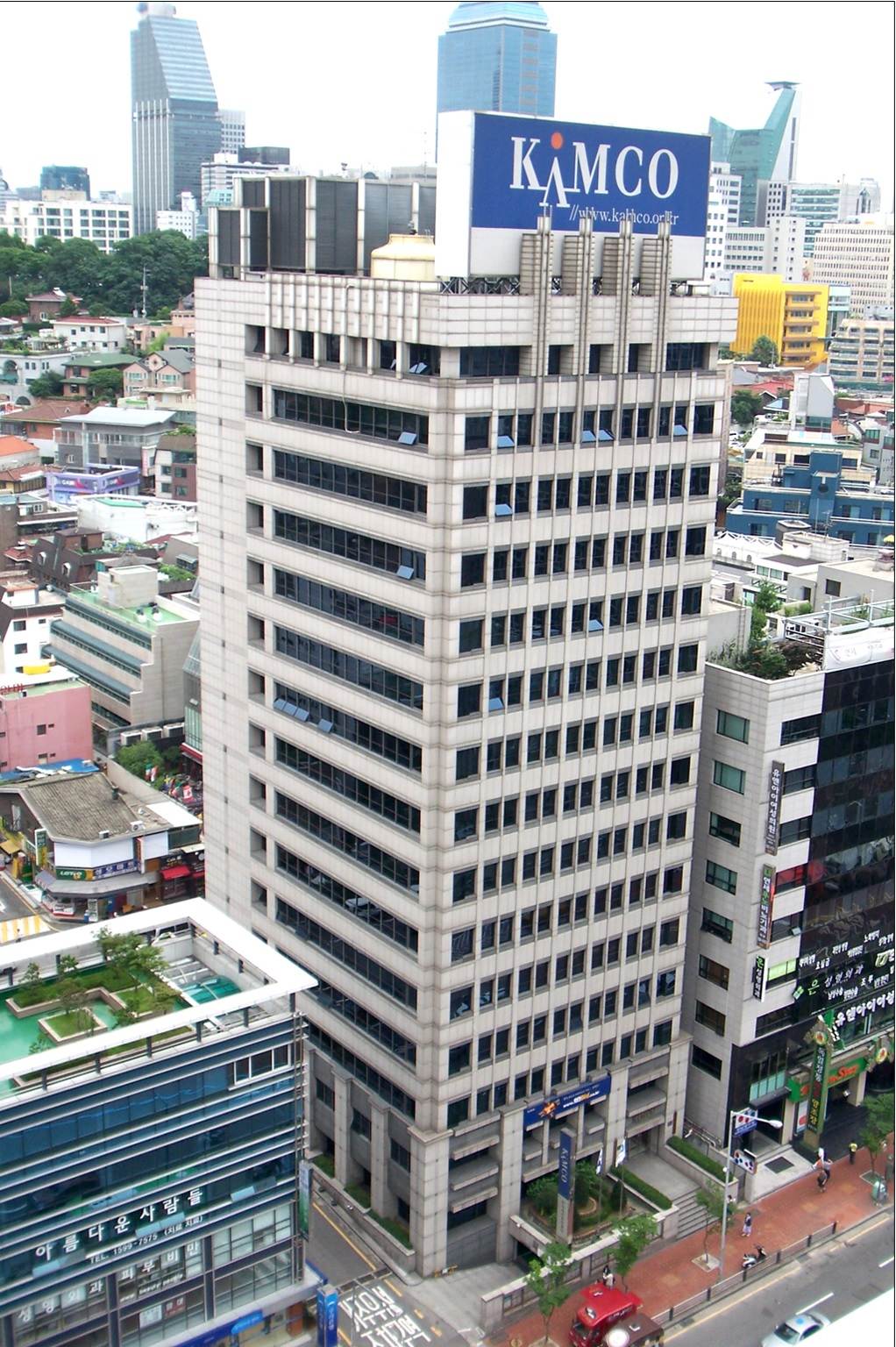 A view of the building in downtown Seoul where Kamco has offices.(Photos: Kamco)