Senior Vice Chairman Choi Hyun-man of Mirae Asset Daewoo said some seniors use a principal bank from the age of the "development economy." Now is the time to have a principal securities firm, he said, to keep up with changes in the financial industry.
He nade the statement in a speech at Ewha Women's University as part of the "CEO Series." "The nation may be old, but money should be young," he said in the special at the women's university in Seoul.
Choi was talking about the most recent changes in the financial industry.
The main point he stressed was that the banking industry has reached a peak due to a number of the factors, such as banks' reluctance to finance risky projects, low economic growth in recent years, low interest rates and an aging society.
To increase the number of jobs and boost productivity in the aging society, start-ups have to succeed, backed with venture funds from banks, not necessarily with collateral.
"You have to have those venture funds for those start-ups to operate soundly, creating jobs," the career securities executive said.
But commercial banks are very reluctant to put up the venture funds without support of mortgages, as there is no guarantee a start-up will survive. Banks' usually call for collateral to back up those loans. Choi insisted that the government policy to nurture investment banks is designed to let them grow so that they can dish out venture funds and support the growth of new businesses.
The old paradigm for the successful operation of banks is changing. Korea is changing to a "retirement" and investment society from a "savings" society centered around commercial banks that pursue profits from interest on loans, he said.
He talked about the successful story of Mirae Asset Tower located in Pudong District in Shanghai, China, whose value climbed to 1.5 trillion won. The company bought the real estate piece for 385 billion won in 2006 with its own funds. At a time when Mirae Asset tried to raise money to buy the tower, no large company in Korea came forward to invest in the real estate, he said, although offices were in great demand then with almost no vacancies.
"They just would not listen. They didn't offer me even a cup of coffee," he quipped, when he visited them at their offices, not even the National Pension Service.
Senior Vice Chairman Choi is a veteran in the securities business. His career in the industry stretches over 28 years.
He started out with Dongwon Securities in 1989 in the securities business, but later joined Chairman Park Hyun-joo in 1997 to set up Mirae Asset with capital of just 10 billion won, which has grown now to around 7.5 trillion won now. It expanded over 750 times in 20 years with the senior vice chairman doing a lot to support the astounding growth.
The crux of asset management is to realize how money flows and foresee changes in the global economy by studying capital markets.
Choi also sees rapid changes in the financial industry with the arrival of the 4th Industrial Revolution. He cited the example of Goldman Sachs, which replaced around 30 percent of its operation with AI solutions.
He said those who want to work for asset management firms should be well versed in computers IT and AI, among other new technologies.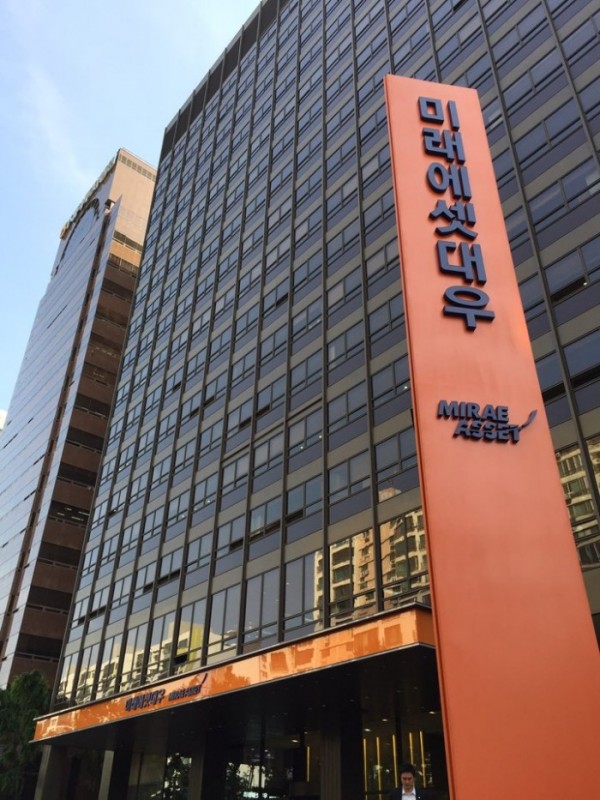 A building in Seoul where Mirae Asset Daewoo is located.(Photos: Mirae asset Daewoo)