Fitch Ratings has affirmed South Korea-based Woori Bank's Long-Term Issuer-Default Rating (IDR) at 'A-'. The Outlook is Stable. Fitch has also affirmed Woori Bank's Viability Rating at 'bbb+'. A full list of rating actions is at the end of this rating action commentary. KEY RATING DRIVERS IDRS, SENIOR DEBT, SUPPORT RATING AND SUPPORT RATING FLOOR The bank's IDRs, senior debt ratings, Support Rating and Support Rating Floor reflect Fitch's continued belief that there is extremely high probability that the South Korean government (AA-/Stable) would support Woori Bank, if required.
This view is based on Woori Bank's systemic importance as the second-largest bank in Korea, with 13% and 15% of the banking system's loans and deposits, respectively. The Stable Outlook reflects the Stable Outlook on South Korea.
The 'AAA(tha)' rating on Woori Bank's Thai baht-denominated senior unsecured debt is based on the bank's Long-Term Foreign-Currency IDR, which is higher than Thailand's Long-Term Local-Currency IDR of 'BBB+' with Stable Outlook, and corresponds to 'AAA(tha)' on the National Rating scale. VIABILITY RATING Woori Bank's VR mainly takes into account its strong domestic franchise, and its weaker management and aggressive risk-appetite relative to domestic peers.
The VR also takes into account Woori Bank's adequate financial profile relative to the still-challenging operating environment. Fitch has observed signs of greater prudence in operations in the bank, particularly in dealing with exposures to troubled corporate sectors. Fitch expects Woori Bank to be more commercially driven than previously, when the government owned a majority of the bank through Korea Deposit Insurance Corporation (KDIC).
The bank's board is now dominated by representatives from the private sector following KDIC's sale of a 30% stake in December 2016. Fitch expects the bank to continue to improve its financial profile amid low interest rates. Its financial profile has been improving broadly in line with what Fitch expected two years earlier when it upgraded the VR on Woori Bank to 'bbb+' from 'bbb'. We estimate Woori Bank's underlying profitability, measured in operating profit/risk-weighted assets, to be 1.2% in 2017, compared with 1.1% and 0.8% in 2016 and 2015, respectively.
Historically, profitability has been limited by its higher credit costs than that of peers, but the gap has reduced recently.
Fitch expects Woori Bank's ratio of loans classified as precautionary and below (1.8% at end-2016) as per the local regulator's loan-quality categorisation to remain comparable with those of its commercial-bank peers (1.7%) in the near term, unless some legacy issues emerge. The bank has been adjusting its loan mix to increase the proportion of secured loans, including mortgages, and self-employed individual loans over the past three years, and asset quality has remained sound.
Its reserves for impaired loans improved to 73% at end-2016 from 56% at end-2015. Woori Bank's Fitch Core Capital (FCC) ratio should gradually improve over the next two years because the bank plans to increase the proportion of low risk-weighted sectors in its asset mix and keep the loan growth modest at 3%-4%.
The FCC ratio improved by 90bp to 10.9% at end-2016 mainly because of regulatory approval of the Internal Rating Based approach for credit card assets and the asset mix change, but the ratio still remains worse than the local commercial bank average of 13.3%. Woori Bank's customer loans to deposits ratio improved by 8pp to 116% at end-2016 as customer deposits increased 11%. Fitch expects the ratio to improve further given its modest loan-growth prospects. The Korean banks have weak foreign-currency funding profiles relative to international peers, but Korea's strengthened foreign-currency reserve position (close to 100% of external liabilities) provide a significant buffer. SUBORDINATED DEBT AND OTHER HYBRID SECURITIES Woori Bank's legacy Tier 2 notes are rated one notch below its Long-Term IDR.
These notes have minimal non-performance risk relative to the banks' senior unsecured debt - they have going-concern loss-absorption features and no coupon payment flexibility.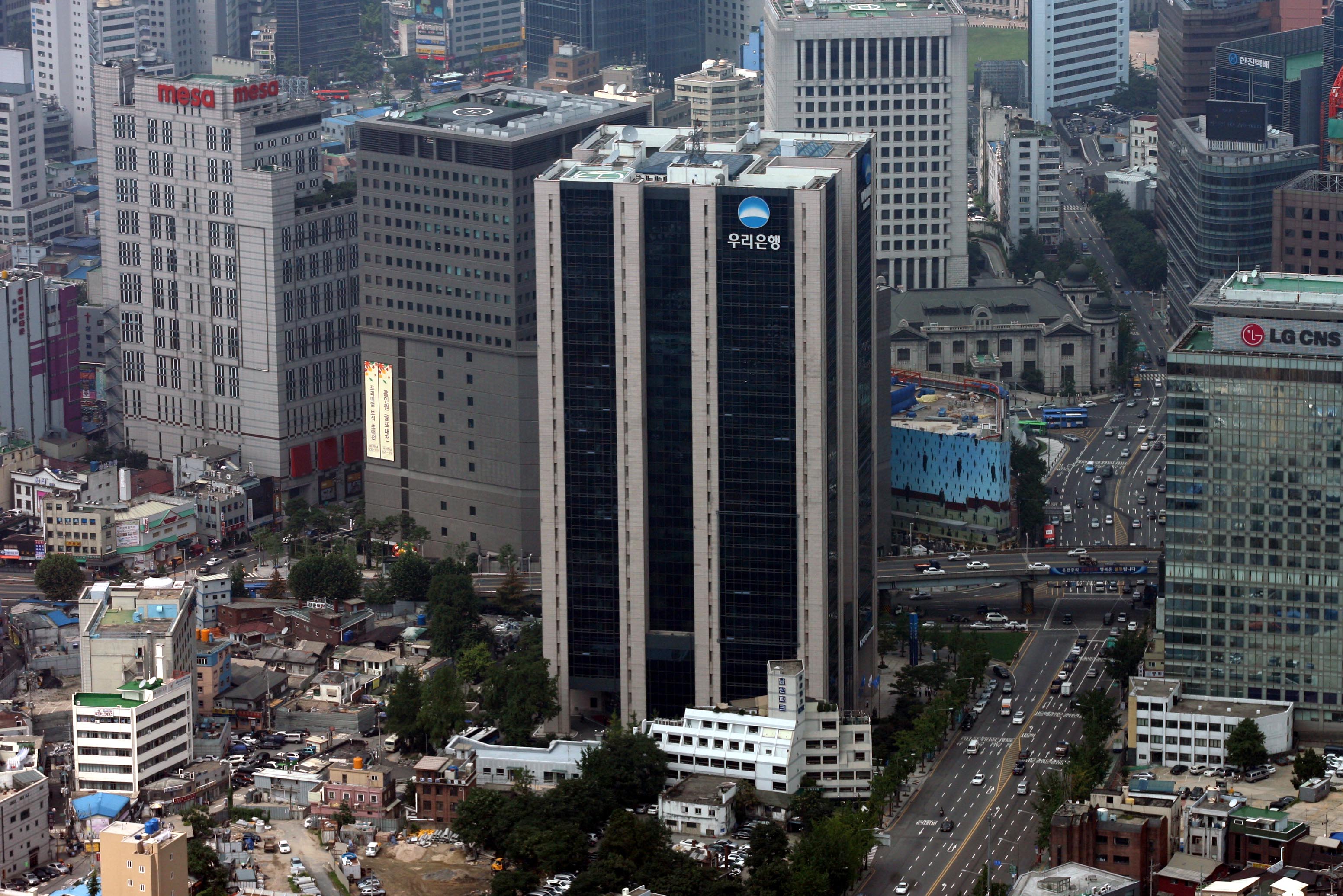 Woori Bank headquarters in Heohyeon-dong, downtown Seoul.