Hyosung Group is gunning for new heights by making the most of its technology prowess. Hyosung Group Chairman Cho Hyun-joon delivered his New Year's message at the group headquarters in Gongdeok-dong, Seoul, on Jan. 2 in which he expressed his determination to lend an ear to the voices of customers and markets so the group can hit its 100-year anniversary through technological innovation.
He stressed the need to accumulate and analyze market data, especially in the areas of customers and technology, and ramp up win-win management solutions with its cooperative companies in line with the spread of the 4th Industrial Revolution.
Chairman Cho emphasized the significance of lending an ear to all voices.
"The solution lies in the voices of customers and markets," he said. He urged his executives and staff to aggressively cope with market changes ahead of rivals.
Hyosung is accelerating efforts to strengthen its presence as a market-driven company though the development and sales of products tailored to meet customer demand. To differentiate itself from others, he wants Hyosung to raise to customers' values. The business group is concentrating on the exploration of new markets and securing new clients.
Chairman Cho participated in the Intertextile Shanghai Apparel Fabrics held in October and met with foreign buyers. Hyosung is expanding brand power by attracting fabrics companies and major brands in emerging markets, including India, Vietnam and Indonesia.
Cho called for endless technological innovation to secure competitiveness in the global market. Hyosung has secured quality and differentiation products by continuously developing technologies.
Hyosung has solidified the No. 1 position in the mainstay businesses ― spandex and tire cord ― since 2010. Hyosung has developed spandex and polyester tire cord with its own technology. The company is nurturing new growth engines with the development of carbon textiles and the new substance Polyketone. Hyosung, with a whopping 45 percent share in the global tire cord market, plans to shore up its stature as an automotive material leader by focusing on the development of airbag fabrics and safety belt fabrics and other automotive fabrics. Hyosung is stepping on the gas to brace for the advent of the 4th Industrial Revolution.
Chairman Cho's priority and concern for big data is well known in business circles.
He expressed his determination to do business in areas related to big data, comparing it as so-called crude oil of the 21st Century. In the New Year's message, Cho, recognizing big data as the core of the ICT market, revealed a plan to implement a business based on big data platform with the goal of being a company specializing in services based on big data and AI.
Hyosung ITX, the IT subsidiary of Hyosung Group, is expanding its business portfolio to system integration (SI) and system management (SM) based on IoT and cloud computing solution and big data analysis technologies. It has established an R&D center.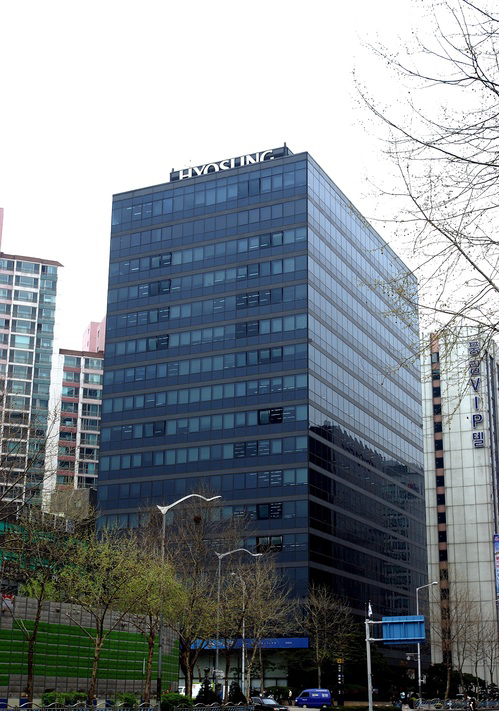 Hyosung Group headquarters in Mapo, Seoul. (Photos: Hyosung)