LS Group Chairman Christopher Koo is accelerating efforts to ensure management transparency by enlisting more group subsidiaries into the group's holding company LS Corp. Chairman Koo's move is designed to not only solidify a holding company system in the best interest of shareholder values, but also to be in line with the President Moon Jae-in government's move to strengthen conglomerates' management transparency.
LS Cable & System acquired a 31.59 percent stake in LS Group from the owner family's 37.62 share in Gaon Cable on Jan. 24. It has made Gaon Cable a subsidiary of LS Corp.'s subsidiary LS Cable & System.
LS Cable & System specializes in super voltage cables, undersea cables, and underground cable businesses with overseas revenues accounting for more than 60 percent of its total revenues. Gaon Cable has such mainstay businesses as domestic middle-voltage cables and telecom cables.
The two companies differ in business scopes to some extent, but they maintain close relationships in such areas as copper purchase. Gaon Cable had nothing to do with LS Corp., but LS Cable & System's acquisition of the former has made Gaon into the holding company. The move comes about 14 years after the LG group owner family took over Gaon Cable 2004.
Yesco, one of subsidiaries owned by LS owner family, plans to shift into a holding company system. Yesco is a company supplying city gas in Seoul and Geyonggi area.
Yesco will be divided into the holding company Yesco Holdings, and the business company Yesco, so Yesco will be one of Yesco Holdings' subsidiaries Yesco Service, Daehan GM Corp. Yesco ES, Hansung, Hansung PC Construction, Hansung Pflanze and Woseung G&T, all subsidiaries of Yesco before the spin-off, will join the holding company.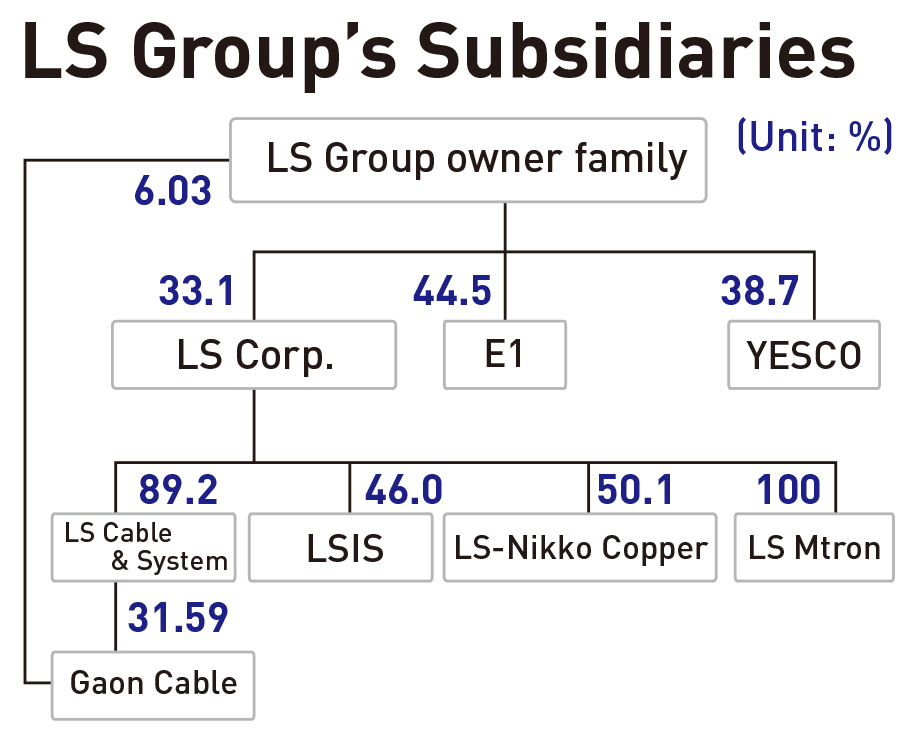 Koo Reelected as PCIP Co-Chairperson
LS Group Chairman Koo has been reelected as co-chairperson of the Presidential Council on Intellectual Property (PCIP).
The government said on Jan. 22 it inaugurated the 4th PCIP, naming LG Group Chairman Koo as co-chairperson. The PCIP, established as an agency under the direct control of the Chief Executive, is a body responsible for deliberating and coordinating IP policies. The council is headed by Prime Minister Lee Nak-yeon and a council member from the private sector.
Koo, elected as co-chairperson of the 3rd PCIP, has been reelected.
Koo has long stressed the importance of IP since he took office as chairman of the Korea Invention Promotion Association (KIPA) in 2014.