New President and CEO Park Il-joon of Korea East-West Power Co. (EWP) took the helm of the power company on Feb. 13. He delivered his inaugural speech at the EWP headquarters in Ulsan in which he stressed the realization of social values. "(We'll) have to make efforts to become a public energy entity spearheading the realization of social values based on the innovation of organizational culture to be reborn as a company beloved by people and society," he said.
President Park is a seasoned industry and energy expert who has held major stints with the policy planning, info-tech and energy resources sectors for about 30 years. His three-year terms ends on Feb. 12, 2021.
New EWP President Park, a native of Pohang, Gyeongsangbuk-do, graduated from Shinil High School and Seoul National University Department of Economics. Park passed the 31st higher civil service examination.
He served as the director general in charge of policy planning at the predecessor of the Ministry of Trade, Industry and Energy (MOTIE), and the director general in charge of software at the predecessor of the Ministry of Science and ICT (MSIT) as well as the director general in charge of energy resources policies, deputy vice minister in charge of industry planning and deputy vice minister in charge of planning and coordination at the MOTIE.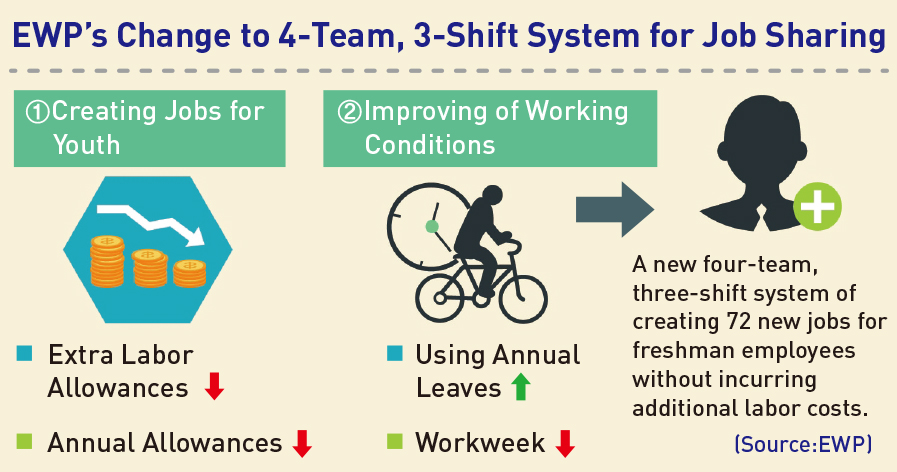 EWP is 1st Public Entity to Introduce 'Flexible Quota System,' Creating Jobs with No Additional Cost
EWP is pursuing a human-oriented job creation scheme in accordance with the President Moon Jae-in government's national goal of creating good jobs. To this end, the power company decided to inaugurate a job creation committee with the goal of increasing "good quality jobs," reducing work hours and enhancing the quality of employment. The committee is trying to expand job creation by promoting the health of shift workers by reducing their overall work hours and giving them more annual leave, overhauling regimes to ensure gender equality and a balance among work, household, family and life.
For instance, EWP introduced a flexible manpower quota system so that manpower can be augmented on a voluntary basis by saving allowances and compensation for not taking annual time off. A job-sharing scheme was implemented whereby a four-team, three-shift system has created 72 new jobs without incurring additional labor costs. EWP became the first public entity to introduce a flexible manpower quota system in accordance with an amendment of the guidelines on manpower management of public entities, which went into effect last July.
EWP won the prime minister's prize at a contest on manpower innovation hosted by the Ministry of Personnel Management in December in recognition of the power company's contribution to "reinventing manpower management."
EWP also formed a 10-member committee to convert non-regular employees into full time-regular employees last November. The committee allowed four fixed-term contract workers to change their status to that of regular employees in the same month. The next month, 189 temps were converted into regular-full time workers.
EWP is extending a helping hand in helping its cooperative companies create jobs. The power company is offering services tailored to meet the needs of its cooperative companies so that they could enter the power generation industry. In a related development, EWP provided support to five startups in the Ulsan area so that they can participate in the Ulsan Metropolitan Startup Internationalization Program that took place in Espoo, Finland, from Feb. 5-9.
EWP is implementing a program to provide support to cultivate young talents into high-end manpower. Last August, the power company signed an MOU with Human Resources Development and Service of Korea to help youth land jobs in foreign countries.