Korea Electric Power Corp. (KEPCO), one of the nation's largest public entities, is building "Energy Valley" in Naju, Jeollanam-do, the home of the KEPCO's headquarters, and Gwangju Metropolitan City to promote balanced regional development.
KEPCO aims to attract more than 500 energy-related companies by 2020.
KEPCO signed a deal to invest in Energy Valley, starting with 42 companies, including Hanwha Q Cells, last November. The number of companies who revealed their intent to join in the investment of the valley stands at 280. They pledged to invest a combined 1.18 trillion won, and it could have an effect of hiring an estimated 7,631 people.
KEPCO has been implementing the Energy Valley Project with the goal of attracting 500 companies and research institutes related to the new energy industries and creating about 30,000 jobs since December 2014 when the corporation was relocated from Seoul to Naju.
The corporation provides such benefits as financial support, marketing outlets, and manpower development to investor companies. The Energy Valley is designed to make Gwangju and Jeollanam-do an energy hub, and the project will be part of efforts to disperse industry infrastructure, concentrated into the Seoul metropolitan area, to provincial districts, and it corresponds to the purpose of the relocation of KEPCO headquarters for balanced regional development, a KEPCO official said.
KEPCO is assisting investor companies of the valley in exploring overseas markets. The corporation held a consultative meeting to help them enter foreign markets in cooperation with KOTRA and arranged their meetings with foreign buyers last year.
Tenant companies of the valley will have to have a competitive edge in both Korean and foreign markets to make the project a success, the KEPCO official said. KEPCO plans to offer a package of diverse support, including marketing activities, product development, and quality management, to nurture tenant companies of the valley into global hidden champions, he added.
A public contest for the design of the Energy New Technology Institute, to be built in the valley, is to be held in March. The institute will be in charge of testing functions of products that companies produce and supporting commercialization. It will break ground early next year with its dedication slated for 2020.
KEPCO, responsible for the overall management of the nation's power supply, is committed to making all-out efforts to brace for the occurrence of disasters. Natural disasters could cause blackouts, throwing the nation into chaos. The corporation is ramping up anti-disaster drills in accordance with the new government's policy to attach priority to ensure safety.
An anti-disaster drill for 2018 took place on Jan. 6 to brace for the possible occurrence of a strong earthquake and blackouts. The exercise proceeded on an assumption that a tremor with a magnitude of 7.4 in Richter Scale and the ensuring blackout caused huge damages. Disaster contingency scenarios on cyber terrorist acts and electricity supply emergency situations were worked out.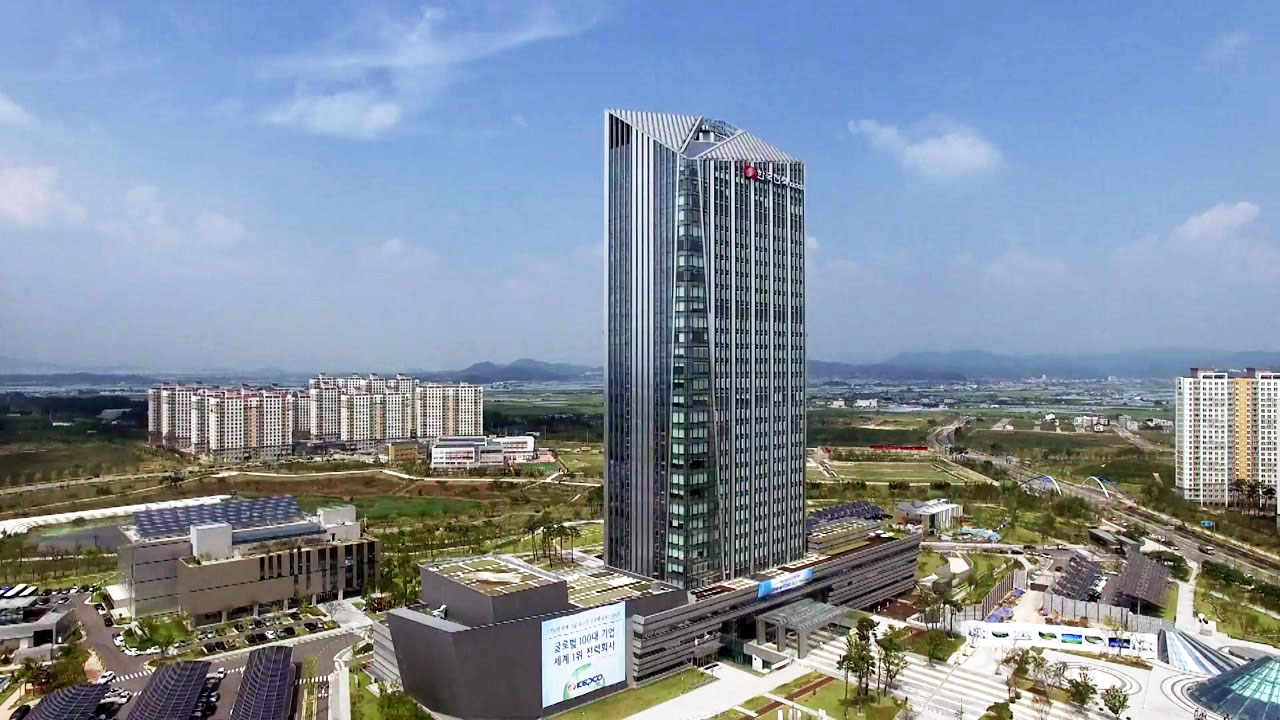 Korea Electric Power Corp. (KEPCO) headquarters in Naju, Jeollanam-do. (Photos: KEPCO)
KEPCO Acting President Calls for Innovation, Creativity
In his New Year's message, Acting President Kim Si-ho of Korea Electric Power Corp. stressed the need for innovation and creativity to change energy, digital, businesses and systems.
Kim has set the New Year buzzword as "pyoshinipi," which roughly translates into: "Let me talk about new things and create things differently from the conventional way." He adopted the catchphrase to break the mold and introduce innovation and creativity for sustainable growth.
"We should not rest on our laurels," Kim said. "We have to build a new ecosystem based on platforms by leading the spread of new and renewable energies, making power grid facilities intelligent and diversifying overseas business."