The PyeongChang 2018 Olympic Winter Games and Paralympic Games opened for a 17-day run on Feb. 9 with an opening ceremony that was hailed as "the Olympics of ICT."
About 3,000 athletes from 92 countries are competing in 102 events in 15 disciplines, including alpine skiing, biathlon, cross country, curling, figure staking, ice hockey, skeleton, ski jumping, snowboard and speed skating. A total of 102 gold medals are up for grabs, becoming the first-ever Winter Olympics with more than 100 gold medals, the PyeongChang Organizing Committee (POCOG) said.
The the PyeongChang Olympics has been dubbed the "Olympics of Peace" since North Korean athletes are participating in the Olympiad. South Korea and North Korea jointly entered the Olympic Stadium under a unification flag during the opening ceremony. The two Koreas are also fielding a unified women's ice hockey team.
North Korea stole the show on the sidelines of the PyeongChang Olympics. North Korea dispatched a high-profile delegation, headed by North Korea's ceremonial figure head Kim Young-nam and North Korean leader Kim Jong-un's influential younger sister, Kim Yo-jong.
A North Korean art troupe, named Samjiyeon Orchestra, held rare performances in South Korea in celebration of the Olympics. Kim Yo-jong, who identified herself as a special envoy to South Korea, delivered her brother's invitation to Pyongyang to South Korean President Moon Jae-in at a lunch hosted by Moon at Cheong Wa Dae on Feb. 10. In return, President Moon emphasized an amicable environment for holding an inter-Korean summit and North Korea's dialogue with the United States.
U.S. Vice President Mike Pence, who attended the opening ceremony of the Olympiad, was seen ignoring and avoiding meetings with senior North Korean delegates, citing North Korea's so-called Olympic detente as peace "propaganda" and reaffirming the American-led campaign of maximum pressure against North Korea to give up its nuclear long-range missile program. In an interview with the Washington Post while returning home aboard Air Force Two from the Olympics, Pence hinted towards a shift in the U.S. policy toward engagement on North Korea.
"The point is, no pressure comes off until they are actually doing something that the alliance believes represents a meaningful step toward denuclearization," Pence was quoted as saying.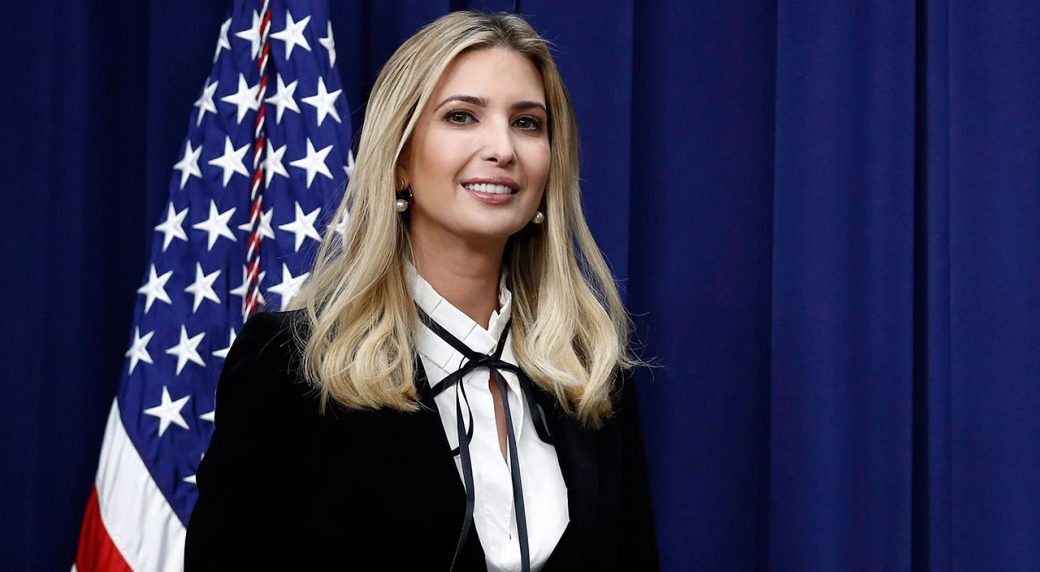 U.S. President Donald Trump's first daughter Ivanka Trump, a senior presidential adviser
U.S. President Donald Trump's first daughter Ivanka Trump, a senior presidential adviser, makes a three-day trip of Korea on Feb. 23 to attend the closing ceremony of the PyeongChang Winter Olympic Games.
North Korean leader Kim's invitation of South Korean President Moon to Pyongyang for what would be the first inter-Korean summit in a decade has been met with mixed reactions among political parties. Word on dispatching a high-level South Korean envoy to North Korea for a summit circulated among the ruling Democratic Party of Korea. Some oppositions parties, including Liberty Korea Party, lashed out at the ruling party's move, warning against North Korea's "disguised" peace offensive and North Korea's foot-dragging strategy to complete its nuclear development.
Kim Hyung-seok, a former unification vice minister, said it is not necessary to hurry a special envoy to North Korea, and in that case, a hidden card is required to influence North Korea's change in stance.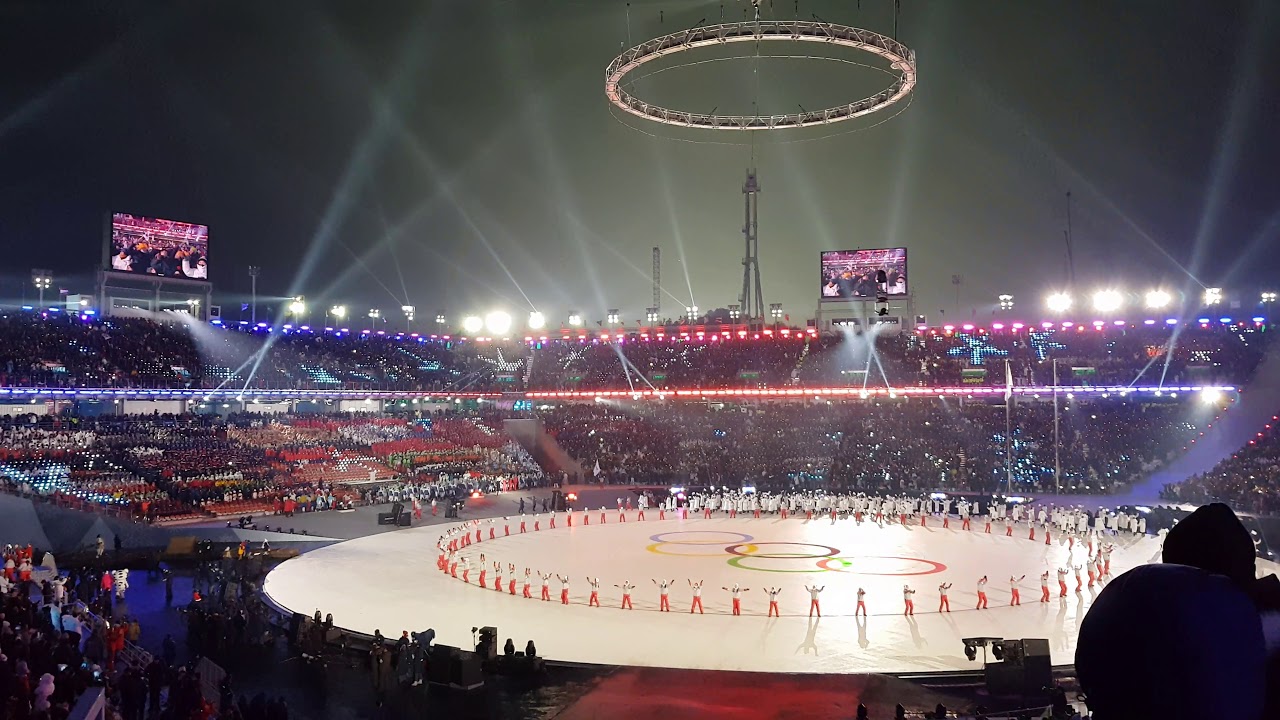 South Korean and North Korean athletes acknowledge spectators as they enter the Olympic Stadium jointly under the unification flag during the opening ceremony of the Olympiad.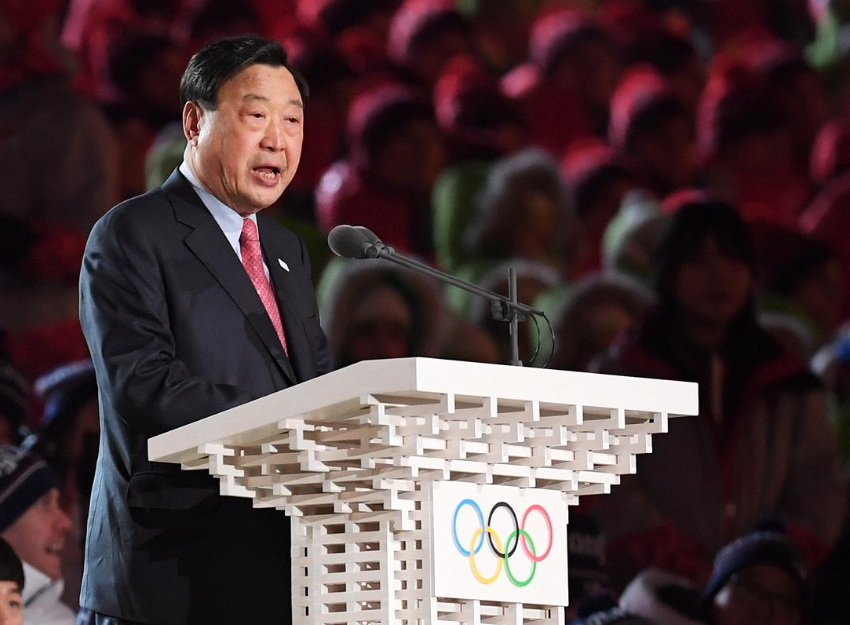 POCOG President Lee Hee-beom delivers his speech during the opening ceremony of PyeongChang Olympic Games.
Corporate Marketing War
"Wow, It's too exciting," Kim Hyun-mi, 52, screamed in a virtual reality spacecraft ride at the Samsung Pavilion opposite the Gangneung Ice Hockey Center.
Korean and foreign companies launched marketing offensives using the PyeongChang Olympics on Feb. 8, one day before the opening of the Olympiad. Samsung Electronics, Hyundai Motor and Kia Motors as well as Chinese companies, including Alibaba Group, have been engaged in a public relations broadside.
The Samsung pavilion was flooded with streams of volunteers and curling spectators. Visitors were given a chance to experience 10 VR facilities like alpine skiing, snowboard, and skeleton and other Olympic disciplines. Spectators at the Kia Motors Pavilion can enjoy a VR experience by presenting videos showing Kia Motor car rides.
Beside the venue of the opening ceremony of the Olympiad was the PyeongChang Olympic Plaza, which accommodates the Hyundai Pavilion. The black facade of the structure is decorated with lights symbolizing stars. "It embodies the universe, the origin of hydrogen, and the building is made with Vbx2, the blackest new substance.
The pavilion takes a format of a temporary museum of Asif Khan, a renowned UK architect with no Hyundai Motor cars on display. Khan's architectures and installation products can symbolize the future of hydrogen EVs will unfurl," a Hyundai Motor official said.
Alibaba Group opened a large public relations pavilion at Gangneung Olympic Park. The Chinese group made its maiden Olympic debut after agreeing to a worldwide Olympic deal with the International Olympic Committee.
Major Korean conglomerate leaders and economic leaders assembled in PyeongChang to promote a networking opportunity with global business leaders during the Olympic period. Among those on hand at the opening ceremony were Hanjin Group Chairman Cho Yang-ho, former POCOG president; GS Group Chairman Huh Chang-soo, currently FKI chairman; Chairman Park Yongmaan of the Korea Chamber of Commerce and Industry; POSCO Chairman Kwon Oh-joon; Chairman Kim Young-ju of the Korea International Trade Association,; Chairman Park Byung-won of the Korea Employers Federation; LS Group Chairman Christopher Koo; KT Chairman Hwang Chang-gyu; Shinsaegae Vice Chairman Chung Yong-jin; and Hyundai Department Chairman Chung Ji-sun.