In his New Year's message, Lotte Group Chairman Shin Dong-bin urged his executives and staff members to add values to customers' lives and enjoy shared growth.
"(We at Lotte Group) will have to create values that customers want by attaching more concern to social trends and changes," Chairman Shin said. To this end, he proposed four suggestions.
Citing work-life balance and YOLO (You Only Live Once), he said, "Our society is changing toward a focus on the quality of lives."
A company capable of grasping trends of changes fast and offering values surpassing expectations will be able to lead the market, he said. Chairman Shin called for all his executives and staff to redouble efforts to add value to customers' lives by being armed with a sense of lifetime value creator.
Secondly, he called for group-wide digital transformation to create new growth engines by coping with environmental changes nimbly. He stressed the importance of innovation by having all businesses embrace state-of-the-art ICT technologies, including AI, IoT and VR. He went on to say that ultimately this will lead to enhanced corporate productivity and seizing opportunities to explore new growth engines that could break the mold.
Thirdly, he urged them to make efforts to raise Lotte's brand value. "Powerful brand power is more effective than any marketing strategies, and let me ask each of you to make efforts to deliver capabilities, knowhow and positive images we have accumulated in diverse business areas to customers in an efficient fashion."
Shin urged them to make Lotte's name and symbol trusted by customers in Korea and around the world.
Fourthly, he called for Lotte Group to become a company that shares and grows together with neighbors. Chairman Shin urged them to communicate with stakeholders, including customers, shareholders, business partners and regional civic bodies to ensure management transparency.
He also promised to contribute to the development of the national economy by creating jobs and making continuous investments.
Lastly, Shin, citing this year's expected difficulties, appealed for them to make all-out efforts to ensure sustainable growth.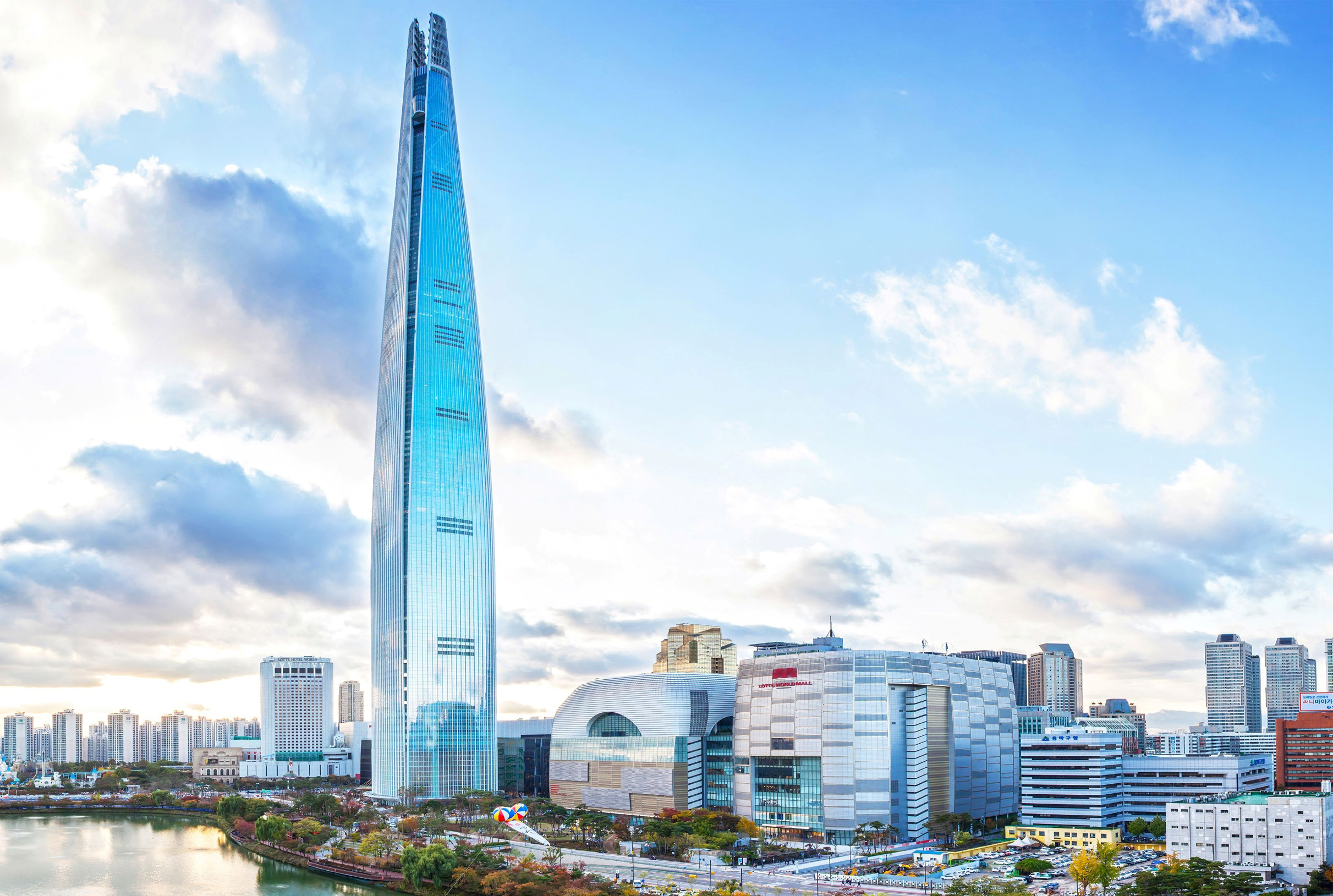 An overall view of the Lotte World Tower in Jamsil, Seoul.
Lotte Aims to Post 200 Trillion won in Sales be Top 10 Brand in Asia
Despite the domestic and overseas business environment uncertainties, Lotte Group is bracing for the advent of the 4th Industrial Revolution to build sustainable growth.
Lotte Group, established in 1967, has grown to become one of the nation's top five business groups.
Lotte marked its 50th anniversary last year by promising to make a fresh start with the declaration of its vision "lifetime value creator."
The business group chalked up 42.5 trillion won in sales and entered six countries in 2008. Lotte was catapulted with explosive growth, logging 92 trillion won in sales and entering 23 countries as of the end of 2016.
Under the stewardship of Chairman Shin, Lotte is preparing for future growth by strengthening its corporate competitiveness through qualitative growth and exploring new business areas in accordance with trends of social changes. The business group is also stressing being a respected company with a focus on law-abiding management.