In his New Year's message, Acting President Kim Si-ho of Korea Electric Power Corp. (KEPCO) stressed the need for innovation and creation to change energy, digital, businesses and systems.
Kim has set the New Year buzzword as "pyoshinipi," which roughly translates into: "Let me talk about new things and create things differently from the conventional way." He adopted the catchphrase to break the mold and introduce innovation and creativity for sustainable growth.
"We should not rest on our laurels," Kim said. "We have to build a new ecosystem based on platforms by leading the spread of new and renewable energies, making power grid facilities intelligent and diversifying overseas business," he said.
The following are excerpts of his message.
Thanks for all your efforts. In particular, I extend profound thanks to staff working overseas in Asian countries, the Middle East, Americas, Africa and Oceania.
I also extend appreciation for residents in Gwang and Jeollanam-do and people supporting KEPCO.
Last year saw many changes. A huge trend of the 4th Industrial Revolution has hit its stride, and a new energy paradigm shift has been settling in. Despite rough waves and numerous challenges, our company has done many things and yielded achievements. Looking back, the year 2017 was a year in which we devoted ourselves to making the energy ecosystem healthier and more affluent under the New Year's catchphrase "yeonggwhahujin."
A little more than three years have passed since KEPCO's headquarters were relocated to Naju. We've taken root thanks to support from residents in Gwangju and Jeollanam-do. We've been implementing goals one-by-one for the initial relocation stage reinvigorating the local economy and balanced development.
The Bitgaram Energy Valley Project we've implementing painstakingly is stable by attracting about 280 investment companies, surpassing the goal of 250 companies in the beginning of the year. The valley, taking strong roots, needs to move toward a global energy valley. The BIXPO, the world's sole power industry expo, has established itself as one of top attractions in the Gwangju and Jeollanam-do area.
KEPCO launched the new business model concept "KEPCO energy marketplace" at the 2017 BIXPo and established a roadmap to become an energy platform provider. BIXPO is expected to serve as not only a stage to demonstrate our technology power to the world, but also a global energy business center. KEPCO ranked 2nd on the list of "Global Company 200" selected by Forbes and was the top Asian power company for the third consecutive year.
Now is an era of a great paradigm shift. The speed of the 4th Industrial Revolution and energy shift is getting faster. All things are connected and converged, and supply-oriented mass production is changing fast, becoming more of a "production tailored" system to focus on consumers.
Power has flowed in one direction, but it moves in both directions on an energy platform. Consumers now produce electricity, and electricity is sold and purchased among individuals.
A power mix with a focus on thermal and nuclear is shifting to wind and photovoltaic power. Borders among financing, automobile, telecommunications, construction and other industries are breaking apart, and new competitors are forecast to enter the market.
All things are transformed completely.
If thinking and behaviors remain unchanged as they were previously, the entity cannot survive in the future. We have to lead a new order with a different shape and need to break the familiar mold. We should accomplish a shift in energy, digital, business and systems.
This year's buzzword is set as Chinese saying "pyoshinipi," which roughly translates into: "Let me talk about new things and create things differently from the conventional way." We should create new values by breaking the conventional mold, promoting innovation and creativity for sustainable growth. We cannot rest on our laurels.
KEPCO must lead the spread of new and renewable energies, building a new ecosystem based on platforms, make power grid facilities intelligent, and diversify overseas business projects.
It is also important to foster an organizational culture with a competitive edge and secure world-class gifted manpower as early as possible.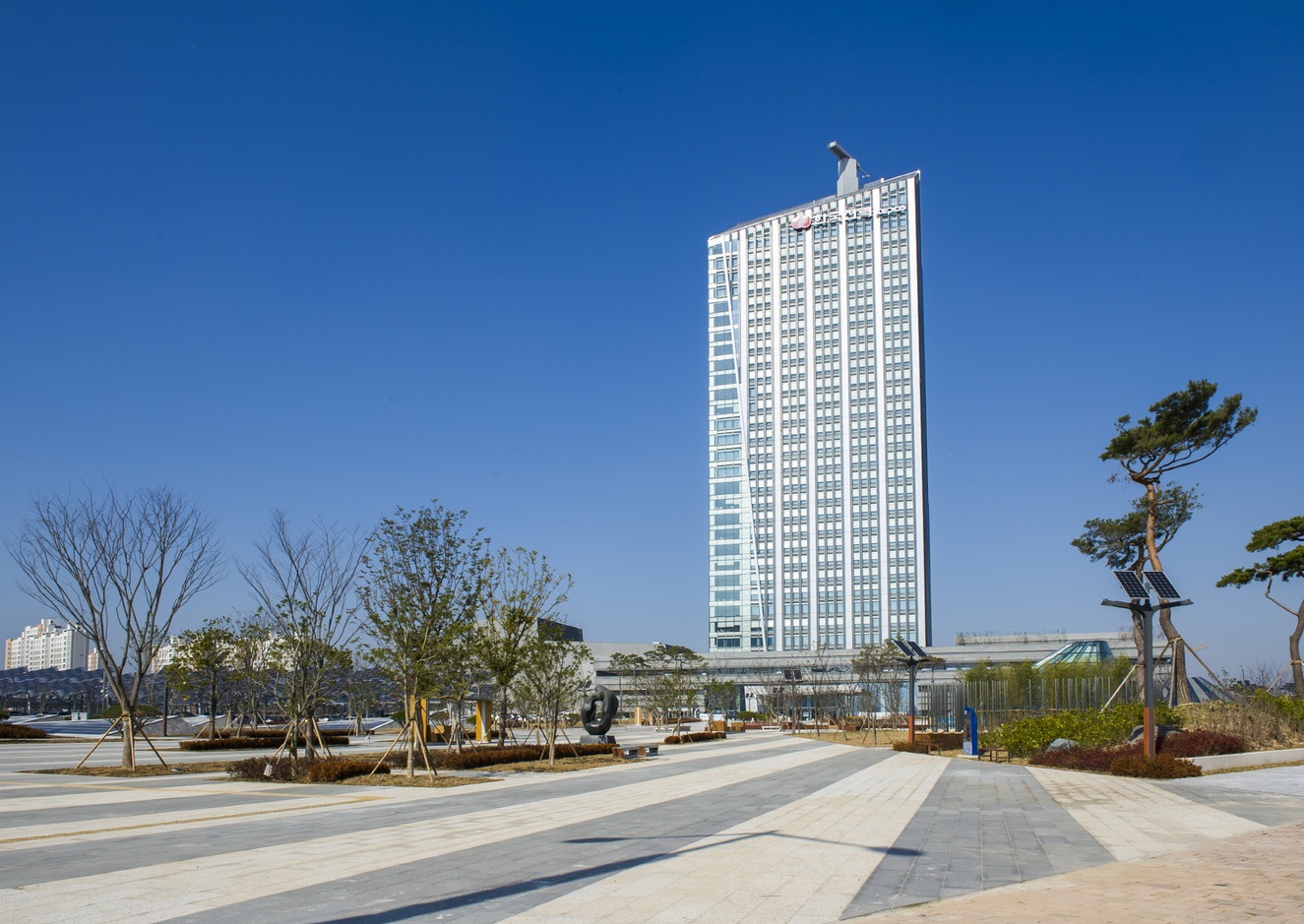 An overall view of the KEPCO headquarters in Naju. (Photos: KEPCO)