The Visit Korea Committee opened its New Year's events with the "2018 Korea Grand Sale" at Doota Mall near East Gate (Dongdaemun) with some 100 heavy hitters from the tourism industry in attendance on Jan. 18. They also launched a be-welcoming-to-foreigners campaign.
The event was kicked off with a reading of the resolution by people working in various areas of the tourism industry, tourism agencies, hotels, tourist guides and policemen, among others, showing their determination to be welcoming to the foreign tourists.
A variety of performances also welcomed visitors at the event as the participants later toured nearby streets to show kindness to the visitors in the area and to urge shop owners to be helpful for tourists so that Korea is known as a friendly place.
The Event Center to be in operation near East Gate presented "Soohorang" dolls, the mascot for the 2018 PyeongChang Winter Olympics and "Bandabi" doll sets to the first 100 tourists in the center to bring publicity to the global sports extravaganza.
Tang Ye, a Chinese tourist, said he will remember the warm welcome he got at the booth of the Korea Grand Sale, especially the Soohorang mascot he got as a gift. He has visited Korea many times.
A Seoul citizen said it is critically important to be welcoming to the foreigners for the success of the Korea Grand Sale and the PyeongChang winter Olympics.
The event on Jan. 18 was especially worthwhile for him because he was able to exchange ideas on how to welcome the foreign tourists with those in the tourism industry and general citizens who visited the Doota Mall today, he said.
The Visit Korea Committee and Seoul City will expand the tourist information centers around key locations where many tourists congregate in Seoul such as Myeong-dong, Gwanghwamun and Namsan, among others. Tourist information centers will also be set up at Int'l Airport and Gimpo Int'l Airport from Jan. 26-Feb. 25 to welcome the tourists.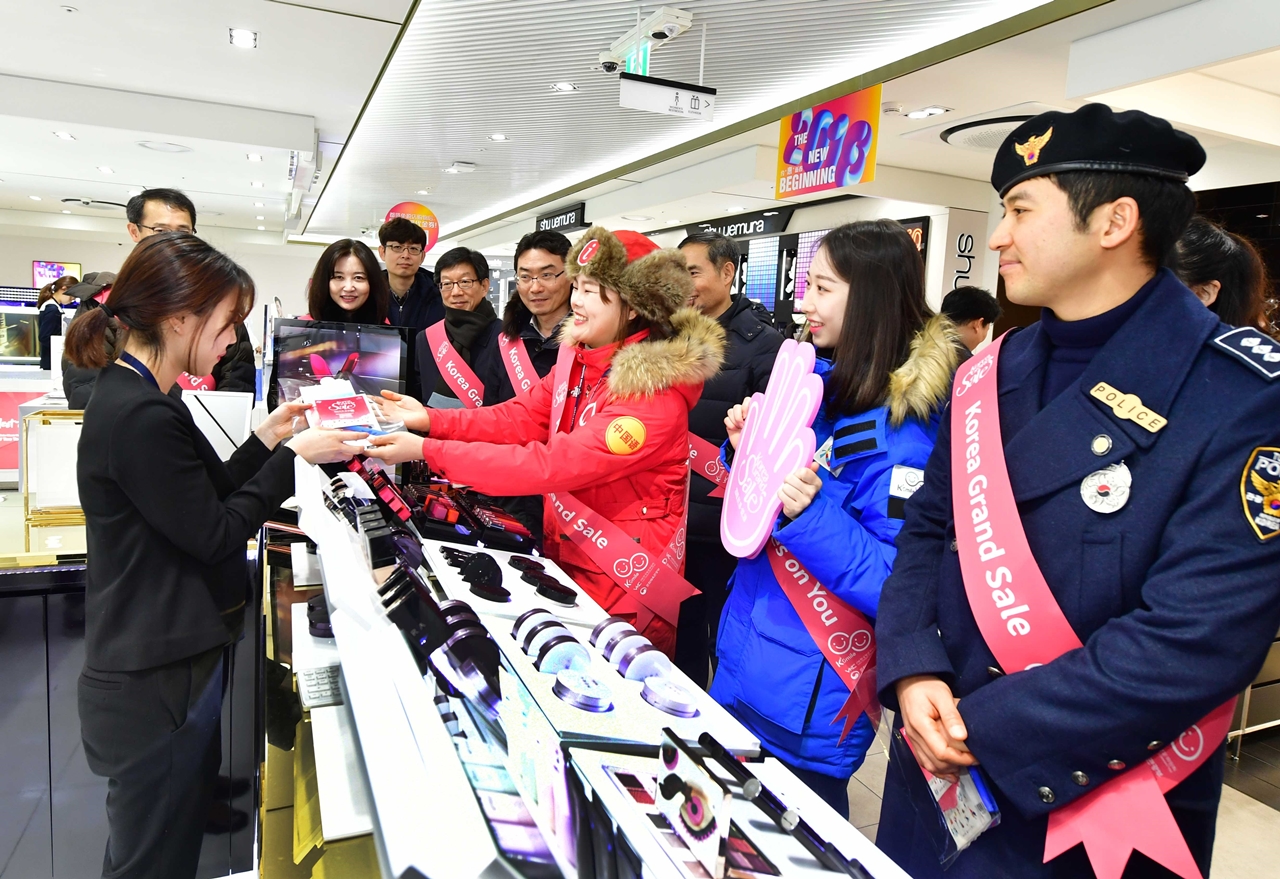 A group of members of the Visit Korea Committee show how to be kind to foreign tourists at a duty free shop at Doota Mall, one of the events kicked off by the Visit Korea Committee to woo foreign tourists to Korea in 2018.