POSCO is accelerating efforts to promote warm-hearted donations to the needy on the occasion of the celebration of the 50th anniversary of its founding. The steelmaker is concentrating on the implementation of the steel house project, also dubbed Steel Village Project, selected as one of excellent SDG projects.
In Korea, under the project, 27 steel houses have been so far donated to low-income earners and victim families of fires in about 20 cities across the nation. POSCO aims to dedicate the 50th steel house in celebration of the 50th anniversary.
The steel house donated by POSCO is a one with about 43 sq. meters in floor space consisting of two rooms, a kitchen/living room, and a bathroom.
The steel house boasts of excellent durability as its outside materials are built with the PosMac, a world premium product developed by POSCO on its own.
A ceremony to dedicate the 28th steel house took place at Bongwha, Gyeongsangbuk-do, on Nov. 29. The beneficiary, Lim Soo-il, 50, "When I was frustrated in despair with my house being gutted by a fire, I'm pleased to have a new hope with POSCO's support. I hope to live well in this beautiful house with my daughter and son."
Third Korean company to be recognized for SDG practices
POSCO's steel village project was selected as a benchmark for Sustainable Development Goals (SDGs) by the United Nations. POSCO has become the third Korean company to be recognized for its excellent SDG practices following CJ Jeiljedang's eco-friendly bio project and BKT's water treatment project.
POSCO said on Nov. 5 that POSCO's steel village project was registered as an SDG practice and received a "SMART"-class certificate, which is only awarded only to the best practices. The village project is one of the social contribution activities being conducted by the POSCO 1 Percent Sharing Foundation. Under the project, POSCO builds houses, bridges and welfare facilities using POSCO's steel and architectural methods.
POSCO has supported the construction of steel houses and indoor playgrounds for children from underprivileged families in Pohang, Gwangyang, Seoul, Incheon and other Korean cities, and also in Myanmar, Vietnam and other Asian countries.
The POSCO 1 Percent Sharing Foundation is a charity foundation operated by POSCO Group and its partner company executives and staff members. Donations amounting to 1 percent of their monthly salaries funds the charity.
The donated money is used to promote the wellbeing of the underprivileged, provide support for the self-sufficiency of local communities, and promote culture preservation at several places around the world where POSCO has a presence.
POSCO Chairman Kwon Oh-joon said, "With the registration (of SDGs), POSCO is being recognized for its social contribution activities by the United Nations."
POSCO, a global corporate citizen committed to fulfilling its social responsibility, plans to aggressively implement such social contribution activities to make the world better, he added.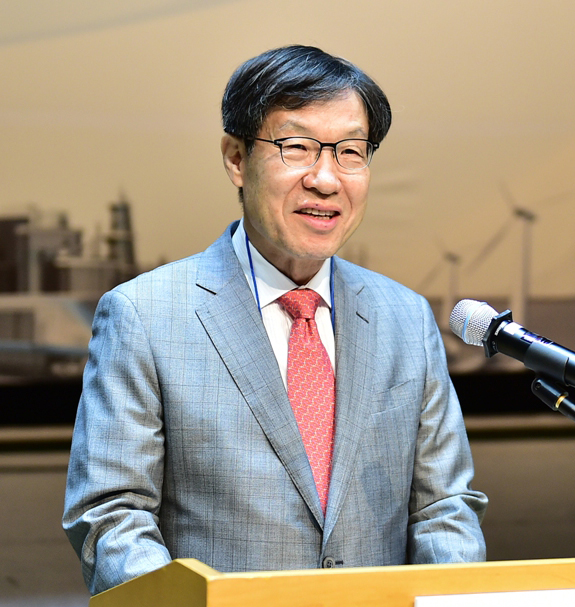 POSCO Chairman Kwon Oh-joon. (Photos: POSCO)