The Korea Nuclear Energy Agency (KNEA) has changed its name to the Korea Energy Information Culture Agency (KEICA) and also updated its mission. The board of directors approved a name change to the KEICA and functions on Nov. 9 and got the nod from the Ministry of Trade, Industry and Energy (MOTIE) on Nov. 24.
The changes follow the emergence of the necessity to provide fairer and more objective information and communicate more effectively with people, corresponding to rising public awareness toward energy and energy environment changes.
The KNEA was established in March 1992 with the goal of enhancing the public understanding of nuclear power. The KEICA plans to provide information related to energy shifts and the overall situation of the energy industry, ranging from not only nuclear power but also photovoltaic power, wind power and other new and renewable energies. It will also implement related cultural and educational projects.
KEICA Chairman Kim Ho-sung said, "Our foundation has been communicating with the people endlessly by providing objective and fair information about nuclear power and energies for the past 25 years. And we'll devote ourselves to carrying out our roles and mission so that a sustainable energy information culture can take root by expanding the accumulated expertise to the whole of the energy field."
The KEICA will complete follow-up measures related to the change of its name and functions before declaring a new corporate identity and holding an inauguration ceremony in early 2018.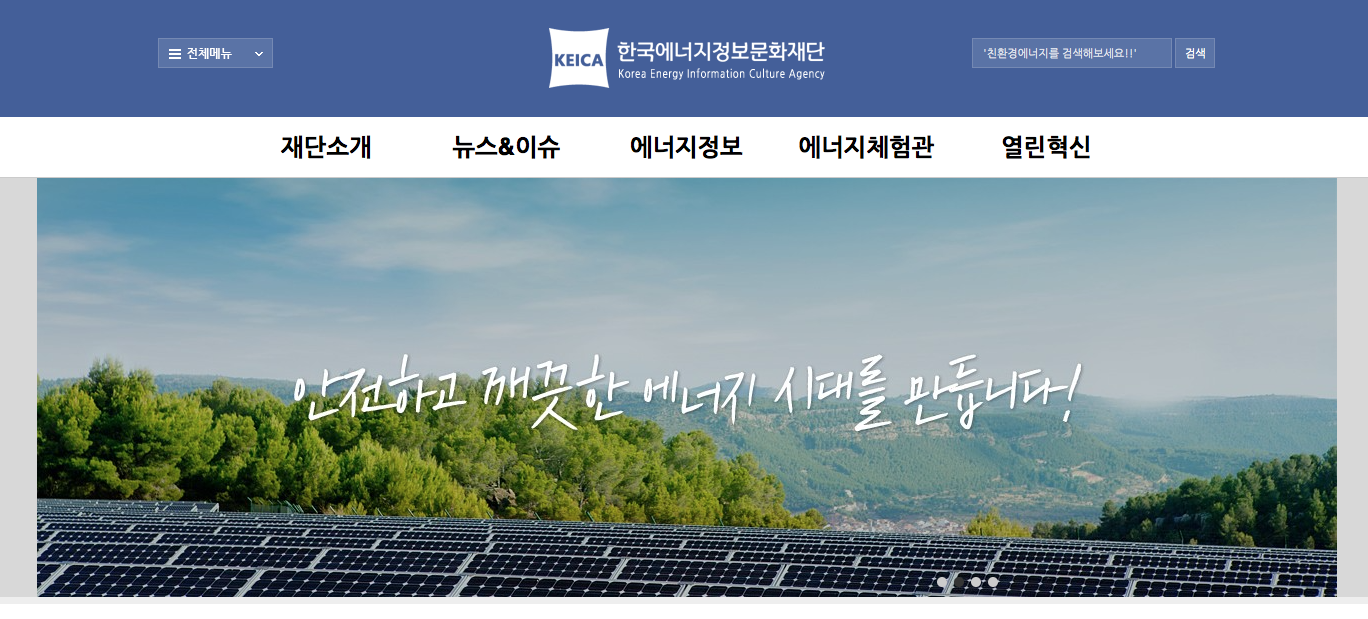 The newly designed homepage of the KEICA carries the message: "(We're) Ushering in an Era of Safety and Clean Energy." (Photos: KEICA)
Korean Govt. Needs to Take Steps to Invest Big in New and Renewals
European countries are scrambling to shift into new and renewal energies at a fast pace. Korean experts said Korea, which declared a paradigm shift into new and renewable energies, should ramp up investments into new and renewable energies.
According to data released by the KEICA on Nov. 29, Germany, which said it would wean itself off nuclear power in the wake of the nuclear disaster in Fukushima, Japan, in 2011, plans to shut down 17 nuclear power units by 2022. Instead, Germany is making up the deficiencies with new and renewable energies. With an increase in the supply of small-sized new and energies in each district, German farming villages have more and more new and renewable energy units.
France, the top European nuclear power country, has maintained polices to reduce its dependence on nuclear power and thermal power, which was launched under the former president Nicholas Hollande government. The French government has come up with a plan to half its power generation dependence on nuclear power by 2025 and increase the port of new and renewable energies to 32 percent.
Lee Sung-ho, a researcher with King Sejong University's Climate Change Center, said Europe has agreed to readjust the portion of new and renewable energies to an average of 20 percent by 2020 and to 27 percent by 2030, allowing each country to set its own target figure. But the Korean government has not yet initiated full-fledged policies to promote new and renewable energies, and it needs to take steps to raise its dependence on new and renewable energies, which now stands at to about 2.2 percent.