New KB Kookmin Bank CEO Hur Yin said Nov. 22 he will serve as a bridge for the bank to continue pursuing its goal of being more client-centered.
"My role should be to become a bridge so my successor can continue pursuing KB's goal of becoming a more client-centric bank," he said. Hur's remarks suggest he will seek strategies aimed at mid- to long-term growth, rather than making short-term improvements in profitability.
He said the bank has been pursuing a branch network transformation, in which branches are grouped to provide integrated financial services catered to clients' demands. He promised to accelerate the effort. To do so, Hur asked KB employees to become "universal bankers" who can provide integrated financial services.
"The most important thing is each and every employee's desire to become a universal banker," he said. "This will improve KB to become more innovative and dynamic," he said. "For the time being we are not considering productivity improvements through cost reduction." We will raise productivity through stronger profitability, not by sacking employees. We are still short of talent for what we should pursue," Hur added.
Regarding overseas business, he said the bank should make enhanced efforts to catch up with global leaders. As part of these efforts, KB Kookmin Bank will focus on corporate banking and investment banking in developed markets, while strengthening retail banking and microfinancing in emerging markets.
"In the past two years, we have had our outlets focus on their major businesses, such as asset management, corporate loans and foreign exchange deals under the 'partnership group' program," Hur said at a press conference.
Next year, the bank expects the partnership group (PG) program to be established and contribute to its bottom line. Under the PG program, a given number of outlets in a certain district will flexibly and strategically cooperate on sales and workforce operations, the 56-year-old veteran banker said.
After integrating some redundant branches, KB Kookmin Bank currently operates 1,061 outlets in South Korea, down from 1,130 at the end of last year. The bank reduced its workforce to 18,110 from 20,622 during the same period.
In the short term, KB Kookmin Bank will focus on improving productivity and increasing margins by seeking "cost effectiveness, not cost reduction," Hur noted.
As KB Kookmin Bank is determined to transform itself into a "digital bank" in the coming years, the president hinted there will be "a certain level of reorganization" at KB in the number of outlets and workers in the mid- to long term.
As for the bank's overseas businesses, the president said KB Kookmin lags behind its domestic rivals but will make a concerted effort to make amends and catch up.
"In the advanced markets, we will focus on extending corporate loans and providing investment banking services. In the emerging Southeast Asian markets, we will put a priority on offering retail banking and microfinance services to local customers," Hur said. Outside the country, the bank operates branches in five countries, has set up local business entities in four countries and has opened offices in three countries.
KB Kookmin Bank, the flagship unit of KB Financial Group, posted a net profit of 1.841 trillion won in the January-September period, jumping from 1.165 trillion won a year earlier. KB Kookmin Bank, South Korea's largest retail lender, will focus on providing customized services to the public without drastic job cuts or sharply reducing the number of outlets, the lender's new president said.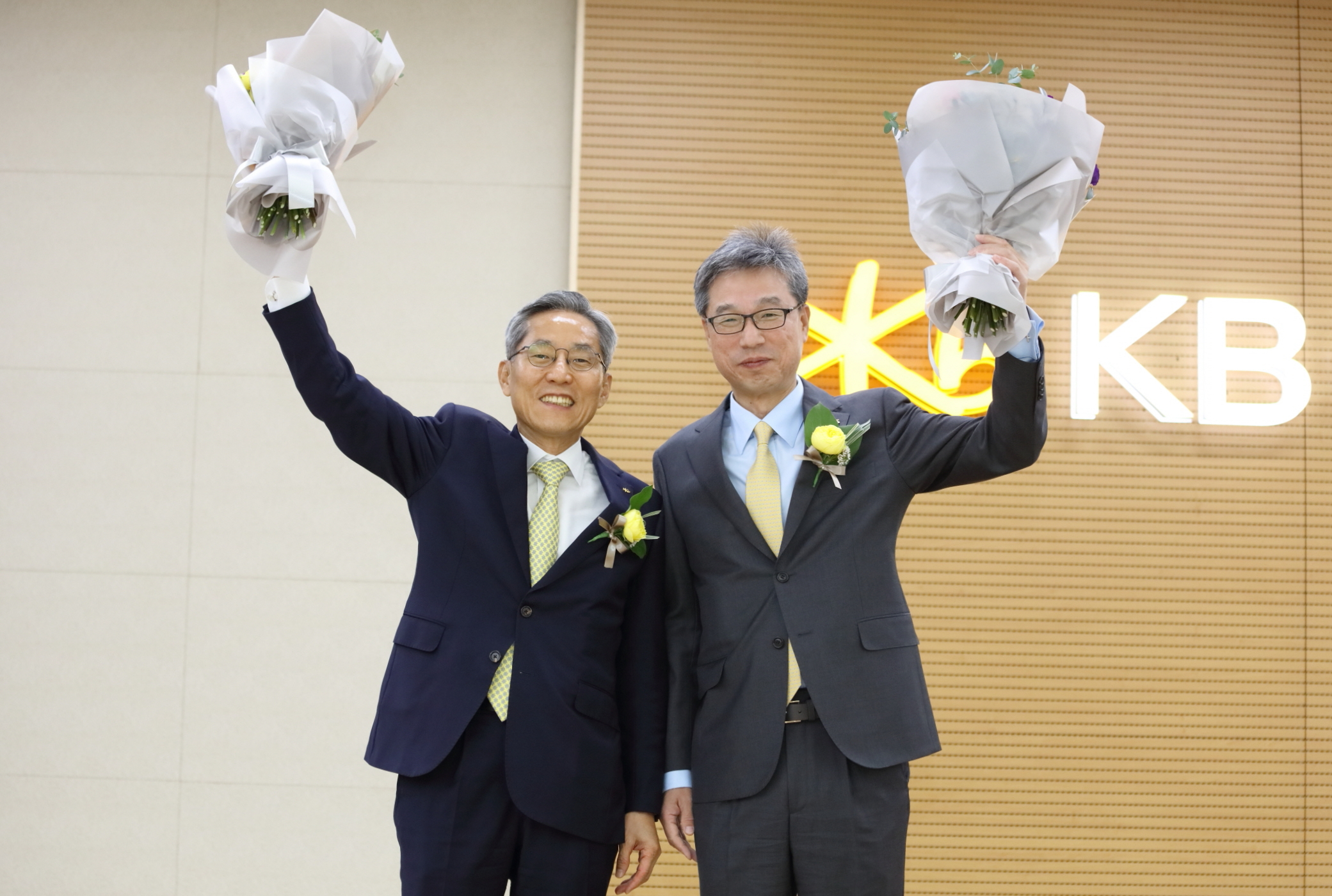 Both Chairman Yoon Jong-kyoo of KB Financial Group, left, and President Hur Yin hold bouquets presented to them to congratulate their personnel moves; Chairman Yoon for having been named to serve another term as chairman and President Hur for having been promoted to President and CEO.