The Korea Federation of Banks (KFB) has appointed a former NongHyup vice chairman as its new head.
The KFB held a general meeting on Nov. 27 with representatives of its member banks, and appointed Kim Tae-young, former vice chairman of the National Agricultural Cooperatives Federation (NACF), as the 13th chairman and CEO of the KFB. He will succeed Ha Yung-ku, whose term ended on Nov. 27. Kim was recommended as the sole candidate at the KFB board of directors' meeting held Nov. 27. The retiring KFB head, Ha, as well as representatives from member banks, the KDB, Kookmin, Shinhan, KEB Hana, NongHyup, IBK, Citibank, SC and BNK Busan participated in the meeting.
"We thoroughly examined the quality and capability of the seven candidates. Since Kim has much experience and know-how in the overall financial industry including banking, we expect he will make a substantial contribution to the development of the industry," an official at the KFB said.
The KFB board also excluded former government officials from the list of key candidates, amid criticism that the connection between the private industry and former government officials should be severed.
Born in Busan in 1953, Kim joined NongHyup in 1971 after graduating from Yeongnam Commercial High School which was popular among bright students back then. He later graduated from Myongji University in 1975, successfully handling both work and study. He is known for a strong passion for work, which saw him labeled a workaholic. He also has wide connection in the financial industry.
He took key posts at the farmers' cooperative, rising to head the credit business in 2008. After retiring from NongHyup, he served as the head of the Gyeonggi Credit Guarantee Foundation. He returned to NongHyup, serving as vice chairman from 2013 to 2014. Currently, he is working as a non-standing research fellow at the Korea Institute of Finance.
Kim will start his three-year-term Dec. 1.
Korea Federation of Banks, a non-profit organization founded in 1928, plays a role in the development of the Korean finance industry. Its members include all commercial banks, special banks, and provincial banks, while its associate members include all Korean branch offices of foreign banks. It promotes the development of financial industry through cooperation between financial institutions, R&D of financial issues, and improvements of business practices of banking industry. It also establishes healthy credit transaction order with centralized management of credit information and evaluation about financial institutions and clients.
KFB faced the challenge of unreliable systems that could not meet the organization's performance needs. Its previous server system lacked resources and often experienced failures that resulted in delayed response and availability of its mission-critical systems. In addition, the usage of the overall system was not balanced, causing some servers to be under-utilized.
It was important for KFB to integrate its many physical servers into a virtualized environment to benefit from ease of management, cost savings, and for the ability to configure multiple guest operating systems.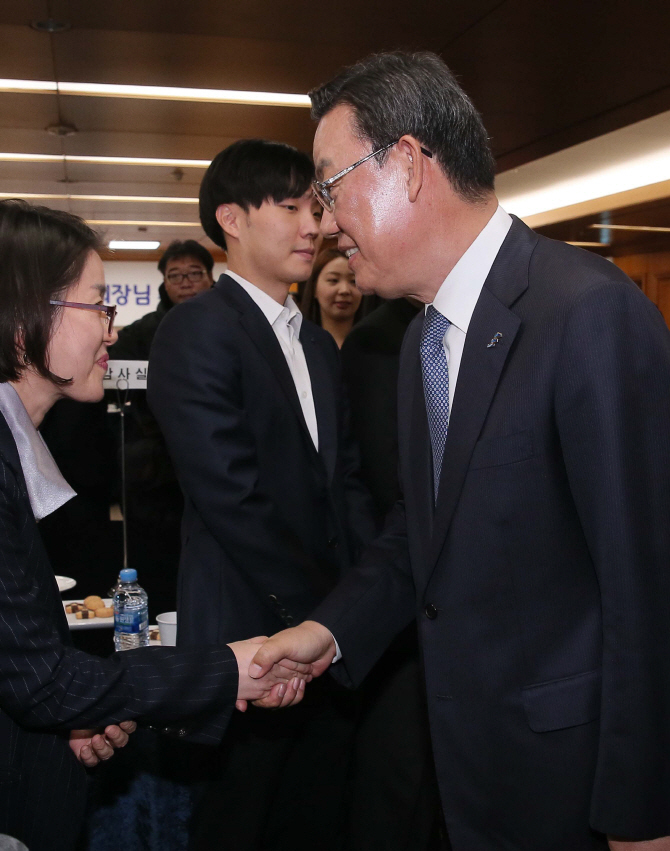 The new KFB chairman shakes hands with officers and staff following his inaugural ceremony.(Photos: KFB)