CJ Group conducted its biggest-ever executive personnel reshuffle, which included group Vice President Shin Hyun-jae of CJ Cheiljedang who was promoted to president, while Vice President Kim Hong-ki was promoted to group Vice President and Joint-Representative of CJ Co.
The eldest daughter of Chairman Lee Jay-hyun, Kyung-hoo, head of the Integrated Marketing for America, has been promoted to director while her husband, Chung Jong-hwan, headquarters manager of the State of America Marketing, also got a promotion to acting director. Both were promoted for a second time in eight months.
In the Nov. 24 personnel reshuffle involved four group presidents, two vice presidents, nine acting managers, and others totaling 81 people, which included 70 reassignments.
The reshuffle was the first the group conducted since Chairman Lee returned to his job in May following sick leave.
The reshuffle also involved 42 people who got officer-level promotions, four more than the March reshuffle, making it the largest in the group's history. Many of those involved are in their 50s, showing that the moves can be taken as a sign of generational change in the group's leadership.
CJ Group officials noted that almost all of the CEOs of the major affiliates are taken up by those in their 50s, except person who is in his 60s, CEO Park Keun-tae (63) of CJ Korea Express. Officials said the top management of the group wanted to prepare for the future by replacing CEOs of major affiliates with those who are relatively young.
President Shin Hyun-jae of CJ Cheiljedang, the top affiliate of the group, was born in 1961 and entered CJ O Shopping in 2000 as an experienced clerk. He started to move up the rank and file of the group, taking over as leader of the Management Support Office of CJ O Shopping, Joint Representative of CJ Korea Express, Overall Vice President of CJ Co. and others.
He will also take control of CJ Cheiljedang Bio Sector, with the company dividing up its operation into two major sectors, the food sector being another. Overall Vice President Kang Shin-ho has been tapped to take charge of the food sector, while Vice President Kim Chol-ha, the joint representative director since 2011, is slated to move to CJ Technology Institute as the CEO.
Other important personnel moves include Overall VP Kim Hung-ki who has been made a joint representative director of CJ Co., along with VP Lee Chae-wook to share the duty.
CEO Kim entered CJ Cheiljdang as an experienced clerk and has since moved up the ladder, including a stint as manager of the Strategy Team and the Personnel Section.
Chairman Lee's eldest daughter and her husband were promoted as acting directors in the March personnel move, and they got another promotion this time around.
The chairman's eldest daughter, Kyung-hoo, attended Columbia University Graduate School, where she got her masters. She joined CJ Co. Planning Office as a clerk, working in the area of strategy and planning and later took charge of the Commodity Development Headquarters and the Planning Team for Broadcasting and the Global Marketing for CJ U.S. operation. Her husband, Chung Jong-hwan, has also been promoted as director.
The youngest person to be promoted as an executive is Chung Yoon-kyu of CJ Foodville, who is 39 years of age.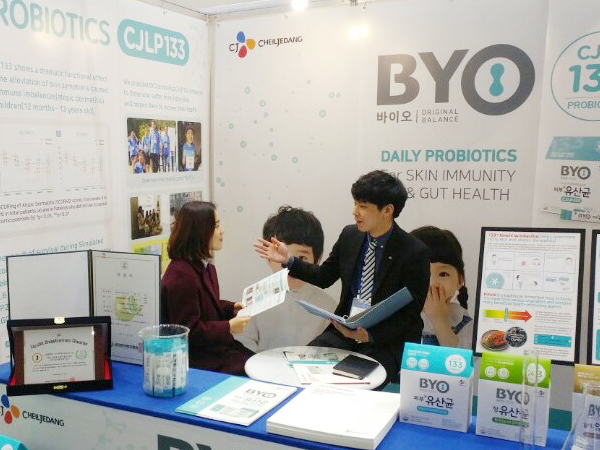 CJ Cheiljedang set up a booth at the International Exhibition on Smart Technology for Sustainable Development & Procurement 2017 (STS&P 2017) at the Songdo Conventia in Incheon from Nov. 30 through Dec. 2.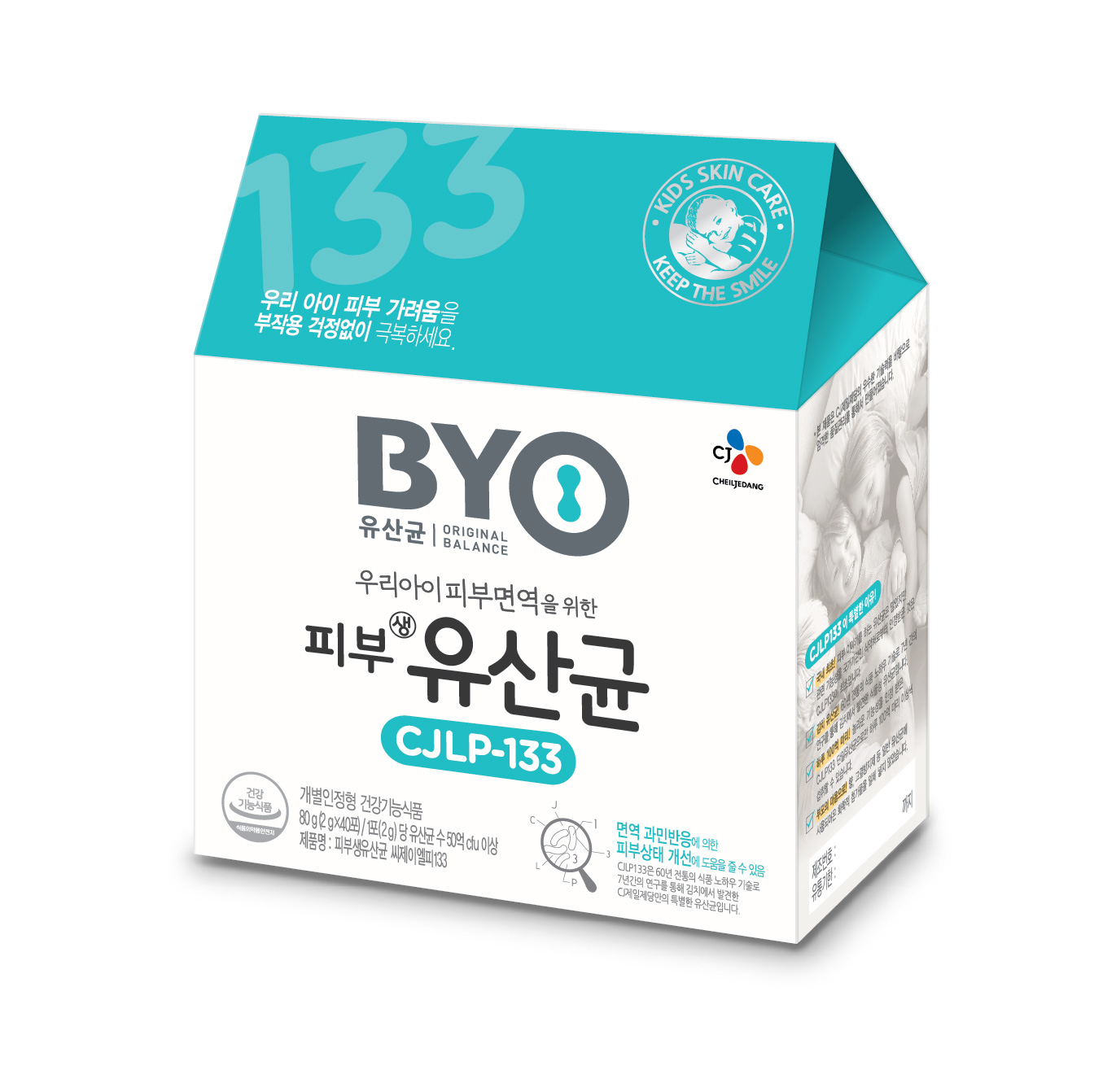 A view of the Byo lactobacillus product, released by CJ Cheiljedang. (Photos: CJ Cheiljedang)
CJ Cheiljedang Makes Pitch to Use Kimchi Lactobacillus as Int'l Relief Good
CJ Cheiljedang has begun to accelerate efforts to use lactobacillus from kimchi as an international relief product. The company set up a booth at the International Exhibition on Smart Technology for Sustainable Development & Procurement 2017 (STS&P 2017) at the Songdo Conventia in Incheon from Nov. 30 through Dec. 2.
The STS&P 2017 is part of efforts to pursue the United Nations 2030 Agenda for Sustainable Growth. In September 2015, world leaders and UN adopted the 2030 Agenda for Sustainable Development and 17 Sustainable Development Goals (SDGs) with 169 targets to solve international problems such as poverty, severe water shortages, as well as air and water pollution.
About 250 Korean and foreign companies participated in the STS&P 2017 by setting up 399 booths. The exhibition was hosted by Yonsei University, Korea National Assembly UN SDGs Forum, Love in Lights, Africa Asia Development and Relief Foundation (ADRF). The event was organized by Messe K, Asia-Pacific Peace and Development Service Alliance (APPDSA), and TIA Group.
The STS&P 2017 consisted of booths arranged according to such themes as national environment, health care, energy, smart agriculture & livestock, and social shared values.
CJ Cheiljedang operated an independent booth, titled "BYO Lactobacillus," part of the Health Care Pavilion, and held one-one-on meetings and negotiations with international relief product procurement companies and international aid agency buyers.
The Korean company showcased kimci lactobacillus's values as foods and raw food materials. CJ Cheiljedang said kimchi lactobacillus was proved to be effective in increasing levels of immunity and nutrients for children from developing countries.
Those children do not have access to healthcase and suffer from diseases, particularly atopy, digestive problems and malnutrition. CJ Cheiljedang has released Byo lactobacillus products based on the premium lactobacillus from kimchi the company developed after seven years of research into its food fermentation technology.
The exhibition is expected to serve as an opportunity for kimchi lactobacillus, known to be effective in recovering body balance, to make its debut at the international relief goods market. It will kick off such big picture plans as collaboration with related global organizations, health projects and creation of shared values, a CJ Cheiljedang official said.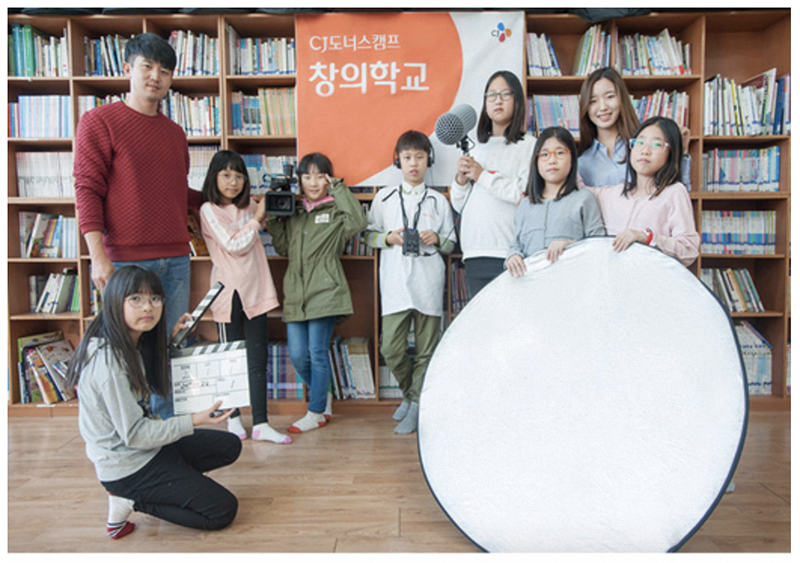 Student at CJ Donors Camp's Creative School work on the production of a short film.(Photo: CJ Group)
About CJ Cheiljedang
CJ Cheiljedang, established in 1953, is the mother company of CJ Group. CJ Cheiljedang was merely a food company specializing in domestic cuisine before it was spun off from Samsung Group in the 1990s. But under the stewardship of CJ Group Chairman Lee Jay-hyun's plan to explore new industries, CJ Cheiljedang aggressively ventured into cinema, broadcasting, media, music (CJ E&M), multiplex (CJ CGV), home shopping (CJ O Shopping), and logistics (CJ Logistics).
Thanks to its early investments, CJ Group has an international life and culture business portfolio that is leading the spread of hallyu (the Korean Wave) around the world. The group has seen sales jump 20 times and about 40,000 new jobs be created over the past 20 years. Chairman Lee now sees it as his mission to give the sagging Korean economy a shot in the arm.
CJ Group has four main business units ― food and food services (CJ Cheiljedang, CJ Foodville, and CJ Freshway); biotechnology (CJ Cheiljedang and Cj Healthcare); new logistics (CJ Logistics, CJ O Shopping, and CJ OliveNetworks); and culture (CJ E&M, CJ CGV, and CJ Hellovision).
Attracting attention from the outside is the group's cultural business, which accounts for some 15 percent of the group's total sales, but contributes to improving its image in Korea and abroad.