Non-Koreans' appetite for Korean red ginseng is getting hotter. Korea's representative health food, red ginseng is enjoying increasing popularity among foreigners staying here or visitors who are on the rise.
Stats released by the Ministry of Justice recently showed that foreigners staying in Korea stood at 2.04 million, breaking the 2 million threshold for the first time. The figure accounted for 4 percent of the nation's total population of 51.69 million. Inbound foreign tourists totaled 17.24 million in 2016. Combining of foreign residents and inbound foreign tourists has already topped about 20 million people, making Korea a country familiar to foreigners.
With the number of foreigners staying in Korea and those visiting the nation on the rise, foreigners are increasingly accustomed to Korean culture, so foreigners who favor such Korean health foods as red ginseng is also increasing.
According to the Korea Ginseng Corp. (KGC), the nation's No. 1 health food maker of late, red ginseng is enjoying international popularity.
As non-Koreans who visit outlets to buy red ginseng have surged, the corporation is ramping up marketing activities targeting them by using foreign language materials via tablet PC and producing and releasing "experience kits."
Foreigners can be seen buying red ginseng products at CheongKwanJang outlets at areas with many foreign residents. Many Japanese, Chinese and Russians each primarily purchase them at the Ichon-dong area in Seoul, the Guro area, and the Dongdaemun Gate area. Outlets in downtown Myeongdong are frequented by foreigners from around the world.
By nation, Japanese favor capsule products while Chinese like to buy powered red ginseng products. Red ginseng extract products are the most favorite ones chosen by foreigners, like Koreans.
Red ginseng, very familiar to Koreans, is the health food item most favored by Koreans. Koreans have a tendency to choose red ginseng products as gifts for such traditional holidays as Chuseok and Lunar New Year. Red ginseng consumers cover all age groups from children to the elderly.
Regarding Koreans' favoring red ginseng, they cite such efficacies as improving immunity and fatigue recovery, proved to be better than vitamins and other health products. More and more people have said they have experienced the efficacies. Red ginseng enjoys great popularity. Most people eat red ginseng because it doesn't have side effects for children or the elderly.
A manager with the CheongKwanJang outlet in Myeongdong said, "Many young customers are asking for the same products as red ginseng is seen in dramas thanks to the recent influence of the K-Pop and hallyu (Korean Wave) all the range."
Red ginseng is enjoying popularity to the extent that inbound foreign tourists and foreign residents in Korea have become common patrons.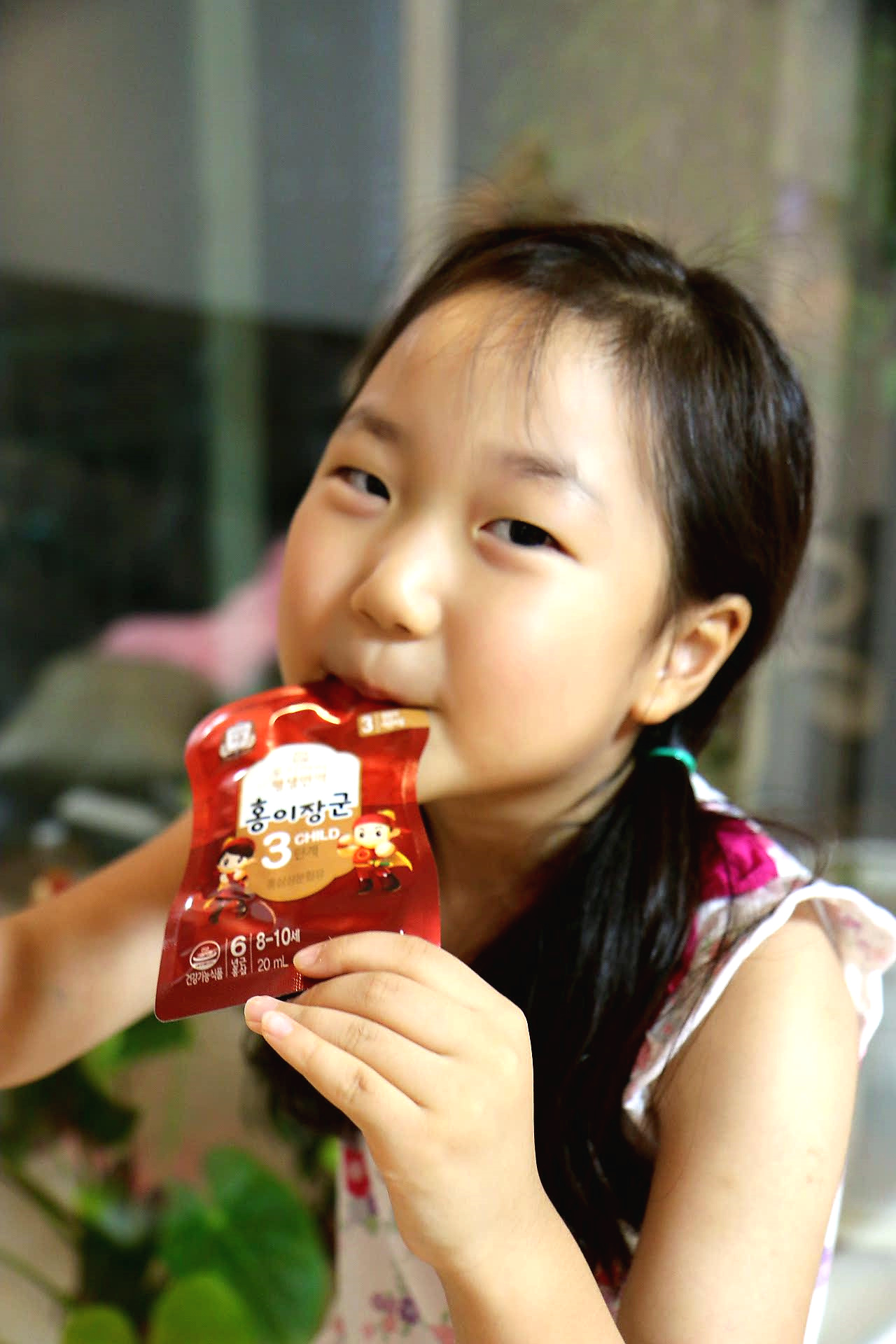 A kid consumes the red ginseng extract "Hong Yi Jang Goon." (Photos: KGC)