Vice President Lee Dong-hwan, head of the GIB Sector of Shinhan Financial Group, said he also has been given the control of the investment banking sectors of the group's affiliates including Shinhan Bank, Shinhan Financial Investment, Shinhan Life Insurance. He retains his position as Shinhan Capital vice president, in charge affiliate investment banking. That gives him five corporate titles.
Chairman Cho Yong-byeong decided to integrate the operations of investment banking activities of the group's affiliates under one roof to steer the group to expanding its roles in the capital markets in both Asia and around the world.
VP Lee returned to his old job as a vice president at the group to take charge of the investment banking sector, relinquishing his position as CEO of Shinhan Data System.
Lee's office is in the same building where Shinhan Financial Investment has its offices to demonstrate to his subordinates the importance of his job in overseeing all investment banking activities of the group.
Shinhan Financial Group has traditionally given operational priority to its non-banking sector because of its profitibility, which shows why it's been known as the most profitable financial group among its rivals.
Lately, the banks have been dominating transactions for the issuances of foreign exchange bonds, with Shinhan Financial Investment focused on attracting global asset management firms to make investments in Korea. But most recently, Shinhan Financial Investment has turned around its operation by getting more involved in foreign exchange debt instruments transactions by providing guarantees to Koreans with weak international credit.
The financial investment company has turned around its operation by strengthening its financial investment sector, which had been rather neglected by the group.
The group has opted to focus on a two-track strategy for its operation in the global financial market, one for the emerging financial market in S.E. Asia and the other on advanced financial markets in Europe, Australia and North America.
Vice President Lee said there are abundant opportunities for corporate finance in the southeast Asian region, including in Vietnam and Indonesia, with those countries in great need for infrastructural projects, such as the construction of highways, as well as corporate capital increases through the issuances of new shares. That provides a great chance for Shinhan Financial to capitalize on its advanced IB roles.
Shinhan Financial Investment set up local subsidiaries in Vietnam and Indonesia last year so that its IB activities would be easier to promote, as they are conducted through local subsidiaries.
One of the biggest missions for the GIB sector has been searching for opportunities for private banking customers to make profits and cleaning up the processes of international transactions.
The moves are related to the high-risk and yet very profitable IB-related commodities to the domestic channels to sell them to domestic investors.
For example, the company will buy the loan products related to a building in Manhattan, New York, and sell them to domestic investors mixed with other products so that the risks would be much lower.
The company bought the mid-level debt instruments with projected interest rates at from 6 to 7 percent per annum. The vice president believes that the funding problems for corporate customers would be eased very much when many super-scale IBs emerge.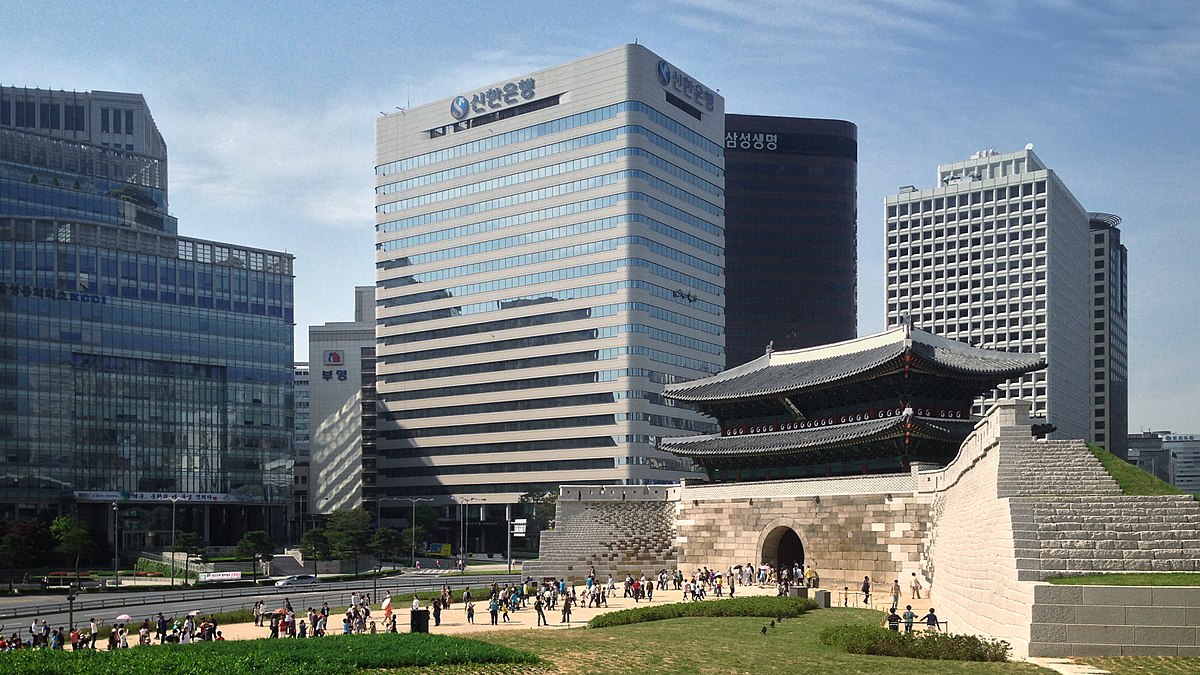 A view of the building in Seoul where Shinhan Financial Group and its affiliates are located.