Modern paintings are expressed in an unlimited number of ways. Art has no any taboos to be expressed. From the perspective of traditional painting, starting first with drawings, ideas are born. Modern paintings that focus on creative ideas are proliferating unlimitedly.
Artist Park Mi-sook's latest works are based on the concept of modern art, but the properties of visual art may be interpreted in the context of traditional painting. Despite its use of photos, Park's images strongly resemble paintings. Single colors like gray, brown, yellowish green, and blue, and black lines may come together just like the process of drawing. However black lines that form shapes are inclined to be considered "painting" to the extent that they have no connection with photos.
With the help of computing, photos and outlines look strikingly like paintings. Lines supporting lines made in the process are the outcomes of photos, not direct manual work. Images of Park's works are only traces of photos, while lines of images look like those of paintings, so they feature subtle images and emotions.
Next, textures are added to the canvas to remove mechanical images from the use of photos. Sand is mixed and added to the canvas to make those thick textures on which images of photos are put. Then the final touches are made by employing a simple coloring method. The textures made in the process reduce chilly images and produce visual effects that can be seen like paintings. Despite the use of photos, textures may cause confusion in determining painting expression methods.
The use of textures is a way to overcome the use of photos, but it is also a way to contribute to the creation of abstract space. Diverse expressions corresponding to brush and knife movements may feature an "inner world." Textures that exert physical power convert still photos into movements. The intervention of that physical power helps the entire image become something like a painting. They not only reflect reality, but also project aesthetic conscience or an emotional world.
Silhouetting tends to reveal the properties of a painting. The practice may evoke flickering emotions of an ancient age. It may be of no use to try to find specific images contained in the photos. Computing can reduce actual reality and leave only skeletons.
The artist employs a method that essentially combines two photos into one, projecting two scenes into one by "paralleling" them. Combining two views into one through silhouetting cannot be detected easily. The artist draws a unified image by paralleling two unrelated landscape photos ― tweaking time and space to unify the images by comparing two opposing situations: past vs. present; old things vs. new ones; Gangnam vs. Gangbuk; and the young vs. the elderly.
The result might even remind a viewer of the fact that the reality we live is not separate from the past. Traversing time and space are meant to be continuous, not disconnected. It is like the existence of poor hillside villages in the shadows of an urban landscape filled with skyscrapers. A view of Park's work might resemble the past, but it may also be part of the present that we cannot perceive.
Her works serve as an opportunity for us to recognize our forgotten time and space anew. Think of modern people being indulged into their busy daily lives without recognizing their neighbors. The artwork has the ability to make people feel as if they traveled in a time machine. How unclear forms extend imaginative space beyond ordinary time boundaries, and that imaginative space combines with memories to evoke longings. Ruminating of the past could not only motivate modern society, but it also serves as a space to heal scars of modern people's minds, which are loaded with mechanical and stereotyped urban life.
There lies an imaginative space that viewers may associate with their experiences and memories. Even a landscape unrelated to viewers is unclear, and vague images could become anyone's personal imaginative space.
Unclear, incomplete images may boost imaginative visual room ― imaginative visual space to recollect personal experiences and memories.
Subtle black silhouetting may increase viewers' will to participate. Unclear forms may not easily lead to a visual understanding, which paradoxically prompts them to find actual forms and even meanings hidden in the silhouetting. Ultimately, it may abet their desire to reach the inside world unseen by eyes. The power of photos can translate facts. The artist's visual interpretation on top of the recorded facts may create images that could be indistinguishable between the visual and non- visual world. Images on the borderline may portray both actual and a dream-like thoughts.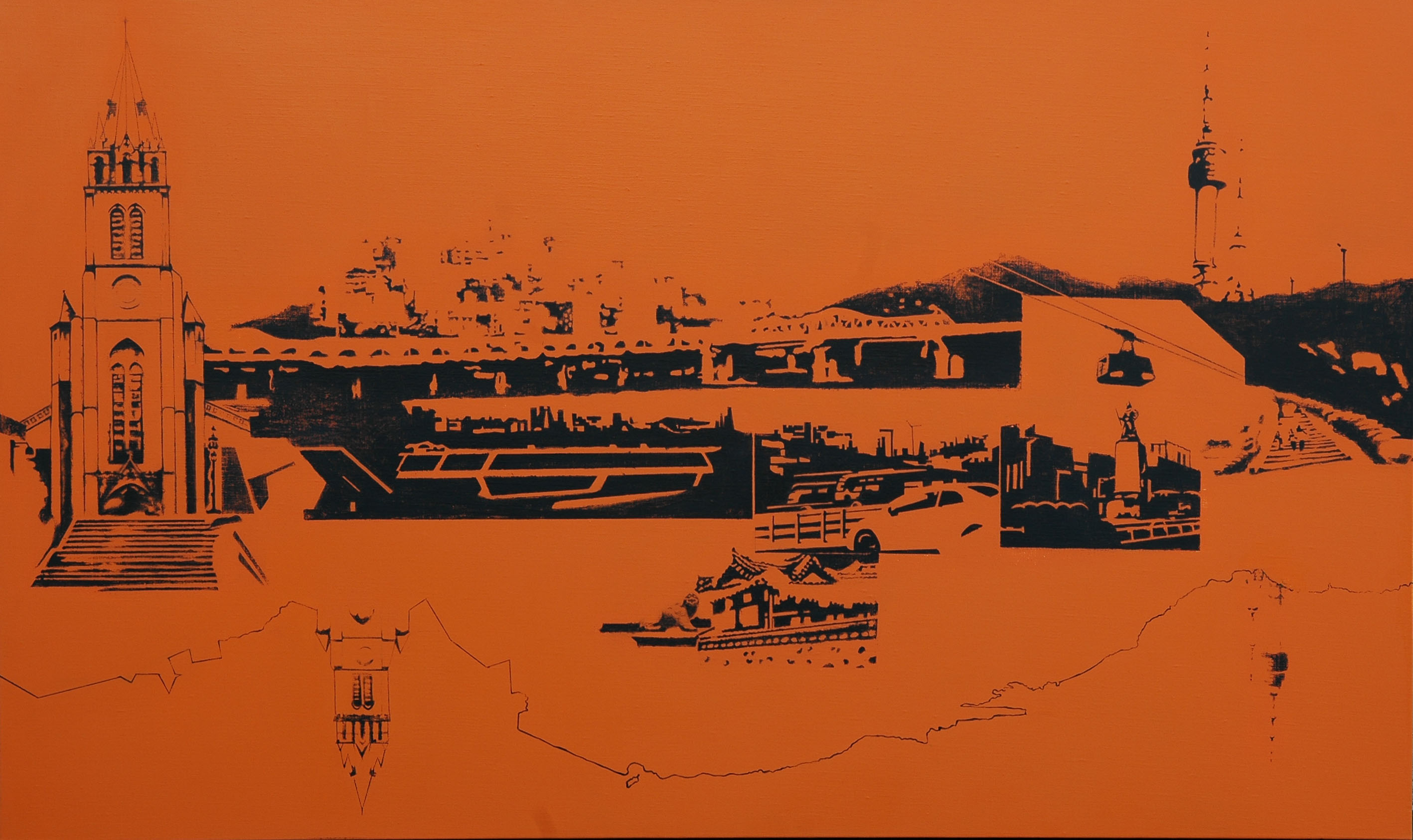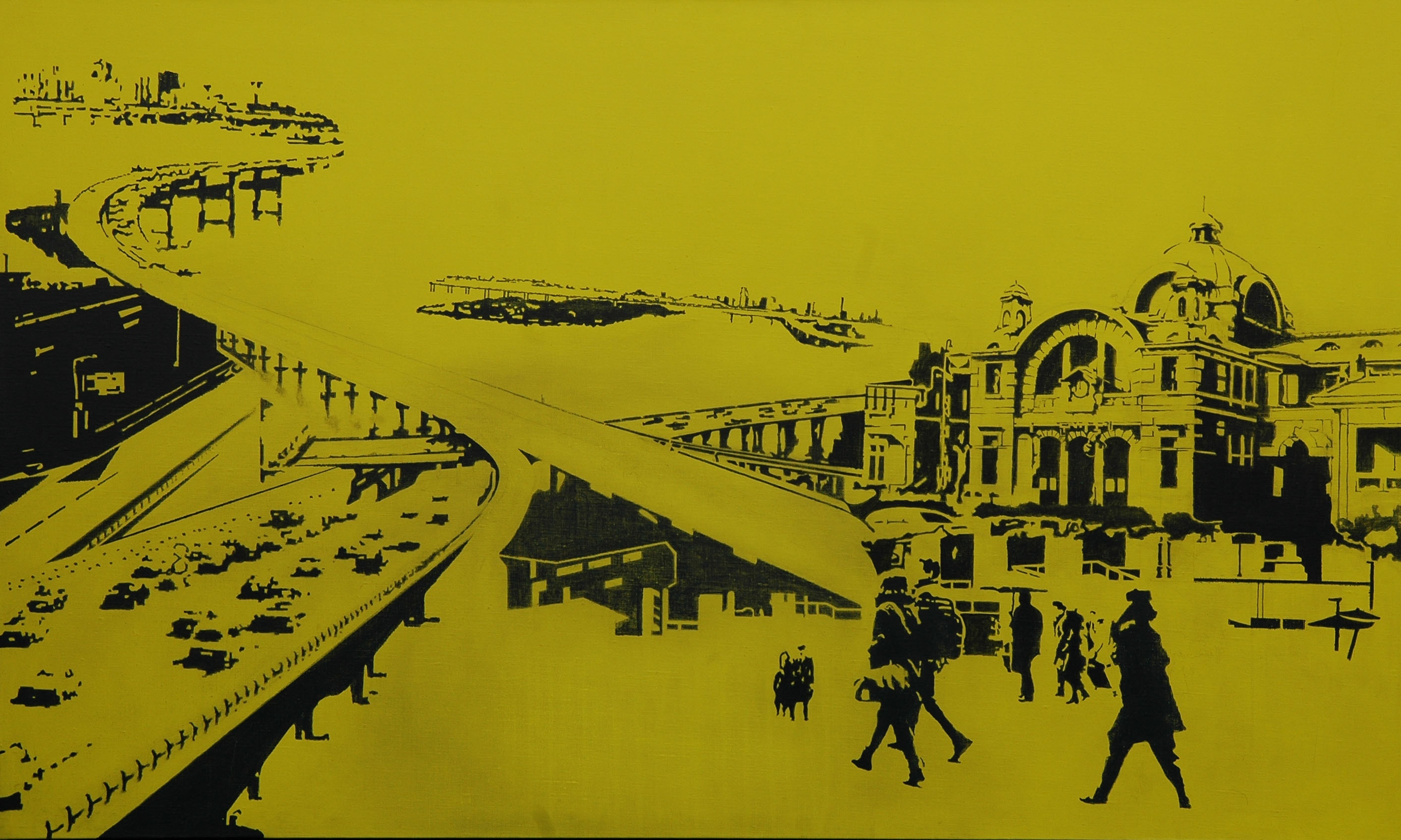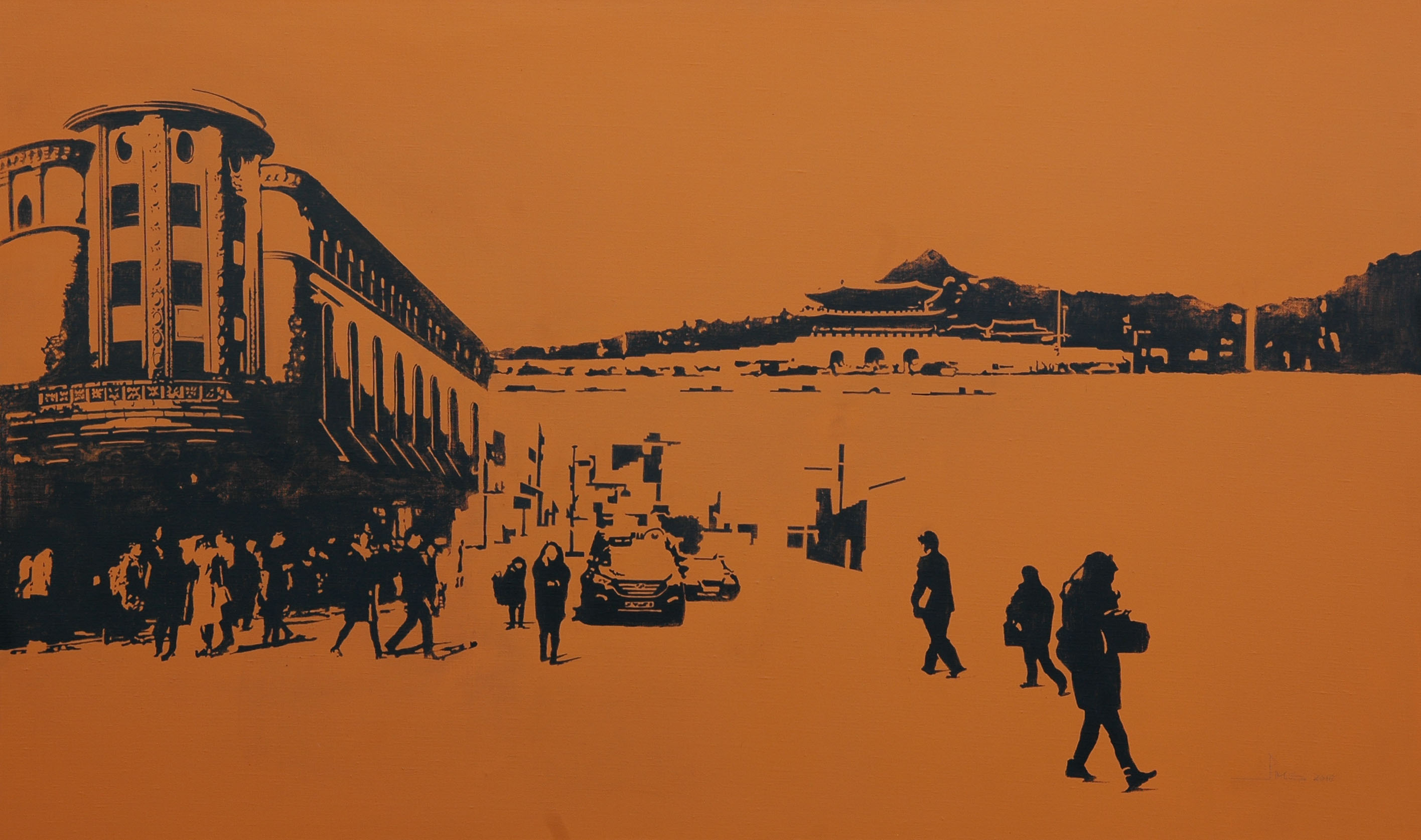 Artist Park Mi-sook' Gangbuk series, titled "Dreaming City-Insight-Gangbuk Landscape," portray Gangbuk-gu's major facilities but also talks of Gangbuk-gu residents and visitors.
'Dreaming City-Insight-Gangbuk Landscape'
Artist Park Mi-sook's works, titled "Dreaming City-Insight-Gangbuk Landscape," were displayed at the Gwang Gallery of Sejong Center in Seoul from Nov. 1 through Nov. 7.
The following is a message artist Park gave on her work. Gangbuk-gu is one of Seoul's districts, staggering in depth with opposing values of a modern city: Old vs. future and nature vs. urban development.
Looking into the deep amplitude the images existing in Gangbuk-gu and portraying it, I strive to excavate the values that people want to be continuous and preserved. The past, present and future features I try to project toward Gangbuk-do may be seen as an aesthetic landscape on the part of citizens who are going to go forward in the context of "historical convulsion."
The existing reality of landscape is not the target of my work, but I focus on tearing down on the existing views and reinterpreting them into an "artificial landscape."
My "Gangbuk" work series portrays the changing features of Gangbuk-du since the opening of the Ui Light Rail, Seoul's first unmanned subway line, depicting not only Gangbuk-gu's major facilities, including Ui-dong Meeting Plaza, Pine Tree Rest Area, Ponghwang Pavilion, Modern Historical Museum, and April 19 Pro-Democracy Uprising Cemetery, but also talks of Gangbuk-gu residents and visitors, including merchants, ward residents and climbers in the perspective of landscape painting.
This may allude to the future of Gangbukgu, a place of history, culture and tourism, as Seoul's center and future-forward stopover, not a periphery or backwater district of the capital.