Hyundai Motor is setting up Hyundai Cradle in Silicon Valley of the United States, which will serve as an advance center to ensure future car innovation.
Hyundai Cradle is an extension of Hyundai Ventures, the existing office of Hyundai Motor in Silicon Valley. The newly extended office is pursuing open innovation through collaboration with new local startups for the development of future car technologies.
Hyundai Cradle is expected to spearhead the development of such future technologies as A.I., future motility, self-driving, smart cities, and robots. The name Hyundai Cradle alludes to the Center of Robotic-Augmented Design in Living Experiences, a Hyundai Motor official said.
The architect of the idea of setting up Hyundai Cradle is Hyundai Motor Vice Chairman Chung Eui-sun. Chung visited after he participated in a ceremony to open an office in Washington as part of a delegation of Korean businessmen. They accompanied President Moon Jae-in on an official visit of the United States last June. He also discussed future technology development with founder Amnon Shashua of Mobileye, an Israeli self-driving technology company in May and October.
Hyundai Cradle is responsible for making strategic investments into startups, as Hyndai Ventures has done. The former is charged with investing and collaborating with promising startups the company will explore while implementing its own projects to verify new technologies and business models.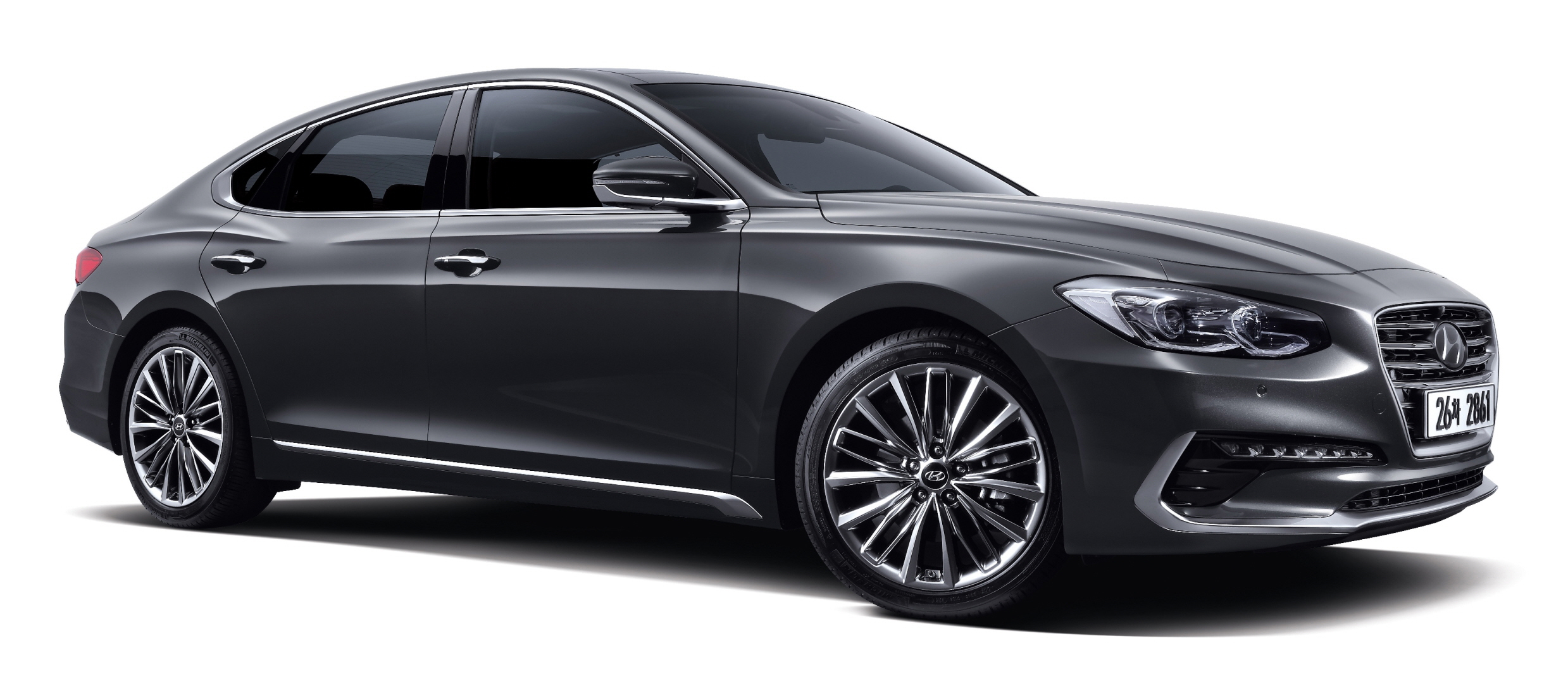 Grandeur 2018 model, to be released by Hyundai Motor. (Photos: Hyundai Motor)
Hyundai Introduces 2018 Grander Model with Genesis-level, Upgraded Features
Hyundai Motor will release the 2018 Grandeur model, employing many of the features that have been so far applied only to the Genesis premium brand.
Hyundai Motor announced on Nov. 6 the releasing of the 2018 Grandeur model and Grandeur Hybrid, carrying the latest options, including the Highway Driving Assist (HDA), a first for the Grandeur models, and the adoption of the automaker's next-generation connected car telematics service, Blue Link.
The HDA has such functions as self-controlling of vehicle-to-vehicle distance while driving on an expressway, keeping the car in the right lane, restarting after stopping, and automatic control of the speed according to the speed limit. The technology has been so far applied only to the Genesis brand models.
The new Grandeur model will also employ a server-type voice recognition system based on its AI platform "Kakao I," now available for the Genesis G70 model, to deliver more convenience and precision for searching a navigation.
In order to enhance safety and convenience during driving, Hyundai Motor has added the HAD on top of the automaker's next-generation intelligent safety technology "Hyundai Smart Sense Package," as an optional feature.