KEPCO KPS is a total service provider specializing in maintenance, diagnosis and retrofiting of power plants facilities at home and abroad, new renewable EPC, as well as transmission facilities. The company, based on endless 30-odd year technology development and manpower development, is devoting itself to contributing to improving conveniences in people's daily lives, and it is now making endless challenges to become a global leader.
KEPCO KPS, which has already entered the global market, is solidifying its position as a global leader as it has earned more than 100 billion won in sales from overseas projects every year.
The company has established a merit-based new corporate culture value system as a new growth engine to brace for outside environmental changes. KEPCO KPS has ramped up its internal capabilities by nurturing 1,100 "gifted" personnel, accounting for 20 percent of its staff to make a leap forward as a global leader.
KEPCO KPS is accelerating efforts to secure a competitive edge by securing state-of-the-art technologies to tap a new market of decommissioning obsolete power generation facilities and nuclear power units. The company is setting rehabilitation, operation, maintenance and management (ROMM), retrofitting and nuclear power unit decommissioning as new growth engines, It is focusing on technology self-sufficiency by nurturing core manpower at each business, and is establishing such systems as the promotion of collaboration among related departments with the goal of raising the ratio of new growth engine businesses in its total sales to more than 38 percent by 2025.
The company is ramping up ways of promoting technology cooperation with Westinghouse of the United States. The two companies plan to cooperate in such nuclear power unit decommission areas as decontamination and dismantling, technology transfer, and education. KEPCO KPS has established the KPS 2025 Mid- and Long-term Technology Procurement Plan to ensure technology upgrades and differentiation as well as efficiency-oriented R&D implementation regimes. The company is focusing on research-oriented technology development by developing robots for facilities that cannot be accessible by humans.
The company clinched four gold prizes, including the grand prix for the development of an endoscope of formed flexible printed circuit films at the 45th International Exhibition of Inventions of Geneva. The company has been striving to raise equipment reliability through creative innovation activities. Thanks to the KPS-Way connected with 6-Sigma and other activities, KEPCO KPS succeeded in bearing tangible fruits worth more than 30 billion won annually.
About KEPCO KPS
KEPCO KPS, which was initially established for the efficient maintenance of power facilities, has brought greater convenience to the public by developing technologies and nurturing experts in this field.
All KEPCO KPS executives and staff members have taken on a challenge for a good cause and strive to provide high quality services with the best technology and experience and contribute to Korea's economic development.
Furthermore, the company has accomplished a remarkable achievement of becoming a leading company in the power plant maintenance industry. Its focus on customer satisfaction and quality improvement has been acknowledged with numerous honors and awards: the Korea Quality Award; the Hall of Fame of Korea Service Grand Prix; the Dow Jones Sustainability Index Certification; the QCAS; the BEST HRD; the Korea Social Contribution Award; the Korea Financial Management Grandprix.
Together, KEPCO KPS has proclaimed "The Vision 2025," aiming to become a leading creative company by providing top-flight total plant services. With this new vision, higher sales and a greater share of new growth business will be on the priority list in making a new leap forward. All KEPCO KPS family is determined to stand tall on the global stage and committed to establishing itself as the world's best total plant service provider.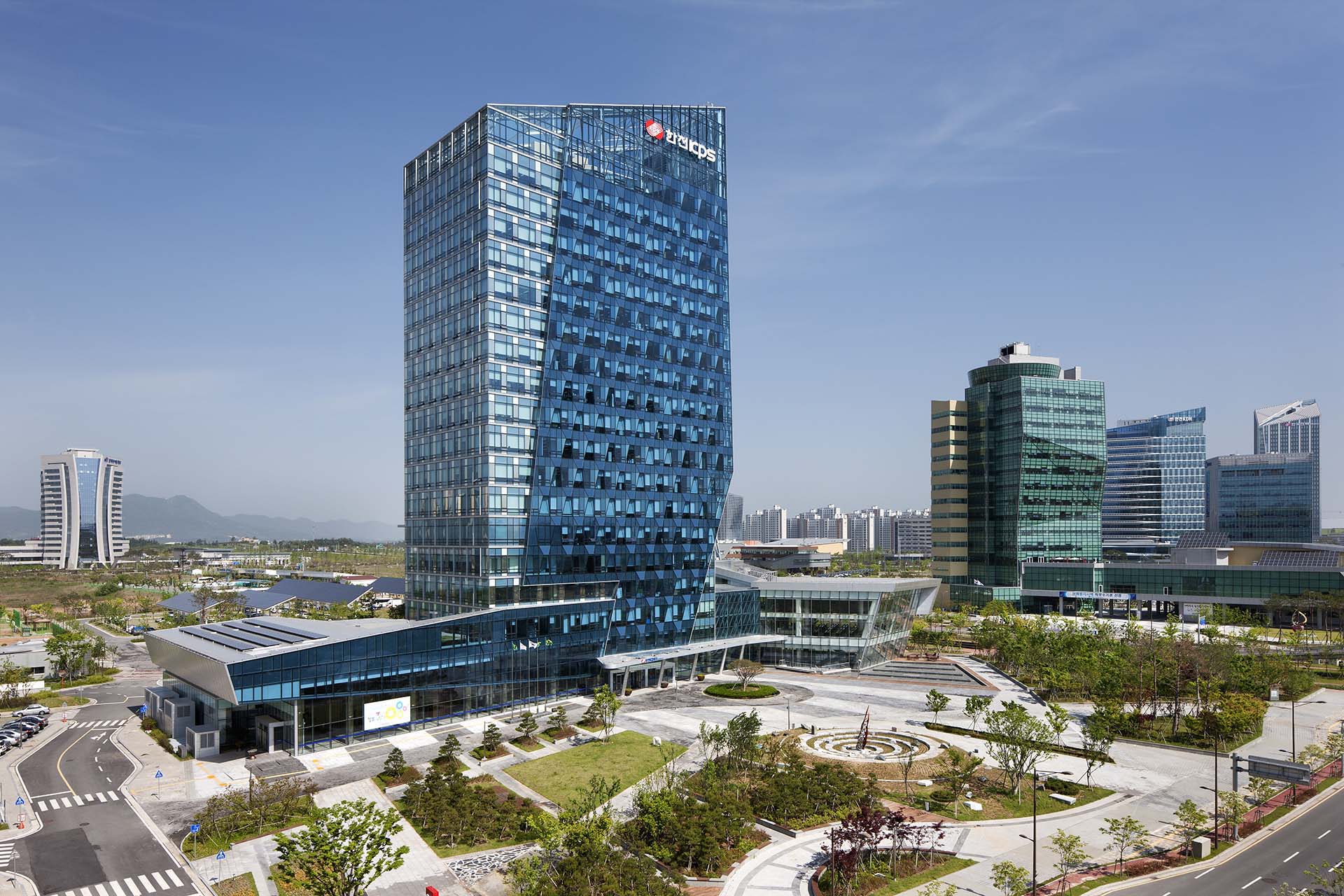 KEPCO KPS headquarters in Naju, Jeollagnam-do. (Photos: KEPCO KPS)