This poster of the 2017 Autumn Travel Week under the theme "TAK ! Travel Around Korea!" shows off a breath-taking scenery of the Nohyeon Reservoir in Cheongwon, Chungcheong-buk-do.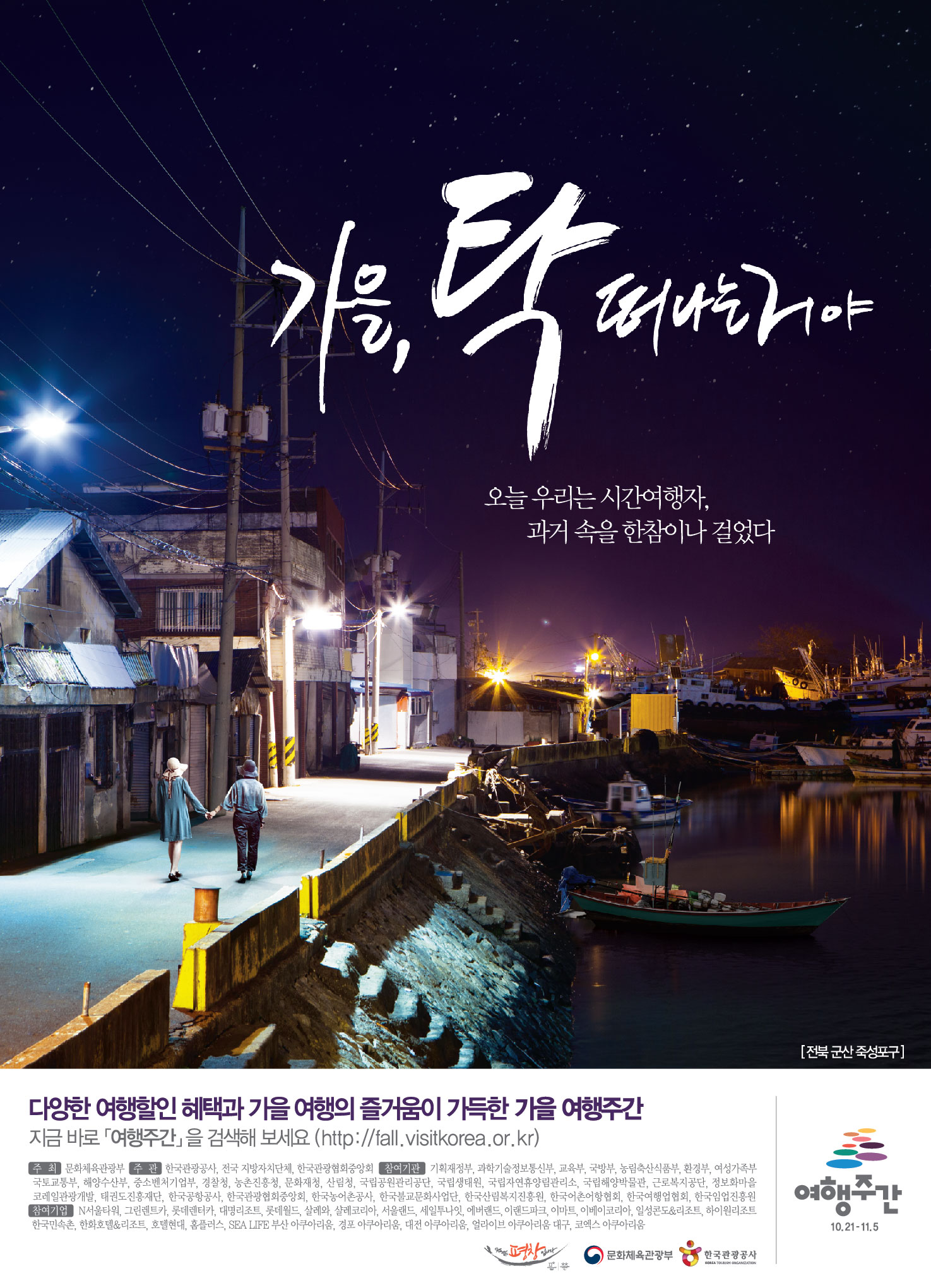 This poster makes for a very cozy atmosphere of Juseong Port in Gunsan.
About 530 programs will be in place to mark 2017 Autumn Travel Week throughout the nation, and 6,393 facilities will offer a discount of up to 70 percent. The festivities last from Oct. 21 until Nov. 5.
The Ministry of Culture, Sports and Tourism (MCST) said the Korea Tourism Organization (KTO), local governments, public entities and companies jointly operate the 2017 Autumn Travel Week under the theme "TAK - Travel Around Korea!"
The major themes of the current Autumn Travel Week are "arts" and "night." Travel programs with mentors in such diverse fields as art, music, design and performing arts are offered during the period. They include a art tour to Gwangju with media artist Lee Lee-nam; "Moonlight Gallery Romance Tour of Gyeonggi-do with artist Ho Sang-geun; "Geumgang River Grand Art Tour" of Chungcheongnam-do with poets Shin hyun-lim and Oh Eun; and "Jeju Biennale Art Tour" with Director Kim Jun-ki of Jeju Museum of Art.
The 2017 Autumn Travel Week offers 30 night travel spots with 10 night attraction themes. They include "Autumn Night Woelmido Islet Lighthouse Concert"; "Autumn Cruise Art Moonlight Performance" in Gwangju; "Sweet Daejeon Romance Autumn Night Travel,"; "Bomun Lake Moonlight Walk" in Gyeongju; and "People and People, Jeju's Green Night" in Jeju.
Discounts of up to 70 percent are offered at 6,393 establishments, including four palaces, Jongmyeo Shrine, state-run ecological parks, Jeongdong Theater, National Theater, rural "experience villages," Everland, Lotte World, car rentals and accommodation facilities.
For more information, http://facebook.com/travelweekly.go.