Jeong-Dong Culture Night 2017 Celebrates 120th Anniversary of Declaration of Korean Empire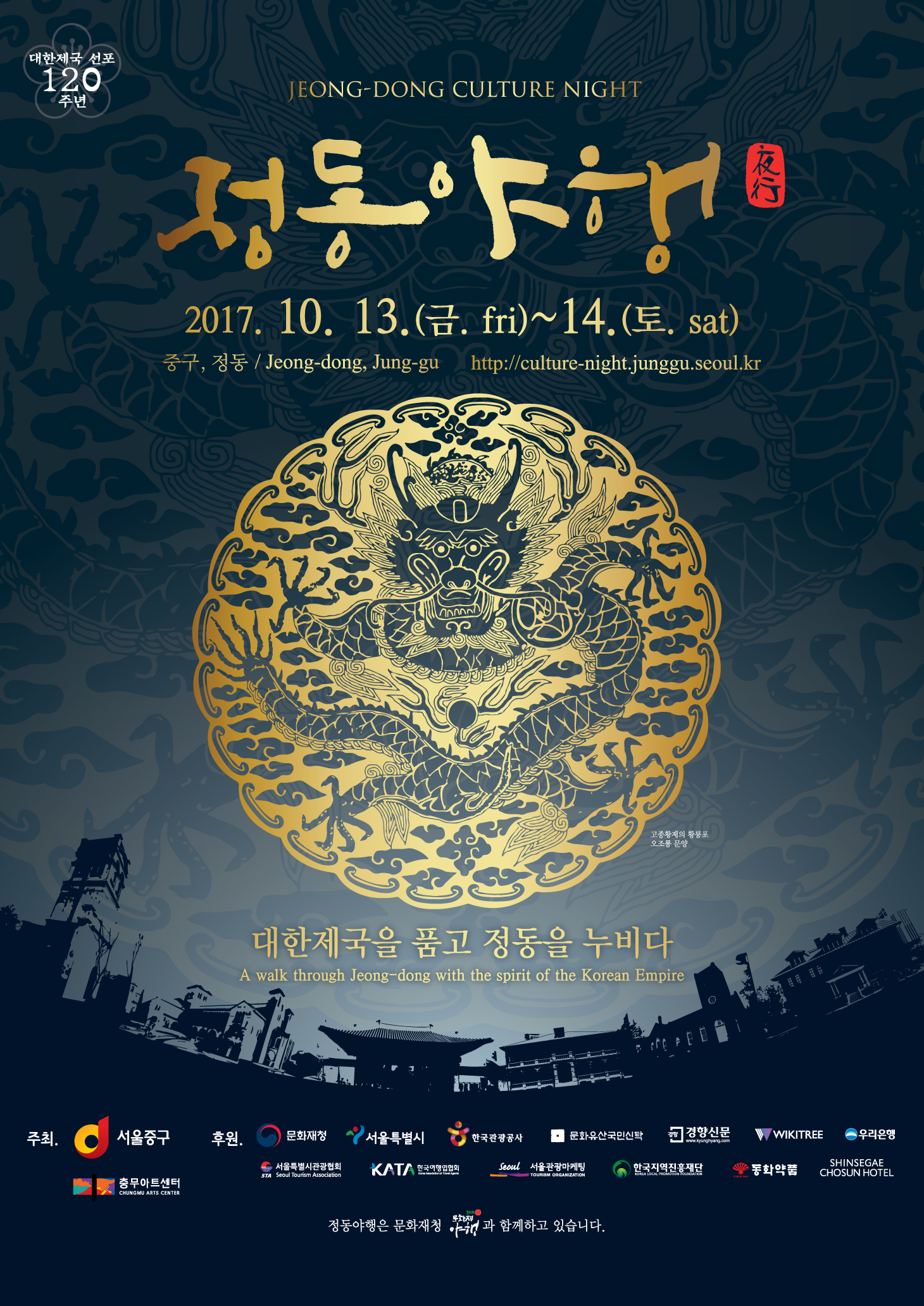 A poster of the Jeong-Dong Culture Night 2017 that took place from Oct. 13 to 14 under the theme "Go around Jeong-Dong in Celebration of the Korean Empire." (Photo: Junggu Ward Office)
Jeong-Dong Culture Night 2017, being held in spring and autumn, marked its 3rd year. This autumn's festival, taking place from Oct. 13 to Oct. 14, took on more significance since this year celebrates the 120th anniversary of the declaration of the Korean Empire, which is Jeong-Dong's historical roots.
In this regard, under the theme "Go around Jeong-Dong in Celebration of the Korean Empire," the Junggu Ward Office at the heart of Seoul offered diverse exhibitions, performances and experience events until Oct. 14.
In time for the hosting of a festival along the path of the stone wall of Deoksu Palace, the road was decorated with colorful lighting.
Diverse experiences draw curious children's attention. Of particular focus were bracelet making from jade, which was used as one of the rituals related to a ceremony to declare the Korean Empire, as well as a royal car called "saemangaji" during the Joseon Dynasty.
The festival continued into include the night with the opening of historical cultural facilities, the highlight of the Jeong-Dong Culture Night 2017. The Jung-gu Ward Office has allowed 35 facilities, including Deoksu Palace, Seoul Municipal Art Museum, Jeongdong Theater, the Canadian Embassy in Korea, Seoul Historical Museum, Seoul Cathedral Anglican Church of Korea, Ewha Museum, and Sunhwa Dongcheon to remain open until 10 p.m. Seokjo-jeon Hall was open only to citizens who applied in advance. Jeungmyeong-jeon Hall, the venue of signing the Ulsa Treaty or Japan-Korea Protectorate, has been restored to its ancient shape after a year-long renovation, welcoming citizens.