SITM 2017, an Opportunity to Highlight Best Hidden Gems in Seoul & Provincial Areas
The Seoul International Travel Mart 2017 (SITM 2017) wrapped up its five-day run at the Grand Hilton Seoul on Sept. 15. The SITM 2017 attracted about 800 Korean and 400 foreign tourism companies from 50 countries. The SITM 2017 was jointly hosted by the Seoul Metropolitan Government, the Visit Korea Committee, and the Korea Association of Travel Agents (KATA). SITM is designed to help small tourism companies in Korea, who cannot afford to hold overseas IR sessions or travel fairs. SITM boosts their business opportunities and supports overseas sales by inviting travel agencies of major countries with inbound tourists.
The SITM 2017, the 3rd rendition of exhibition, rose in terms of the number of participating countries and exhibitors. The number of participating countries increased to 50, including countries from the Middle East, Europe, Americas and Africa, which were not generally accessible by Korean tourism companies. Participating companies surged from 800 in 2016, 300 foreign and 500 Korean companies to 1,200 companies 400 foreign and 800 Korean companies.
Aside from Korean travel agencies, Korean start-ups, wedding tourism companies and others from diverse areas participated as sellers. About 400 negotiation tables for foreign buyers were set up to host one-on-one meetings with their Korean counterparts.
Theme tourism publication zones and other publication pavilions were expanded to 100 for the SITM 2017.
Seoul's representative tourism attractions were featured in promotional booths, including a pedestrian road of the former Seoul Station Overpass, the Seoul Dulaegil (Circular Road), and the Seoul Bamdokkaebi Night Market, as well as hanbok (traditional Korean costume) experiences and VR experience zones.
The Seoul Metropolitan Government collaborated with other city and provincial government bodies to display and publicize prominent tourism resources.
They jointly cooperated in the operation of publicity booths, tour explanation sessions and familiarization tours. The move was designed not only to raise Korea's tourism competitiveness but also to invigorate the tourism industries in regional areas.
The Organizing Committee for the PyeongChang Winter Olympics, five municipal and provincial governments, and the Korea Visit Committee set up separate booths to promote and publicize their tourism resources. They hosted tourism explanation sessions for foreign travel agencies to introduce "theme tourism" content and operated 15 familiarization tour courses connecting Seoul and major provincial tourist destinations to help foreign visitors see Seoul and Korean culture.
In particular, the SITM 2017 invited students from four tourism high schools and five tourism colleges to be fair supporters, allowing them to operate publicity booths and participate in expert seminars. This was part of efforts to make the SITM Korea's representative tourism festival of collaboration among industry, academia and government circles. Dir.-Gen. Ahn Joon-ho, in charge of tourism and sports at the Seoul Metropolitan Government, said, "The supporting of business exchanges between the Korean tourism industry and the global market through the SITM will lead to growth of the Seoul tourism market, and we'll make it an event to give practical benefits to more companies."
Here's a look at Korea's major tourism attractions presented by the Seoul, Incheon, Gyeonggi-do, Gangwon-do, and Chungcheongbuk-do governments during the SITM 2017.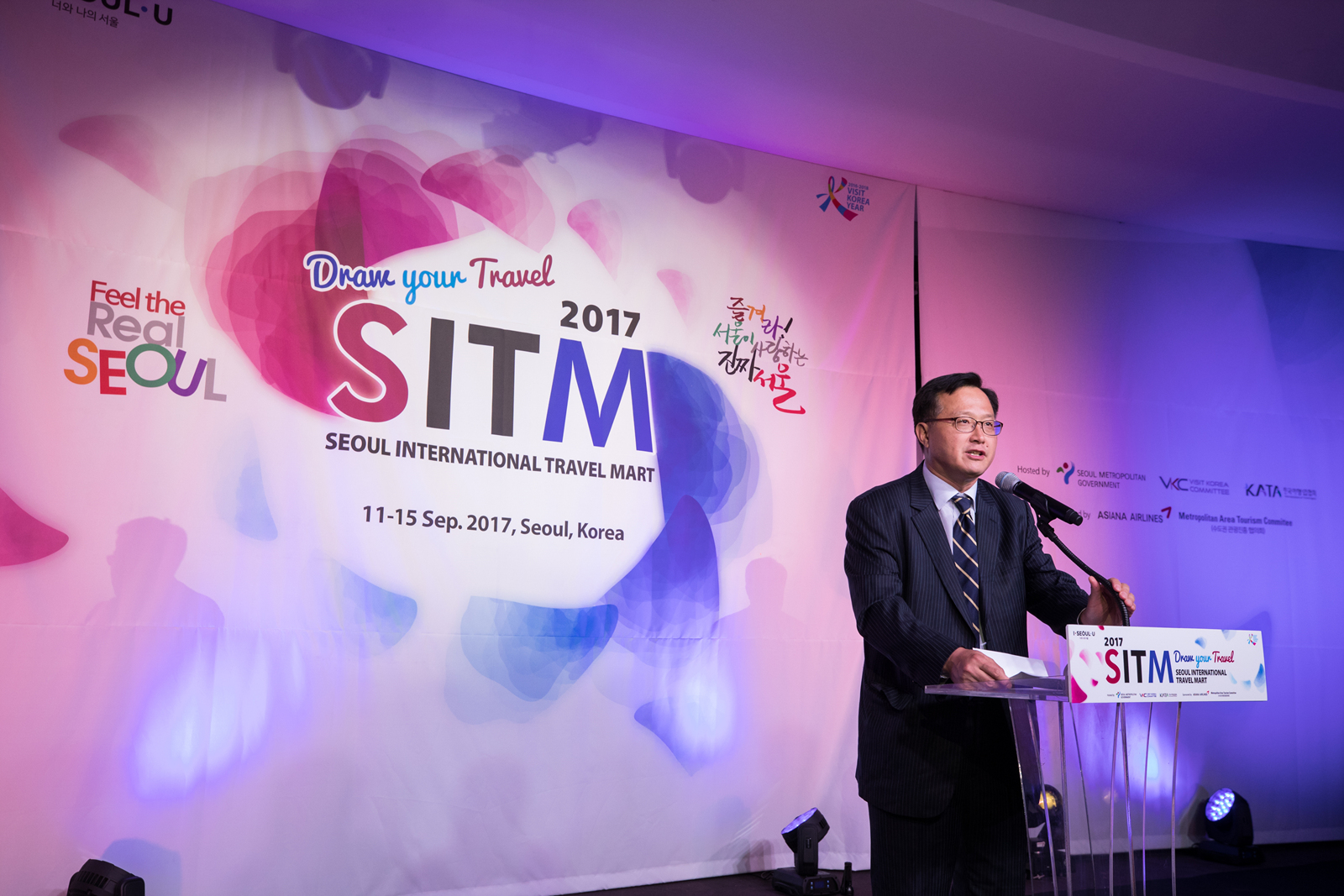 Dir.-Gen. Ahn Joon-ho, in charge of tourism and sports at the Seoul Metropolitan Government, speaks at the SITM 2017. (Photos: SMG, NewsWorld)
A view of the booth to publicize Seoul 2017, a place that has transformed the old Seoul Station Overpass into a city center garden full with diverse plants and flowers.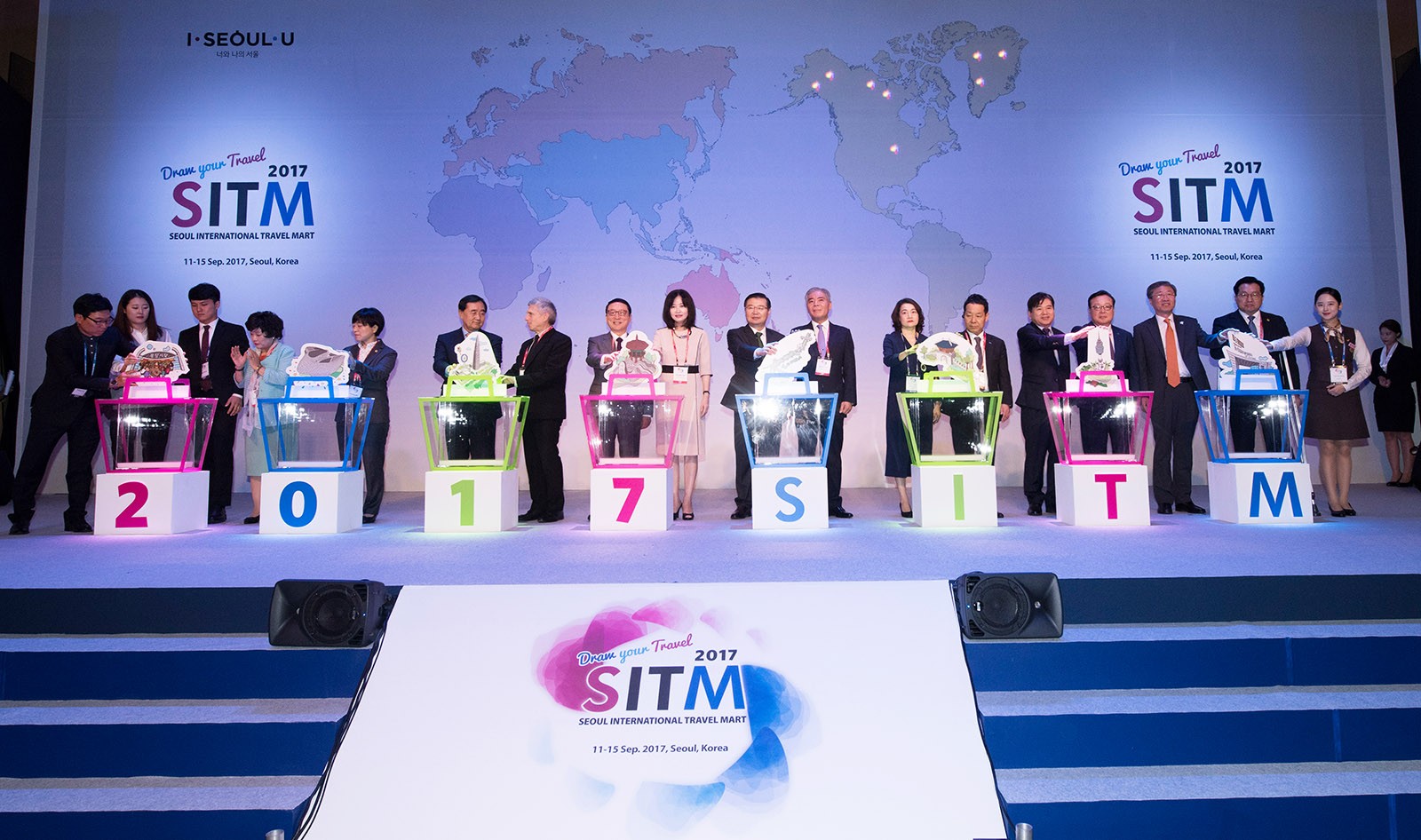 Notables, including tourism industry representatives, attend an opening ceremony of the Seoul International Travel Mart 2017 at the Grand Hilton Seoul on Sept. 12.
A view of a booth designed to promote the Seoul Kimchi Festival.
A view of a booth designed to promote the Seoul Kimchi Festival.
A view of a booth designed to promote the Visit Korea Year.
Take a Romantic Selfie, Enjoy a Glass of Wine
There are lots of tourist spots in Gyeonggi-do and Chungcheongbuk-do where visitors can take pictures worth remembering and taste good wine. They include Suwon Hwaseong, which boasts the natural beauty of ancient castle walls surrounding the city center of Suwon; Gwangmyeong Cave in which 3D movies are filmed and cultural and art performances are conducted; 'Ansan Star Light Village Photoland' is exciting mirror maze decorated with familiar characters with a fantastic festival of light in beautifully themed outdoor gardens,; Yeongdong Korean Classic Music Experience Village, a place to play Korean classical music instruments and appreciate its fantastic performances; and Nangyesa, a shrine that hosts the spirit of the late, great musician Park Yeon, a master of aak. Yeongdong Korea Wine Festival 2017 will take place in Yeongdong, Chungcheongbuk-do, from Sept. 21 to Sept. 24.
Yeongdong, located at the center of the nation, and in the southernmost part of Chungcheongbuk-do, is one of the largest producers of grapes in Korea. Every year, in celebration of its top crop, Yeongdong hosts a grape festival in which family members enjoy a memorable experience of picking grapes from vineyards and while smelling the fragrance of grapes. Yeongdong County authorities aim to evolve the exotic festival into one of the nation's best festivals.
Visitors will be given a chance to enjoy a variety of events, including trampling grapes at the festival site. Games include playing in water so visitors can beat the heat during the festival.
Slow Travel with Healing Sensibility
There are many healing courses for travelers across the nation, particularly Seoul and Chungcheongbuk-do. They include: the Ihwa Mural Village in Ihwa-dong, downtown Seoul, where diverse murals are painted; a walk along the Seoul City Wall, which is hundreds of years old and has breathtaking tour of Namsan; a 'museum street' in Pil-dong, Seoul, a place of walls and art space; Seoul 2017, a place that has transformed the old Seoul Station Overpass into a city center garden bursting with diverse plants and flowers; Danyang Suyanggae Light Tunnel, a tunnel decorated with LED lights and a famous night view spot; Chungju Lake Tour, a pleasure boat ride with fascinating eight sceneries in Danyang along Korea's largest artificial lake; and Cheongpungho Tour Monorail, a monorail that runs across the scenic Lake Cheongpungho and Mt. Bibongsan.
The Seoul Bamdokkaebi Night Market features food trucks and handmade goods for sale, as well as performances during the period between March 23 and Oct. 29. The market will take place at Yeouido Hangang Park, Dongdaemun Design Plaza, Cheonggyecheon Stream, Cheonggye Plaza, and Banpo Hangang Park. The market, catering to visitors, offers much more than shopping. The Seoul Bamdokkaebi Night Market serves as an opportunity for visitors to take a look at and buy unique handmade goods, appreciate exciting performances and enjoy traditional food. Each market venue will offer different fun events and visitors can expect to see live music, fashion shows, magic shows, traditional Korean arts performances, and art displays.
Time to Explore Trend & Walk through the City
Seoul and Gangwon-do offer fascinating things to see and experience, including fishing and other festivals.
They include Eoreumchi Village in PyeongChang, Gangwon-do, a place of activities, including rafting, along the fascinating East River and valleys; Byeongbangchi Skywalk ,which offers a thrilling experience of walking at the U-shaped glass structure of a cliff 583 meters above the sea level in Jeongseon, Gangwon-do; COEX SM Town, a K-Pop idol heaven; and Lotte World Tower, a 55-meter high skyscraper offering a breathtaking view of Seoul.
In particular, the Gangwon Fishing Festival, held between December and January each year, gives visitors exciting experiences and fascinating views, including ice fishing, ice and snow sculptures, snow sledding and skating, and catching fish with bare hands. They include the Hwacheon Icefishing Festival, the Inje Bingeo Festival, and PyeongChang Trout Festival.
K-Drama Course
Incheon and Gangwon-do are places in which visitors can enjoy a romantic trip to K-drama filming locations.
They include Jemulpo Club, a social club catering to foreigners in Incheon; Jayugongwon Park, Korea's first western style park in Incheon; Songwol-dong Fairy Tale Village in Incheon; Jumun Breakwater, a filming location of the Korean drama "Dokkaebi, The Guardian: The Lonely and the Great God"; Anmok Coffee Street in Gangneung; and Woljeongsa Spruce Woods, a location of the drama Dokkaebi.
The Incheon INK Concert, which took place at Munhak Stadium on Sept. 9, 2017, is Inchon's representative Korean Hallyu festival with performances by leading Korean K-Pop stars.
DMZ & History Course
Gyeonggi-do and Incheon offer vivid security courses that take visitors to tourist attractions near the Demilitarized Zone (DMZ) and other destinations. They include Imjingak Peace Nuri Park, a cultural space with exhibitions and film festivals under the theme of peace; DMZ 3rd Tunnel, a tunnel dug by North Korea capable of moving 30,000 soldiers; Heyri Art Village; Gangwha Peace Observatory; and Goryeo Palace, the site of Goryeo's capital in Gangwha. The Paju Gaeseong Ginseng Festival 2017, taking place between Oct. 21 and Oct. 22 is a festival held at Imjingak Square in Paju in which Paju's Gaeseong ginseng can be purchased and visitors can experience ginseng harvesting.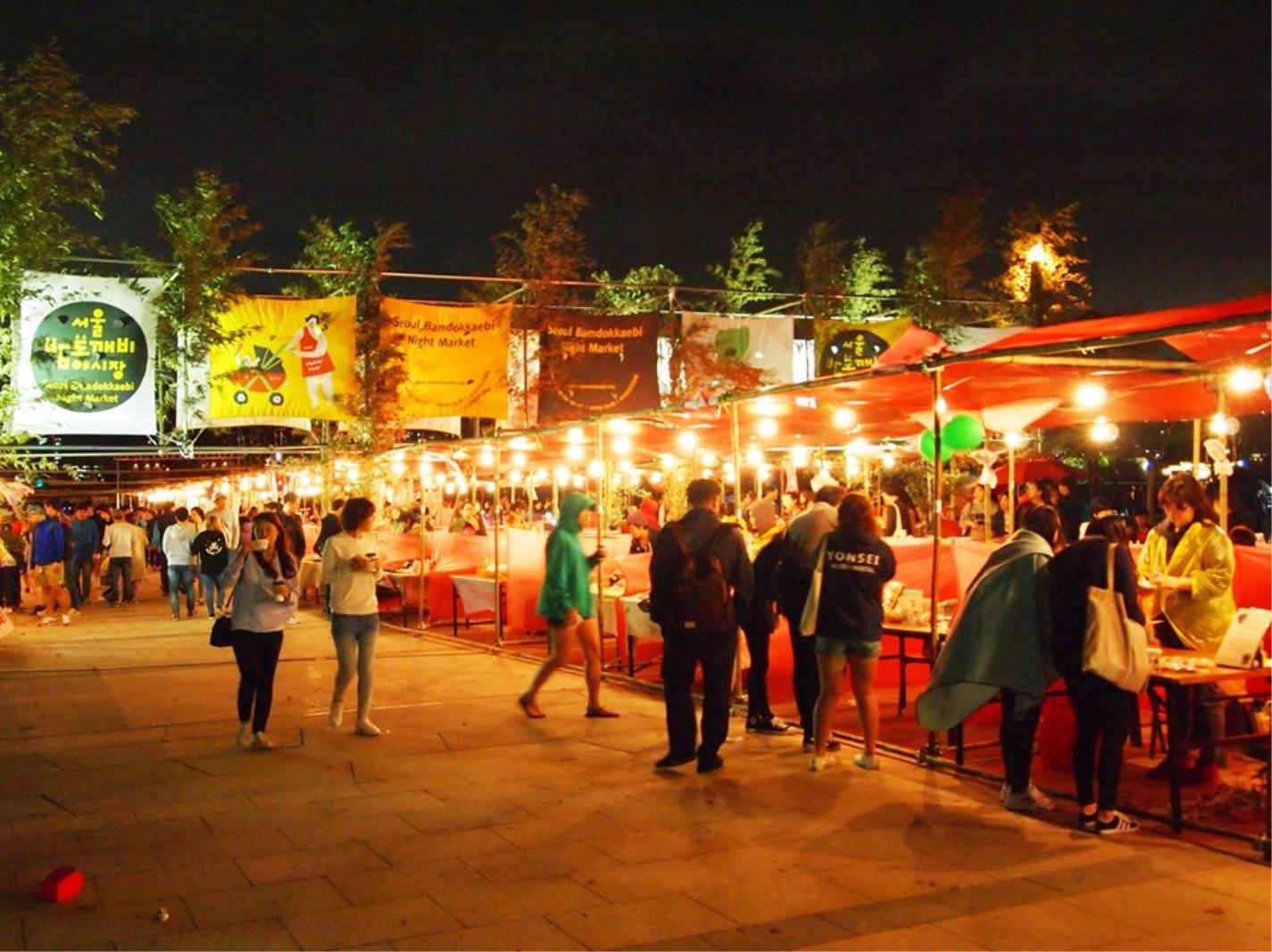 A view of Seoul Bamdokkaebi Night Market.
A view of the reenacting of a parade by King Jeongjo of Jeoseon Dyansty heading from Seoul to Suwon.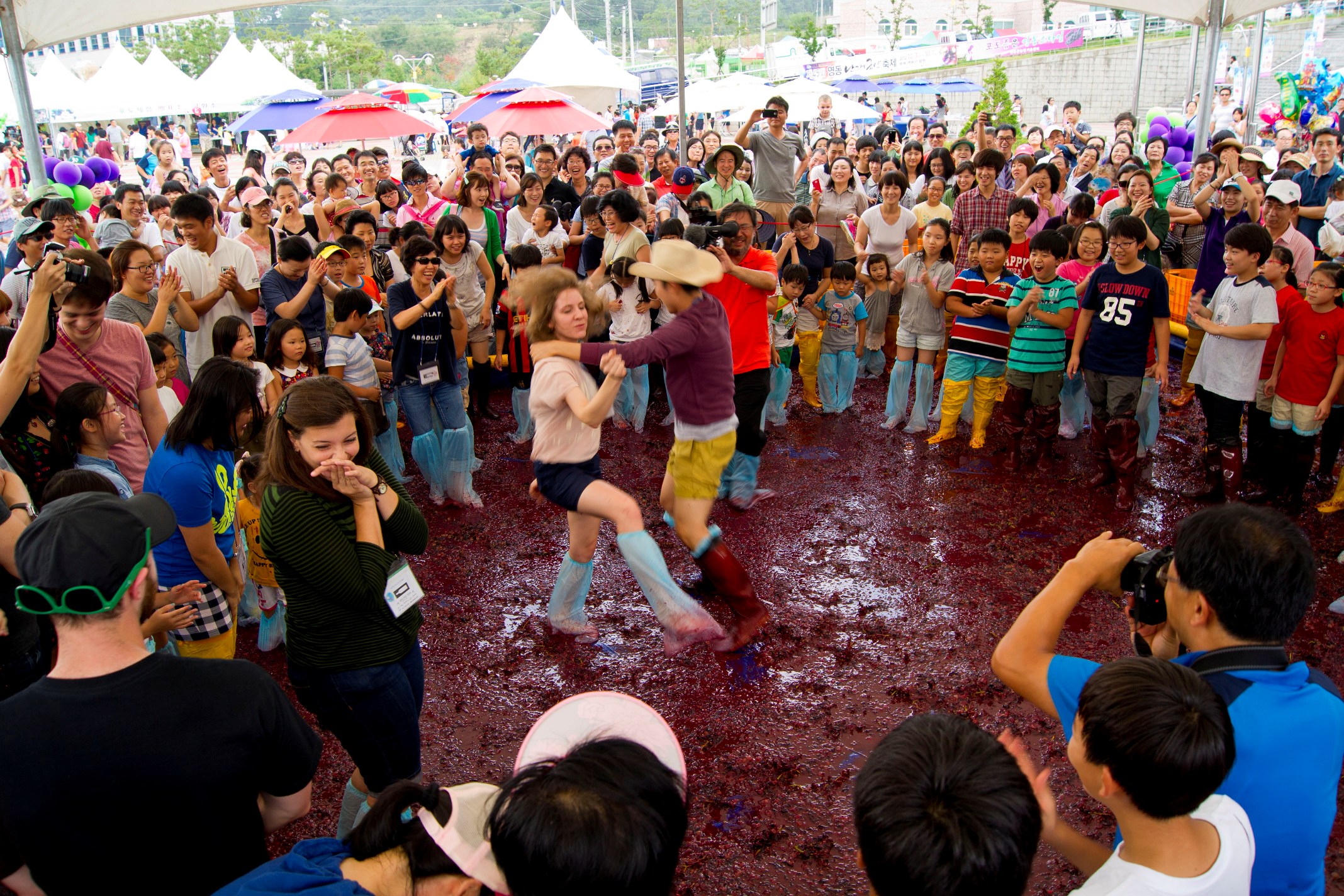 A view of the Yeongdong Korea Wine Festival 2016 where visitors experiences trampling of grapes.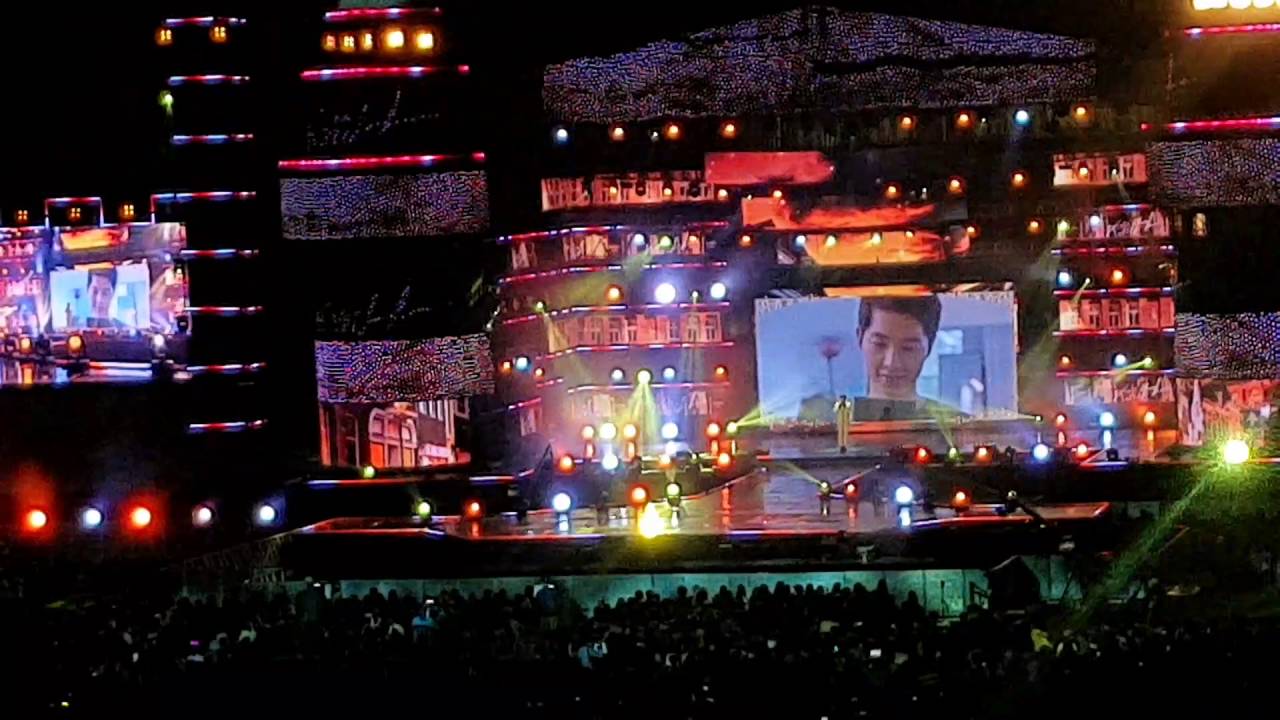 A view of Inchone INK Concert.