KT has announced a group-wide plan to allow SMEs and venture companies to help in the nurturing of five platforms the telecom provider will implement.
The plan, announced on July 27, may be construed as KT's determination to collaborate with SMEs and venture companies in the realization of its new vision, departing from the conventional way KT supports its cooperative companies, venture companies and start-ups. KT's focus on strategies for the second half of 2017 is designed to create jobs and purse shared growth.
KT aims at nurturing media, smart energy, corporate/public value improvement, financial transactions, and disaster/safety/security as future core businesses, thus contributing to improving business portfolios, which currently focus on the telecom sector.
KT has come up with steps to allow its cooperative companies, venture companies and start-ups to have greater opportunities to participate in projects and enhance their competitive edge. KT will provide support for initial costs incurred from from escrow of technologies owned by its cooperative companies, venture companies and start-ups. The telecom provider will provide support for the certifying of the original document of business secrets to prevent pirating and leaking. KT will create an environment in which the company will test-operate their development for free. The telecom provider will open a lab to certify network function virtualization (NFV) in line with the advent of the upcoming 5G network, while providing integrated consulting services.
From last year, KT began to provide free consulting services on overall management ranging from business strategies to marketing and business to more than 40 SMEs and venture companies. KT plans to raise 100 billion won for a "shared growth" fund for financially strapped companies.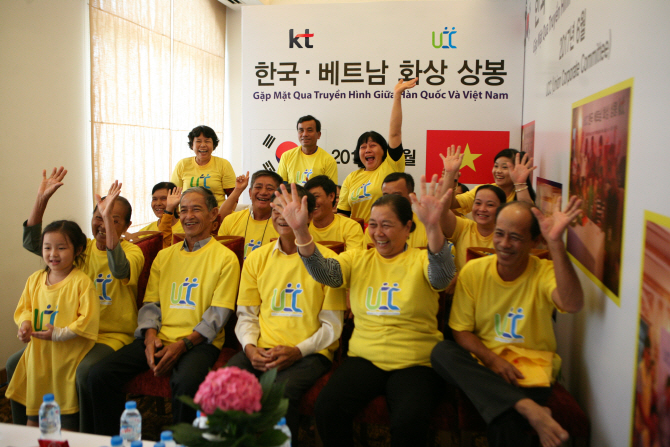 Reuniting Families in Vietnam and Korea Through Telepresence
KT CEO Hwang Chang-Gyu and the KT Labor Union conducted volunteer work in Ho Chi Minh City, Vietnam, for six days, starting from June 26. KT has been doing volunteer activities in Vietnam for six years, providing an opportunity for 300 Vietnamese women who have immigrated to Korea to talk via video with their 1,900 family members residing in Vietnam.
This year, too, the Ministry of Women and Family, via "multicultural family support centers" across Korea allowed 37 selected families and 340 people to be reunited with their families via video. This year's program was a big success, thanks to hosting the video reunions in Ho Chi Minh City, rather than the capital city, Hanoi. This allowed people in the southern area to participate this time.
Mrs. Ley-ti-ki-long who came to Bucheon, Korea when she got married, talked with her father Lay-ban-ki. The father said "I always worry about my daughter who went to Korea for marriage, so I was really happy to be able to meet her live on TV today. Being able to also see my grandson and granddaughter live also filled me with joy." This was just one of the many happy moments KT was able to help provide.
KT established a dedicated network with Vietnam for the video reunions. KT's local headquarters hosted 13 video reunion events so that newlyweds, who recently came to Korea for marriage, could talk with their families and get a taste of home over video.
At the video reunion events, Vietnamese families were invited to Hanoi for two days and one night for a city sightseeing program, and to experience KT's IT offerings such as HYPER VR, Drones, 3D printers and health bikes, as well as a Korea-Vietnam Night of Family Harmony cultural event put on by KT. The children who attended the event as local family members could enjoy the HYPER VR technology recently developed by KT. They were surprised and amazed to see their own face appear on TV while they were looking at the screen. Moreover, a large number of overseas Koreans residing in Ho Chi Minh City participated in the "Korea-Vietnam Night of Family Harmony" and shared a pleasant time together.