The IFEZ Integrated Smart City Operation Center won the SmartCity Asia Pacific Awards (SCAPA) 2017 from the global market survey company International Data Corp.
The Operation Center of the Incheon Free Economic Zone (IFEZ) was selected as the winner of the SCAPA 2017, the 3rd rendition of awards, in August, an IFEZ official said.
Three finalists in each of 14 functional fields were chosen among about 150 smart city projects in the Asia-Pacific region, and the IFEZ Integrated Smart City Operation Center won the top honor according to a tally of votes by people in the region, excluding Japan, and IDC's evaluations.
In Korea, the IFEZ's smart city was designated to be "an outstanding practice" of e-government in Korea among local governments and public entities by the Ministry of the Interior and Safety (MOIS). The MOIS and the National Information Society Agency (NIA) carried out an evaluation of 145 exemplary cases and selected the IFEZ's smart city as the finalist. Finalists in 18 fields were submitted to the UN E-Government Survey 2018 on "E-Government in Support of Sustainable Development" and they, along with Korea's e-government cases, will be shared for benchmarking by countries around the globe.
Behind the secret of IFEZ's smart city is "IFEZ SmartCity Platform." The IFEZ and Incheon U-City Corp. established a platform and software to spearhead smart cities this year. A hardware platform using cloud technology has been employed in the smart city sector for the first time in Korea to integrate the smart cities of Songdo, Yeongjong, and Cheongna districts, reducing project costs by 12 billion won compared to those designed by expertise institutions.
A copyright for branding the IFEZ SmartCity Platform has been registered and two patents on related technologies were obtained, while a certification process is now under way in Korea and abroad to secure external credibility.
The expansion of the IFEZ SmartCity Platform technology to civilian and specialized services is expected to serve as a boon to future solutions for the government's implementation of the 4th Industrial Revolution.
Kim Soon-ho, head of the Planning & Coordination Division, said, "IFEZ Smart City's technology, gaining recognition in Korea and abroad, and the attracting of VIPs from foreign counties not only symbolizes its superior standing in the smart city sector, but is also considered a standard model."
The IFEZ plans to dramatically improve the city's competitiveness by building a foundation for an advanced international city, as well as aggressively exporting smart city technologies, he added.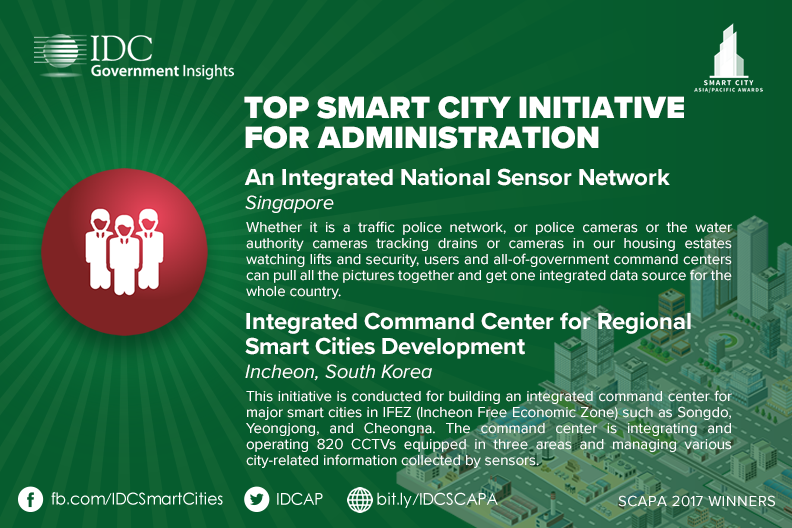 Demonstration of IFEZ Smart City
The IFEZ Integrated Smart City Operation Center had a session to demonstrate its technologies at the G-Tower in Songdo International City on Sept. 13, with Incheon Metropolitan City Mayor Yoo Jeong-bok's participation.
The operation center gave a briefing on the current status of the building of the IFEZ smart city and introduced the IFEZ SmartCity Platform and public cloud data center. Mayor Yoo experienced how a smart city could creep into daily life of average people in such areas as crime prevention as he watched a simulated emergency that took place at Songdo Central Park.
The center plans to establish a smart city software platform and cloud center based on a variety of information being collected from CCTVs and sensors installed in Songdo International City, Cheongna International City and Yeongjong District.
It will help improves services for citizens in areas related to traffic, crime prevention, anti-disaster management, environment, and facility management. Songdo International City U-City Phase I was dedicated last March as part of the IFEZ Smart City project. Starting in April, the smart city operation center for integrating Songdo and Cheongna international cities began to provide services to citizens.
Smart city integrated services equivalent to global standards will be offered to the whole of the IFEZ.