SM Group Chairman Woo Oh-hyun won the Mid-size Company CEO Grand Prize from the Korea Academic Society of Business Administration (KASBA) at the Kimdaejung Convention Center in Gwangju on Aug. 21.
SM Group, established in 1988, is engaged in a diverse array of businesses ranging from construction and engineering to chemical textile, chemical materials, construction materials, secondary battery and other energy-related businesses, automotive parts, electronic financing, and shipping businesses. Despite external and inter-business environment conditions, the group is a young and dynamic one with a challenging spirit.
Through its actions acquiring firms under receivership or a workout program, the group has encouraged and motivated executives and staff members.
SM Group has been credited with creating top-rated products and services through continued research and technology development, making them trusted by customers for their reliability. The group is going from strength to strength with a focus on maintaining an equilibrium between growth and stability.
True to its management tenets "Putting Co-prosperity Management into Practice and There Are Dying Firms, but Not Dying Industries," the group has devoting itself to sharing management outcomes in a transparent fashion and nurturing manpower, while translating into action co-prosperity management values through social contribution activities.
Chairman Woo is praised for demonstrating his challenging entrepreneurship spirit to overcome market and management risks by acquiring companies in several industries amid major economic turmoil as the 1997 Asian financial crisis and global economic crisis in 2008.
Companies under receivership or a workout program the likes of Namsun Aluminum, TK Chemical and Korea Line Corp., acquired by SM Group, have recovered to normal and have turned profits.
Despite negative market views, Chairman Woo acquired the North American shipping line Hangjin Shipping, and demonstrated the forward path of its entry into the containership business by making the most of the group subsidiaries' market maneuverability, management prowess, and the securing of stable financial resources.
The group has drawn up strategies to cope with outside environmental changes. Chairman Woo's endless challenging spirit is the lynchpin in the group's dynamic growth momentum.
SM Group's competitiveness stems from the exploring of core capabilities, aggressive investments, and manpower development.
Namsun Aluminum's aggressive technology investments have made the company the fourth in the world (and the first in Asia) to develop explosion-proof windows and doors, which has been certified by tests by the U.S. Defense Department and the Korea Institute for Defense Analyses. Explosion-proof windows and doors are emerging as the company's next-generation growth engine.
TK Chemical has grown into a blue-chip textile and material/chemical company. To this end, the company has invested in new businesses by pouring 150 billion won into facility investment between 2008 and 2017. SM Group is also concentrating on technology development investment and manpower development. For instance, Korea Line Corp. is offering a hands-on education program in which senior students of Korea Maritime and Ocean University and Mokpo National Maritime University are allowed to be aboard its ships and scholarships to select gifted students to secure quality manpower.
SM Group has been diversifying business portfolios to have synergetic effects among businesses. SM has changed itself into a group capable of creating win-win strategies by acquiring companies in such areas as textiles, chemical and construction materials. The group is shifting its paradigm focus to new growth engines.
Samla, which has specialized in the construction businesses, including rental housing, for more than 20 years in the Gwangju area, is the parent company of SM Group. Since its establishment in 1988. The company has maintained "shared growth" with the local community by proactively participating in businesses related to low-income people's housing. In 2022, the company founded the Samla Hope Foundation to take its corporate social responsibility.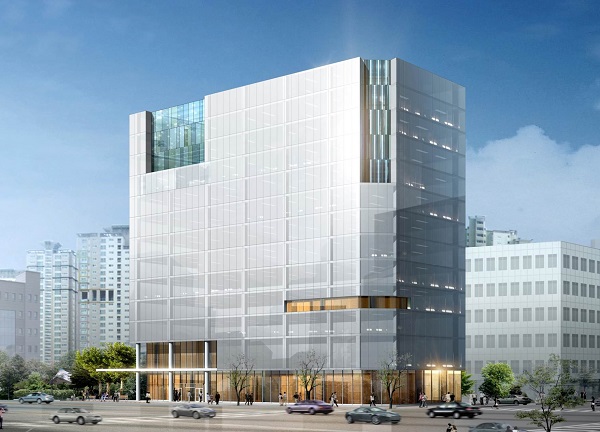 A bird-eye view of SM Group headquarters building now under construction in Magok-dong, Gangseo-gu, Seoul.