Chairman Kim Jung-tae of Hana Financial Group.(Photo: HFG)
Hana Financial Group saw its 2nd Qtr. net profit jump the highest in its history, logging 538.9 billion won, up 53 percent from 352.1 billion won from the same period last year, the group said on July 21.
The financial group attributed the record results to reduced expenses from the streamlining of its outlets through mergers or closures and synergy from the 2015 takeover of Korea Exchange Bank. It also mentioned excellent performances from its non-banking affiliates. The net profit figures beat analyst estimates by 17.9 percent.
The group said its banking affiliates, led by KEB-Hana Bank, benefitted from raises in the loan and deposit margins in the quarter, with its Q2 net profit rising to 520.8 billion won, up 69.8 percent from 306.8 billion won in the same period last year, the best net profit figures by quarter since the merger with KEB in 2015, the group said.
The non-banking sector did well, too. Hana Card improved its net profit in Q2 to 25 billion won to boost its H1 net profit to 75.1 billion won, a increase of 93.6 percent YoY. Hana Financial Investment also logged a Q2 net profit of 43 billion won, up 5.6 percent YoY.
Hana Financial Group (HFG) is one of the largest bank holding companies in Korea.
The company was established in 1971 as Korea Investment & Finance, the nation's first financial company established, financed solely by private fund.
"Hana" is a word in Korean meaning "one" or "unity", and Hana Financial Group's symbol, "冗", represents the first consonant of 'Hana or' in Korean.
Hana Bank, Hana Financial Group's primary banking subsidiary, was converted into a commercial bank in 1991. Hana Bank went through P&A with Chungchong Bank and M&A with Boram Bank in 1998, and acquired Seoul Bank in 2002. Then it continued its expansion by acquiring Daehan Investment and Securities, Korea's second-largest asset management company, in May 2005. The most recent expansion was made in 2012, when it decided to purchase Korea Exchange Bank.
Hana Financial Group is in charge of setting up group-level business strategies and providing management resources to subsidiaries, including Hana Bank, Korea Exchange Bank, Hana Daetoo Securities, Hana SK Card, Hana Life Insurance, Hana Capital, Hana Asset Trust, Hana I&S, Hana Institute of Finance, and Hana Savings Bank.
KEB Hana Bank provides banking products and services to foreign residents and foreign-invested companies in Korea, through branch and electronic channels in several foreign languages including English and Japanese.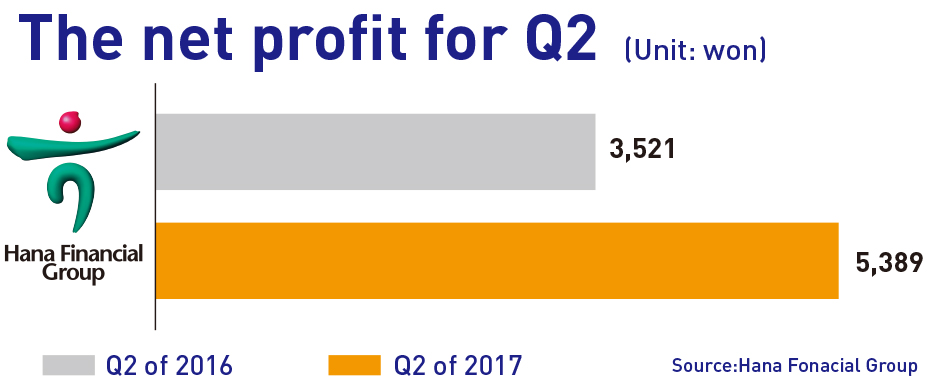 KEB Hana Bank Comprehensive Banking Services for Expats in Korea
KEB Hana Bank is a major commercial bank with its headquarters in Seoul. It operates over 869 domestic branches and a global network of over 146 locations in 24 countries. As the flagship institution of Hana Financial Group, it represents the strategic integration of the Sept. 2015 merger between Korea Exchange Bank (KEB) and Hana Bank.
The Bank offers financial products and services to both retail and corporate clients, built around particular strengths in foreign exchange, trade finance, private banking, and expat banking.
With a well-developed Foreign Customer Department the first in Korea, founded in 1999 KEB Hana Bank provides accessible, easy-to-use banking services to newly arrived and established expats built on a wide array of English language supports.
Its Expat Banking services include:
- Expat-friendly Global Desks with trained English speakers in 22 locations nationwide;
- Online banking in English (for both Windows and Macs) and 3 other foreign languages;
- Mobile banking in English (for both Android, iPhones and tablets) and 14 other languages with our "Hana IQ Global Bank" app;
- Account and card statements, application forms, branch support, and more provided in English, Japanese, Chinese, and other languages;
- And multilingual Call Centers (English, Japanese, Chinese) for banking and cards.