Korea Electric Power Corp. (KEPCO) is considering acquiring a biomass power plant now under construction in Georgia, the United States. A biomass power plant uses waste timber (wood pellets) to produce steam for power generation.
Investment bank sources said KEPCO has decided to receive bid proposals by Aug. 11 to select a financial adviser to deal with the power utility's acquisition of the U.S. biomass power plant. KEPCO launched a process to select a technology adviser to look into the feasibility of the acquisition.
KEPCO's acquisition targets are Franklin and Medison, two special purpose companies established by U.S. energy companies. They are now implementing projects to build a 58MW-class biomass power plant each in Colbert and Carnesville, Georgia. The cost of the project stands at about 300 billion won, and the project broke ground in the first half of the year.
The project is expected to yield stable revenues as a power purchase agreement (PPA) on the bio mass power facilities has been signed with Georgia Power. KEPCO may launch negotiations on the acquisition of the biomass power plants with U.S. energy companies in November.
KEPCO is accelerating efforts to explore overseas new and renewable energy businesses. In cooperation with the National Pension Service, the power company purchased a 100 percent stake in a photovoltaic power plant in Alamosa, Colorado, for $34.88 million (39 billion won) from the private equity fund KKR& Co. last year.
KEPCO's bids to acquire a 330MW-class photovoltaic power plant in the United Kingdom in 2016 and a wind power facility in Victoria, Australia in 2015 ended up in a failure.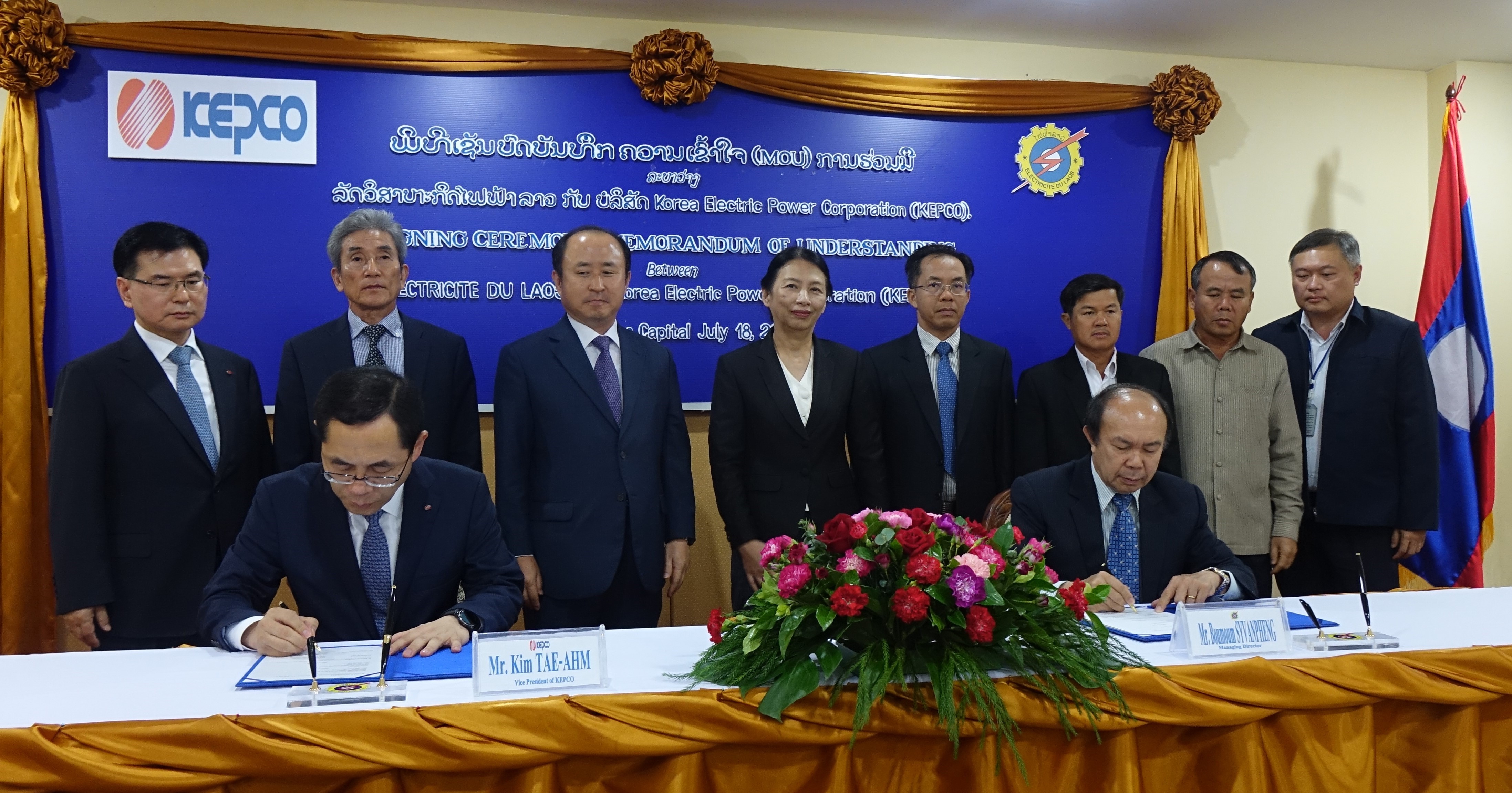 KEPCO Vice President Kim Tae-ahm sings an MOU with Bounoum Sivanpheng, Managing Director of Electricite Du Laos (EDL) at a signing ceremony in Vientiane Capital on Jul 18.
KEPCO Signs MOU on Modernizing Substations with EDL
KEPCO signed an MOU on transmission and transformation technology transfers and the modernizing of substations with state-run Electricite Du Laos (EDL) in Vientiane, the capital of Laos, on July 18.
Kim Tae-ahm, head of the Nam-Seoul Regional Headquarters at KEPCO, signed the deal with EDL Managing Director Bounoum Sivanpheng. Vice Minister Chansavath Boupha of the Laos Energy Ministry and Korean Ambassador to Laos Yoon Kang-hyun also participated in the signing ceremony. The agreement calls for KEPCO to offer an educational program to EDL technicians and providing technologies and knowhow on the operation of transformation facilities to the Laos side. KEPCO plans to build an educational center on transformation facilities by reusing old components and equipment torn down from KEPCO's transformation facilities.
The two companies also agreed to conduct a feasibility study into a project to modernize old power substations in Laos and set up a win-win business model in the Southeast Asian country. The chief of the Nam-Seoul Regional Headquarters at KEPCO said the signing of the MOU will serve as an opportunity to enter the power business market in Laos and expand power projects to its neighboring countries.
KEPCO Posts 846.5 Bln won in Operating Profit in 2nd Qtr. 2017
In an electric filing on provisional figures, KEPCO said the power company chalked up 12.92 trillion won in sales and 358.9 billion won in operating profit in the second quarter of 2017. The figures represent a 2.5 drop and a 79.7 percent plunge, respectively compared to the same period of 2016.
KEPCO logged 28.07 trillion won and 2.30 trillion won in sales and operating profit in the first half of this year, respectively. The figures represent a 3.1 decrease and a 63.4 percent nose-dive, respectively, over the same period.
The power company posted 1.25 trillion won in net profit in the first half of the year, also a 68 percent plunge over the same period of last year. The drop in operating profit was attributable to a cost rise stemming from prices of power fuels like coal, petroleum products and liquefied natural gas, KEPCO officials said.