With a little more than 170 days to go before the opening of Olympic Winter Games PyeongChang 2018, Korea's preparations for the Games have progressed flawlessly, with all sporting facilities nearly complete.
PyeongChang 2018 will open Feb. 9 for a 17-day run with a record number of participating athletes. About 6,500 athletes from 95 countries are expected to participate. A total of 102 gold medals are up for grabs, becoming the first-ever Winter Olympics with more than 100 gold medals. The following are excerpts of a written interview between NewsWorld and Gov. Choi Moon-soon of the Gangwon provincial government in which he spoke of the province's preparations for the hosting of the Olympic Games.
Question: Will you tell our readers about your preparations for the hosting of the Olympic Winter Games PyeongChang 2018, particularly sporting facilities, transportation and accommodations?
Answer: Most sporting facilities have been dedicated, and projects to welcome guests are progressing flawlessly. The progress rate of 12 sporting facilities now stands at 96.75 percent. Eight sporting venues five ice sport facilities in Gangneung, a ski jump slope, a cross country skiing venue, and a biathlon center — have been already completed, and four others — the Jeongseon Alpine Center, the Jeongseon Sliding Center, the Bogkwang Snow Center, and the Yongpyong Alpine Center — are to be dedicated at the earliest possible date.
Gangwon Province is preparing a diverse array of events to publicize its cultural values and appeals to the world and drum up a festive mood in Korea and abroad to celebrate the 100-day countdown to the opening of the Winter Olympic Games.
The province is concentrating on preparations to receive guests with a focus on making the province a memorable one and the place worth revisiting. First, we plan to make 1,400 "Olympic stay" accommodations and 2,000 "Olympic eateries" to offer a comfortable and pleasant accommodation and eating environment to spectators during the Olympic period. To this end, projects to improve facilities are being implemented. We're going to dramatically overhaul accommodation and restaurant services catering to foreigners. The provincial government plans to operate an integrated call center to provide information on accommodation facilities and eateries. Street signboards, old facilities, public toilets will be renovated to remove inconveniences Korean and foreign tourists experience during the Olympic period.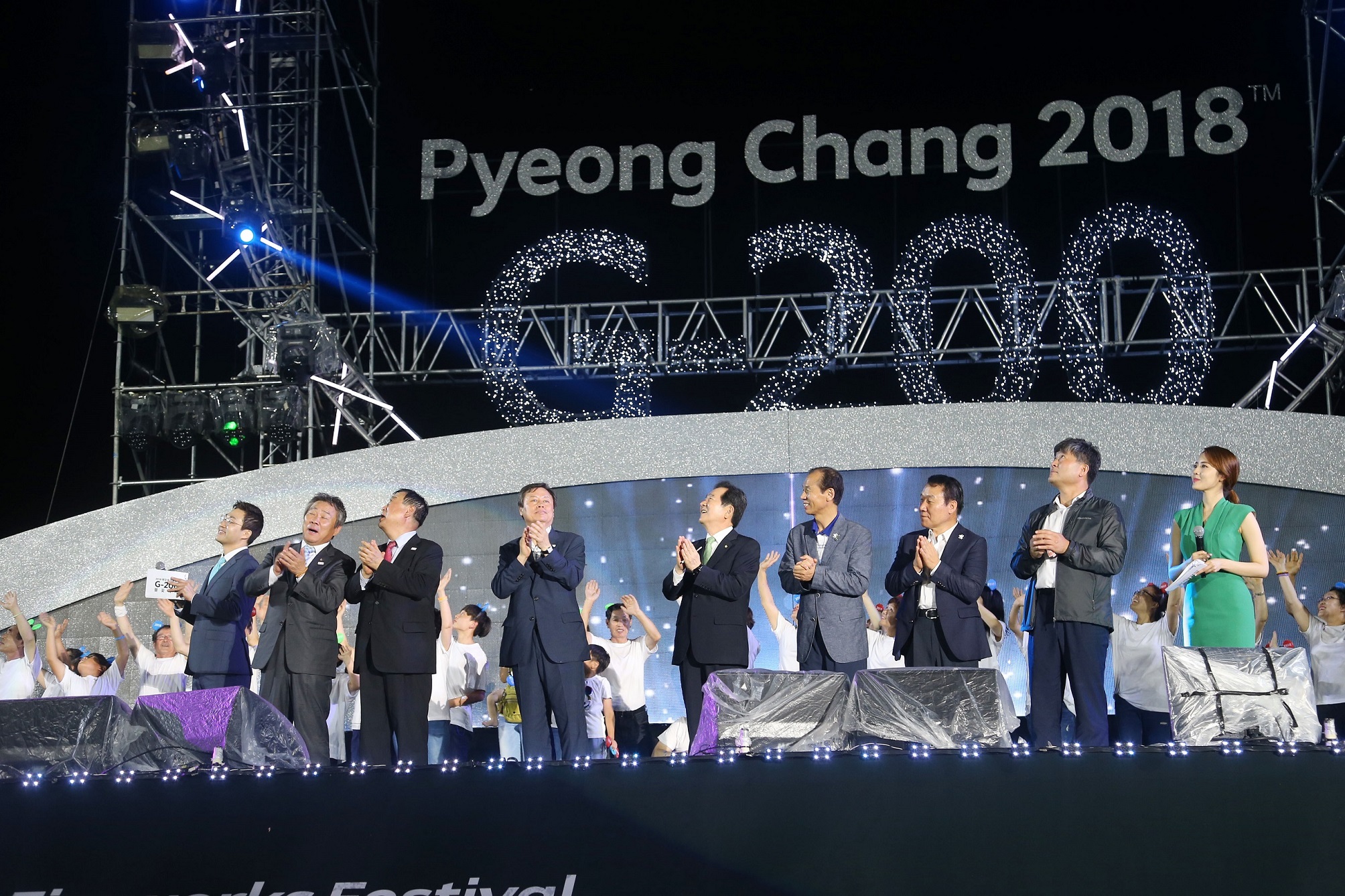 Dignitaries participate in a fireworks festival to celebrate the start of the countdown D-200 before the opening of the Olympic Winter Games PyeongChang 2018. (Photos: Gangwon provincial government)
Q: Will you introduce efforts to make the Olympic Winter Games PyeongChang 2018 a more successful sport extravaganza compared to previous Winter Olympics?
A: It takes on significance in Olympics history since Korea will host the Olympic Winter Games PyeongChang 2018 again in 30 years after Seoul was the venue of the 1988 Seoul Summer Olympic Games. Korea will join a club of four countries which have hosted the world's top four sports events — France, Germany, Italy and Japan. Korea's hosting of the Olympic Winter Games PyeongChang 2018 will herald the nation's entry into advanced countries.
We aim to make the Olympic Winter Games PyeongChang 2018 a cultural, eco-friendly, peace-oriented, economical, and ICT-activated Olympic event.
In order to make the Olympic Winter Games PyeongChang 2018 the first cultural event in history of Olympics, we plan to make the Olympics an event in which all people across the nation enjoy culture at any place and every day, and make it an inheritance along with the world. A festival to celebrate one year before the opening of the Winter Olympics has already taken place to build a foundation to become a cultural Olympic event by hosting large-scale festive events, and a diverse array of performances and exhibitions. Second, all sporting facilities have been built with a focus on eco-friendliness and an athlete-oriented paradigm, the preserving of the province's breathtaking natural landscape and vegetation resources with a design concept stressing harmony between the province's dynamic style and its surrounding environment to become an eco-friendly Olympic event.
Many athletes and sporting officials from 22 sports participating in pre-rehearsal events have given positive evaluations of the province's natural environment, clean facilities and quality ice conditions.
Third, as the 1988 Seoul Summer Olympic Games was touted as a "peace event" with the West and the East participating, the Olympic Winter Games PyeongChang 2018 is hoped to serve as an Olympic event to deliver a message of peace with North Korea's participation.
We're exploring ways of having North Korea attend the Olympic Games in cooperation with the government by easing inter-Korean tensions and improving relations. Further contributing to global peace is one of the Olympic goals.
Fourth, to become an economical Olympic event, the Olympic Winter Games PyeongChang 2018 has a superb arrangement being situated between the PyeongChang Mountain Cluster focusing on snow and the Gangneung Coastal Cluster focusing on ice. The Jungbong Alpine Center and the Bogkwang Snow Center serve as outskirt sport facilities catering to alpine speed skating, snowboarding and free-style skiing. The two clusters within a 31 km distance of each other can be reached within 20 minutes thanks to transportation networks, including an expressway and a high-speed railway. Two outside sporting venues can be approached within 30 minutes of the main Athlete's Village.
Lastly, we aim to make the Olympic Winter Games PyeongChang 2018 an event armed with advanced ICT with a focus on five areas: the world's first 5G telecom network; ultra high definition (UHD) TV; smart AI; and exciting virtual reality. We aim to have people across the world enjoy Olympic Games without language barriers. We want to make the Games an Olympic event memorable for all people around the world, and make Gangwon-do a place worth visiting and revisiting.
Q: People will travel from the Seoul metropolitan area to Gangwon-do faster than ever. Even though most of the province can be reached within a one hour-drive, the province has still an image of being remote. What steps have you taken to counter that?
A: Transportation infrastructure issues have been solved with the construction of railway and expressway networks to prepare for the hosting of the Winter Olympic Games. People still "feel" far away, but public perception toward Gangwon Province will soon change.
Currently, seven railway sections in the province are under construction. Railway networks, totaling 566.1 km in length, cost a combined 11.06 trillion won, including 1.199 trillion won spent for this year. Among the railway sections under construction are the construction of a 93.95 km-long railway linking Chuncheon and Sokcho, for which a master plan is being drawn, and a 120.7 km-long railway connecting Wonju and Gangneung. The former will cost 2.063 trillion won, while the latter will require 3.911 trillion won, including 304 billion won allotted for this year.
Projects to build three expressways, totaling 158 km in length, are now being implemented at a cost of a combined 2.788 trillion won, including 326 billion won allotted for this year. The Dongseo Expressway, a 71.7 km-long expressway linking Donghongcheon and Yangyang has been opened to traffic as of June 30.
We're devoting ourselves to secure a "three-dimensional" transportation infrastructure for the cause of balanced national land development and the development of the province by making the hosting of the Winter Olympic Games a success and attracting investments and having tourist inflows.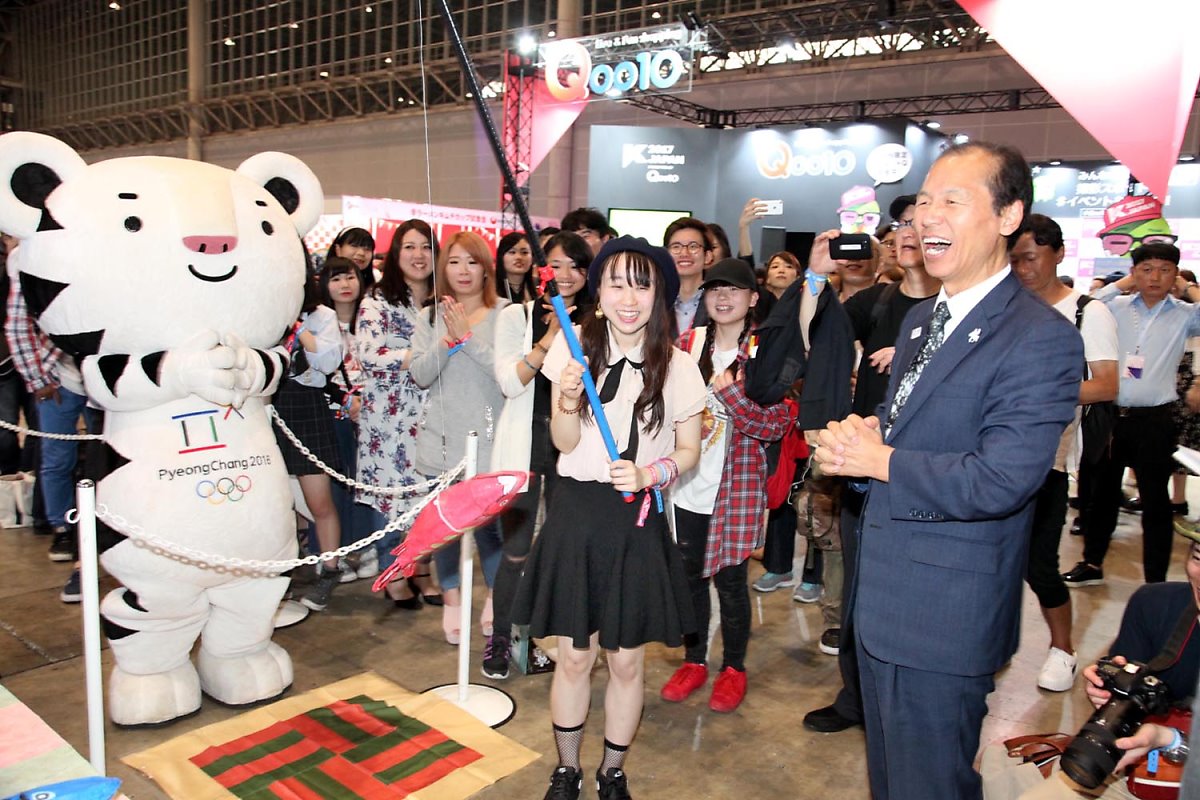 Gangwon-do Gov. Choi Moon-soon plays a fish game with a Japanese at the K-Con 2017 Japan, an event to wish for the successful hosting of the Olympic Winter Games PyeongChang 2018, which took palce at the Makuhari Mess in Jiba Prefecture, Japan, from May 19 to 21.
Q: Will you explain the current status of provincial residents' support and corporate contributions?
A: The hosting of the Olympic Winter Games PyeongChang 2018 requires a budget of 13.7 trillion won. Out of the total, 11 trillion won is related to the construction of railways, roads, sporting facilities. The money from the national coffers and the provincial government will be executed by the Ministry of Land, Transport and Infrastructure (MOLIT).
The remaining 2.7 trillion won will be spent by the Organizing Committee of the Olympic Winter Games PyeongChang 2018. Out of the total, corporate sponsorships take up a 35 percent share, the IOC's support accounts for 30 percent, while the remaining 35 percent will be raised by selling tickets, commemorative coins and other mementos.
Whether the Winter Olympic Games will post a profit or loss depends on what the Organizing Committee receives by way of corporate sponsorships. Even though we have had a tough time due to the economic slowdown, we're optimistic that things will change for the better with the new government. Sponsorship from Korean companies amounts to 894.4 billion won, which is about 95.1 percent of the goal of raising 940 billion won.