Moves by Daelim Industrial to recover its glory days this year are paying off as total sales surpass 10 trillion won, ending a string of a few bad years. In 2014, the construction firm ended the year 270 billion won in the red. The company had a tough time securing new project orders in the Middle East, its traditional major overseas construction market.
But the tough times for the company seem to be over this year with its petrochemical sector showing improvement, while its major affiliates are also doing well, meaning the turnaround is in full gear thanks to construction orders from the Middle East. According to FnGuide, a securities information firm, Daelim is expected to log 10.58 trillion won in sales and 527 billion won in operating profit this year, double that of 2015, which is mainly owed to the rebound in picking up project orders both at home and overseas this year. The company clinched a project worth 2.3 trillion won in Iran this year, the largest project that a Korean firm has ever won in Iran.
A securities analyst with Dongbu Securities said President Hassan Rouhani is still the leader Iran, which will help in Iran's opening up to outside world, and Daelim will likely pick up more projects in the years ahead.
Construction industry sources project tIran's total construction market to be worth $33.7 billion. At home, some 18,000 new residential houses are to be supplied this year in 14 locations, including those to be rebuilt and redeveloped.
South Korea's petrochemicals exports are estimated to have reached an all-time high last year, largely due to a rise in demand in their biggest export destination, China, and other newly emerged markets, industry data showed early in January.
Exports of petrochemicals produced by South Korea's four oil refiners were tallied at 445 million barrels in the first 11 months of the year, according to the data.
When figures from December are included, last year's exports of petrochemical products are estimated to have amounted to 490 million barrels, surpassing the previous record high of 477 million barrels seen in 2015. Daelim Industrial Co., a major construction firm in South Korea, said last Dec. 29 that it has received a letter of award from Iran's Esfahan Oil Refining Co. to improve oil refinery facilities.
The deal, which is worth 2.3 trillion won ($2 billion), is the largest contract secured by a domestic construction company in Iran.
The project is to add facilities that will be used to produce high value-added products to the oil refinery in Isfahan, located 400 kilometers south of Tehran, the capital. Under the deal, Daelim Industrial will be in charge of design, equipment and material procurement, construction and financing.
Construction will take 48 months after groundbreaking.
Daelim Industrial was the first Korean builder to tap into the Iranian construction market after South Korea and Iran established diplomatic relations in 1962. Beginning with the civil engineering work in Isfahan military facility in May 1975, the company has clinched 26 projects worth $4.55 billion (5.51 trillion won) in total over the past 40 years in the country.
It marks the highest-ever number of construction deals with Iran by a South Korean company. Based on that, Daelim Industrial has won confidence from Iran's state-run companies and private businesses.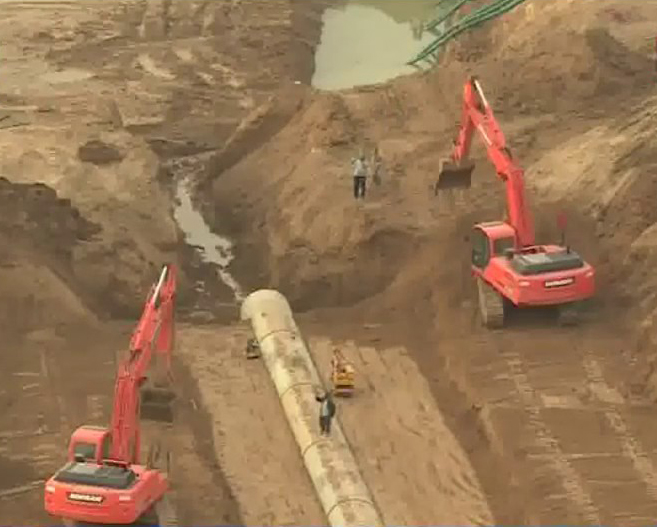 A scene from the site of the Esfahan Oil Refinery expansion project in Esfahan, Iran, being worked on by the engineers of Daelim Industrial Co.(Photo: Daelim Industrial Co.)