President Moon Jae-in wrapped up his maiden trip to the United States in which his meetings with U.S. President Donald Trump between June 30 and June 31 solidified their relationship of personal trust to a greater extent than they were expected to, Cheong Wa Dae officials said. The president is now poised to launch his inter-Korean dialogue-based engagement move after obtaining President Trump's support that the ROK would take the leading role in fostering an environment for the peaceful unification of the Korean Peninsula. But it remains to be seen if President Moon's inter-Korean engagement policies will pay off since both sides still need to agree on details, including the scope of inter-Korean dialogue, all the while North Korea continues to upgrade its nuclear and missile arsenals with no hint at a willingness to compromise.
While delivering a speech upon his return home from the United States on July 2, President Moon said, "We've secured the U.S. support so that we can play a leading role through dialogue over issues regarding the Korean Peninsula." South Korea has embarked on a long-time journey to build a permanent peace regime on the Peninsula, said President Moon, adding that the South will "unravel complicated knots" one by one. The chief executive told a meeting with Korean-Americans in Washington on July 1 that South Korea will take the "driver's seat" without relying on surrounding countries as it comes to inter-Korean relations. President Moon revealed his plan on inter-Korean talks in which the "freezing of North Korea's nuclear arms" is a starting point for inter-Korean dialogue, but a complete nuclear disarmament is the exit during his meeting with Korean correspondents there.
"Noting that sanctions are a tool of diplomacy, the two leaders emphasized that the door to dialogue with North Korea remains open under the right circumstances," according to a joint statement issued after the Korean-U.S. leaders'''' talks. "In reaffirming our two sides' shared top priority to resolve the nuclear issue, the two leaders emphasized that the United States and the ROK do not maintain a hostile policy toward North Korea and, together with the rest of the international community, stand ready to offer a brighter future for North Korea if it chooses the right path," the statement said. It continued: "The two sides decided to closely coordinate on our joint North Korea policy, including how to create conditions necessary for denuclearization talks, through a high-level strategic consultation mechanism."
During meetings held over two days, the two leaders solidified their relationship of personal trust to a greater extent than they were expected to, and there is a chance that President Trump may visit Korea this year. In the meantime, it is significant that the two leaders will be able to have in-depth discussions and dialogue at any time over differences of opinion that could surface between the two countries.
During their summit, President Moon and U.S. President Trump had extensive discussions on many details and, importantly, they were able to build solid trust between them, Cheong Wa Dae said. President Trump noted that Korea was a very significant, major partner with the United States and that bilateral relations were very strong. The President went on to say that his personal relationship with President Moon was "very, very good." At the expanded summit, President Trump used the phrase "great chemistry" to describe their personal relationship.
The following are excerpts of the Joint Statement between the United States of America and the Republic of Korea.
"The two leaders affirmed the Alliance's fundamental mission to defend the ROK through a robust combined defense posture and the enhancement of mutual security based on the U.S.-ROK Mutual Defense Treaty." President Trump reiterated the U.S. commitment to provide extended deterrence to the ROK, drawing on the full range of U.S. military capabilities, both conventional and nuclear.
"Regular dialogue channels such as the Security Consultative Meeting and the Military Committee Meeting are instrumental in deepening our Alliance. The two leaders decided to continue the Alliance`s work to expeditiously enable the conditions-based transfer of wartime operational control of ROK forces. The ROK will continue to acquire the critical military capabilities necessary to lead the combined defense, and detect, disrupt, destroy, and defend against North Korean nuclear and missile threats, including through interoperable Kill-Chain, Korean Air and Missile Defense (KAMD), and other Alliance systems."
"The two leaders reaffirmed the U.S.-ROK Alliance commitment to counter the growing threat to peace and security posed by North Korea's nuclear and ballistic missile programs. To increase coordination on Alliance issues, the Leaders committed our foreign affairs and defense agencies to regularize a '2+2' Ministerial meeting, as well as a high-level Extended Deterrence Strategy and Consultation Group to employ all elements of national power to strengthen extended deterrence."
Maintaining Lock-Step Coordination on our North Korea Policy
"President Trump and President Moon pledged to continue to coordinate closely to achieve our shared goal of complete, verifiable, and irreversible denuclearization of the Korean Peninsula in a peaceful manner. The two leaders called on North Korea to refrain from provocative, destabilizing actions and rhetoric, and to make the strategic choice to fulfill its international obligations and commitments. "The two leaders affirmed that North Korea's nuclear tests and unprecedented number of ballistic missile tests constitute direct violations of multiple United Nations Security Council Resolutions (UNSCRs) and highlight the accelerating threat its programs pose to international peace and security."
They affirmed their commitment to fully implement existing sanctions and impose new measures designed to apply maximum pressure on North Korea to compel Pyongyang to cease its provocative actions and return to sincere and constructive talks.
The two leaders also urged all UN member states to swiftly and fully implement UNSCR obligations and took note with appreciation of constructive actions by some countries around the world to exert diplomatic and economic pressure on North Korea to return to credible negotiations on denuclearization. They noted the important role China could play to this end. In addition, the two sides committed to enhance cooperation to combat North Korea`s dangerous and destabilizing malicious cyber activity.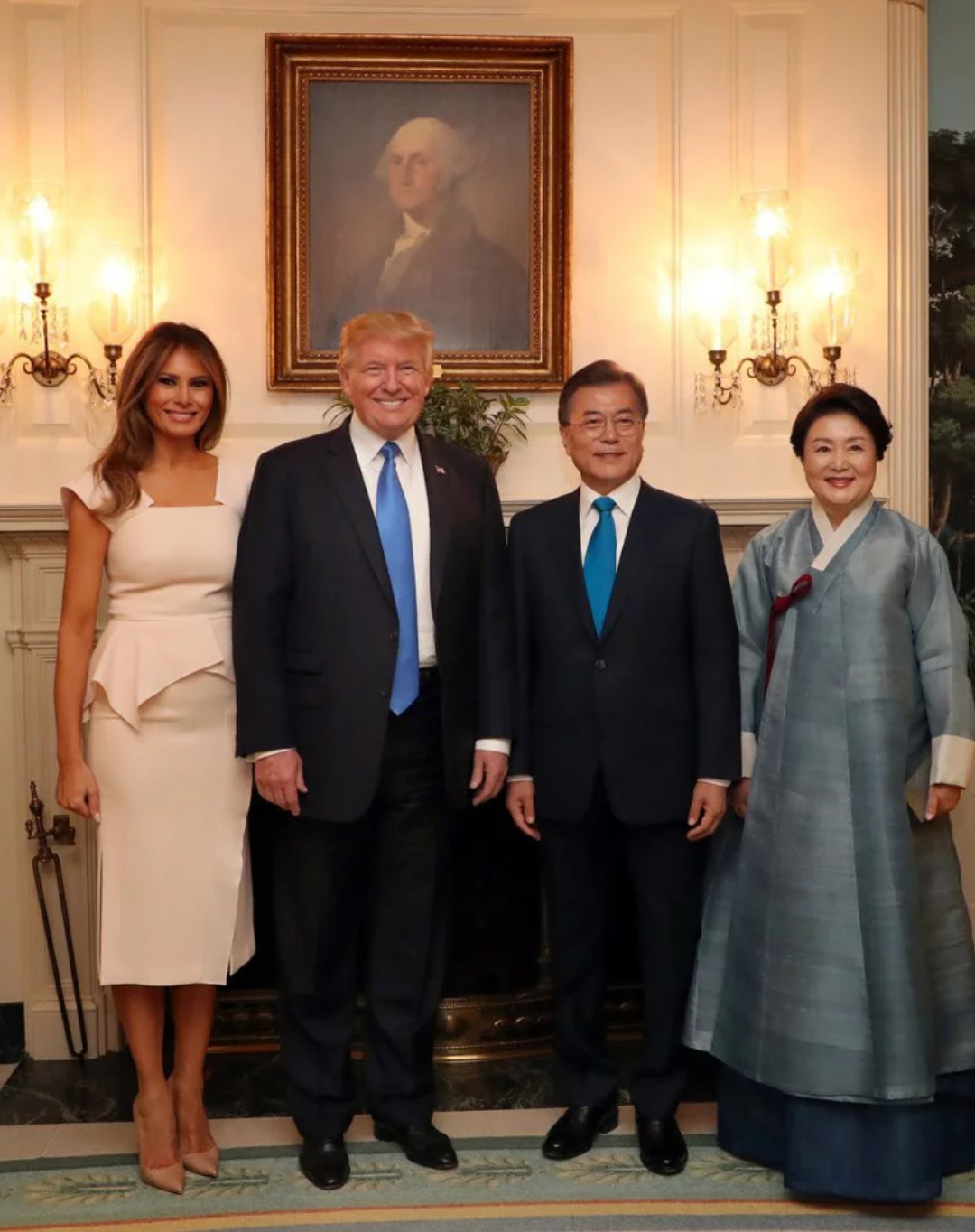 Advancing 'Fair Trade' to Promote Economic Growth
President Trump and President Moon committed to fostering expanded and balanced trade while creating reciprocal benefits and fair treatment between the two countries. In that regard, the two sides further committed to fostering a truly fair and level playing field, including working together to reduce the global overcapacity of such basic materials as steel, as well as non-tariff barriers to trade. Both sides pledged to work together, as part of the process of the Commercial Dialogue, to promote investment, support entrepreneurs, and facilitate cooperation between the United States and the ROK to boost economic growth and job creation in both countries.
Enhancing Bilateral Cooperation on Other Economic Opportunities
Both sides also committed to work together through the Senior Economic Dialogue to promote and expand cooperation on other economic issues and to explore the enhancement of economic opportunities through a joint public-private forum.
"Given the role of science, technology, and innovation in driving economic growth, we are enhancing our cooperation in cybersecurity, information and communication technology, and civil space. Highlighting the important economic role women play in our societies, the two sides pledged to launch a bilateral partnership to advance women's economic empowerment."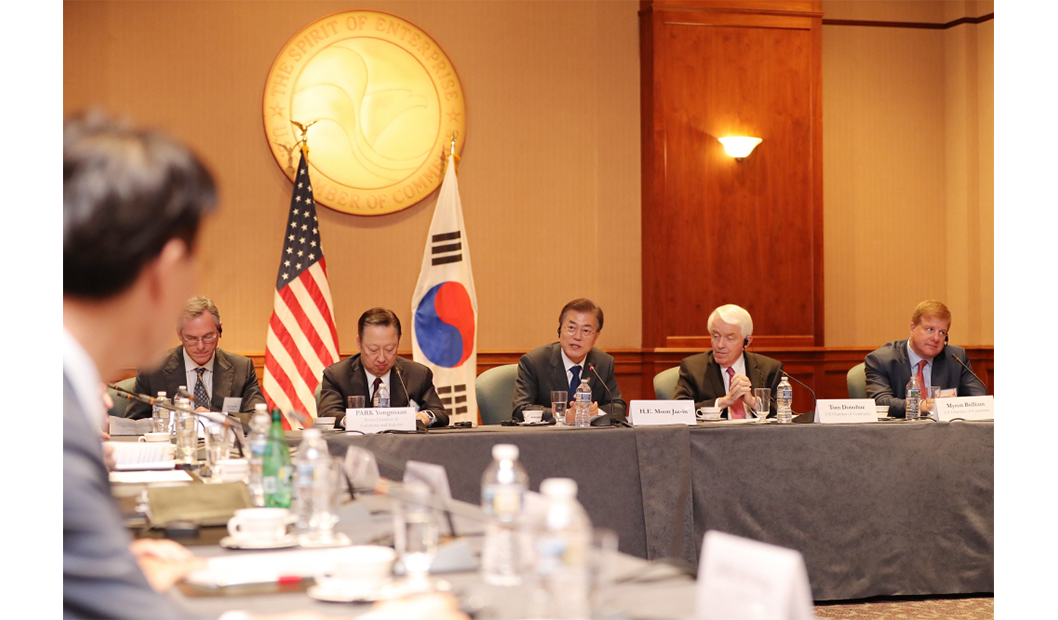 President Moon Jae-in and Korean business leaders, including Chairman Park Yongmaan of the Korea Chamber of Commerce & Industry, attend the Korea-U.S. Business Summit at the U.S. Chamber of Commerce in Washington on June 28.
Future of the Alliance
The two leaders shared the view that strong and dynamic ties between our two countries are the foundation of the U.S.-ROK Alliance. They decided to advance future-oriented cooperation through high-level consultations in the areas of economy and trade, renewable and nuclear energy, science and technology, space, environment, health, and defense technology.
President Trump and President Moon affirmed that the United States and the ROK will work together to support and uphold the rules-based order in the Asia-Pacific region.
The two leaders affirmed that the strength of the U.S.-ROK Alliance serves as testament to the power of freedom, democracy, human rights, and rule of law, and acknowledged that the future of the two countries is linked through people-to-people ties, with more than 1.7 million Korean Americans in the United States, hundreds of thousands of Americans visiting and working in the ROK each year, and close ties created through cultural programs and student and professional exchanges.
President Trump and President Moon heralded the exemplary nature of the U.S.-ROK Alliance, from strengthening our security by deterring and defending against the North Korea threat, to enhancing strong regional relations, to advancing our economic relationship and expanding our global partnership and stated their expectation that the friendship and partnership between the two countries will continue to strengthen and grow for many decades to come.