LG Chem Vice Chairman Park Jin-soo. (Photo: LG Chem)
LG Chem is concentrating its capabilities on the nurturing of core businesses, including basic materials, batteries, IT/electronics materials and life science. The company aims at becoming a "global top five" chemical company by advancing its business portfolio.
The Basic Materials & Chemicals Business Division targets raising annual production capacity of elastomer, a value-added synthetic resin, to 290,000 ton. LG Chem has secured a proprietary metallocene catalyst and process technology. The company is rated as having global top-class product competitiveness by establishing a vertical integration regime ranging from basic materials to catalyst and finished products.
The battery business division plans to maintain a competitive edge in terms of price, function and safety by focusing on R&D. The division has a strategy to retain the No. 1 position in a race to win a project to produce a G3 electric car that can drive 500 km per charge.
In an effort to solidify the No. 1 position in the global polarizer market, LG Chem plans to increase production in China, which grows with an annual average growth rate of more than 30 percent. Ever since LG Chem became the first company to commercialize LCD polarizers in 2000, the business division has steadily grown through aggressive investment in R&D and the development of differentiated products. As a leading global company in the polarizer market, LG Chem has also been strengthening global competitiveness in the areas of ITO Film, touch panels and circuit board materials.
The Life Sciences Business Division plans to nurture Zemiglo, Korea's first new drug to treat diabetes, into a leading product. The division plans to accelerate efforts to develop new drugs to become the nation's leader in the metabolic disorder and bio medicine segments. It also wants to explore overseas markets. It plans to advance the release of such drugs as diplococcus pneumoniae and LDVD, a mixed vaccine for the prevention of diphtheria, tetanus, pertussis, hepatitis B, Haemophilus Influenzae type b (Hib), and poliomyelitis by conducting their clinical tests in Korea and abroad.
LG Chem plans to secure growth engines in its mainstay businesses through advance investments, a company official said.
In order to become a "sustainable growth company," LG Chem is ramping up future R&D investments to nurture energy, water and bio sectors the company has set as its mid- and long-term new growth engines.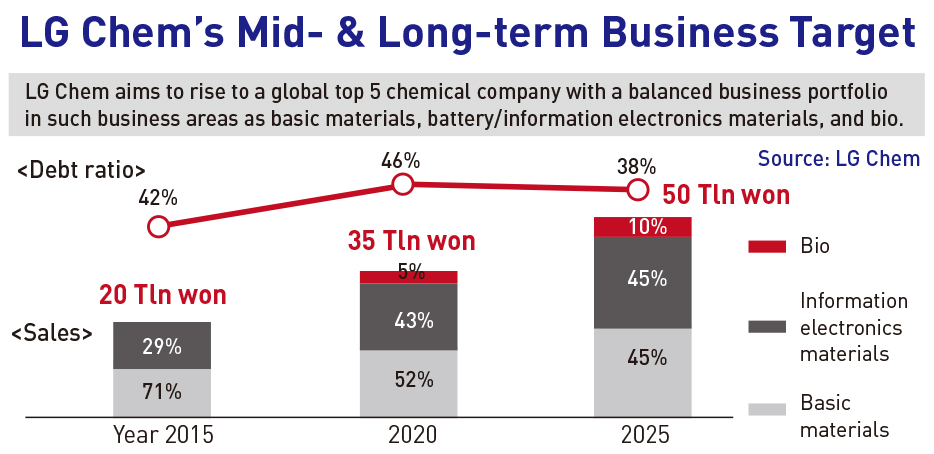 LG Chem Pours 1 Trillion won into R&D in 2017
LG Chem plans to invest 1 trillion won in R&D outlays this year. LG Chem Vice Chairman Park Jin-soo revealed the plan in a meeting with reporters at LG Technology Research Institute in Daejeon on March 31.
"R&D outlays will increase 10 percent every year," Vice Chairman Park said.
This is the first year that LG Chem will see its R&D outlays surpass 1 trillion won annually, the largest-ever among Korean companies. Last year, the company poured about 780 billion won into R&D investments.
"Investing 1 trillion won in R&D, which amounts to more than 4 percent of sales, is higher than that of global chemical companies," he said. BASF and Dow Chemical's R&D investments vs. sales stood at 3.8 percent and 3.3 percent as of 2015, respectively.
Vice Chairman Park said, "LG Chem aims to be an R&D mecca through the exploration of technologies spearheading market paradigm trends." To this end, he said, LG Chem plans to raise R&D investments to 1.4 trillion won and increase research manpower from the current 5,300 to 6,300 in 2020.
In a reshuffle designed to ramp up R&D carried out last year, President Yoo Jin-nyung of the LG Technology Research Institute was appointed chief technology officer. LG Chem will focus on energy, water, bio and next-generation new materials, and the company will see sales in new businesses through R&D surge 8.5 trillion won this year to 16.3 trillion won in 2020, he said. By investment area, research in the EV battery segment will account for 30 percent of the company's total R&D outlays. The portion of R&D investments in basic materials, information electronics and life science fields will range from 10 percent to 20 percent.