Shinhan Card has launched the Asiana Shinhan Card Air 1.5, which strengthens benefits for cardholders from the accumulation of mileage with Asiana Airlines. The new card has the highest mileage accumulation rate among similar cards in operation, with more benefits in such areas as deluxe hotel expenses, "no fee" valet parking at airports and the free use of airport lounges. As can be learned from the name of the card, when the card is used at member shops, 1.5 miles will be credited for every 1,000 won of card payments made.
Basic mileage and double mileage accumulation overseas will be credited to cardholders who spend at least 500,000 won in the preceding month. The credit card firm held various events to celebrate the launch of the new product, including offering cash back on annual fees for cards issued online (effective until the end of this year); and a 5 percent cash-back service for airline tickets with the maximum of 50,000 won.
"We prepared the new credit card product to cope with the rising needs of overseas and domestic tours, which have been expanding fast," said officials of the card firm, adding that they will come up with new products for the sake of cardholders so they can get more benefits and convenience from the use of their credit cards. When payments are made in cash overseas, mileage will be doubled to 3 miles for very 1,000 won spent. There is a 2,000 mileage limit per month.
President Lim Young-jin said the credit card firm will expand its investments in start-ups as a way to find new growth engines for the company. "We will do everything we can to find new growth engines with the business environment for the credit cards growing worse with the reductions in fees charged for membership firms."
He said current problems facing the card firms are reaching a crisis-level, which could make or break the industry as the development of mobile and bio technologies might render the use of credit cards unnecessary in the future. "We need the strategies to ensure out survival with daring investments in new growth engines," he said.
CEO Lim Young-jin said he will completely digitalize Shinhan Card's operations, calling the Internet Bank that is slated to emerge in July as a tough competitor.
At a brief inaugural ceremony held at the company's Myeong-dong head office, Lim said he will make sure the company digitalizes everything related to the customer service environment, "digitalizing every bone in the body," he said, so that the company provides new customer services that are completely segregated from those provided until now in terms of customer value and experience.
He took over as CEO of the credit card firm a day after he was named to head Shinhan Card by Shinhan Financial Group's Management Committee for Affiliates. The shareholders' meeting approved his appointment just before his inauguration.
Lim also said he would have to look for new growth engines for the company overseas and create new businesses for the company's survival, considering the slowdown in the economy and that the credit card market has reached a saturation point.
He noted that the company would have to cut fees charged on membership firms and diversify its financial operation to develop its platform. The company will continue to work on finding new financial businesses.
Lim also said he and President Wi Sung-ho of Shinhan Bank will form an excellent team, as he is the former CEO of the credit card firm. UnionPay International and South Korea's biggest issuer, Shinhan Card Co., Ltd. jointly announced in Shanghai the issuance of the first UnionPay signature-based debit card and UnionPay platinum credit card in South Korea in the hope of further diversifying the UnionPay cards products in South Korea and providing more choices of payment tools to local residents.
China UnionPay Chairman Su Ning, UnionPay International CEO Cai Jianbo, and Shinhan Card President Lee Jae Woo jointly attend the signing ceremony.
As a premium credit card, UnionPay platinum card provides a variety of card-using rights and fully upgraded services to Korean cardholders. UnionPay signature-based debit card has been designed in compliance according to international practices, and based on broad network coverage, safety and affordable service and other advantages of UnionPay debit card. The card can be used on both the signature-based acceptance network and the PIN-based network, making it possible for cardholders to better enjoy the service offered via the UnionPay global acceptance network.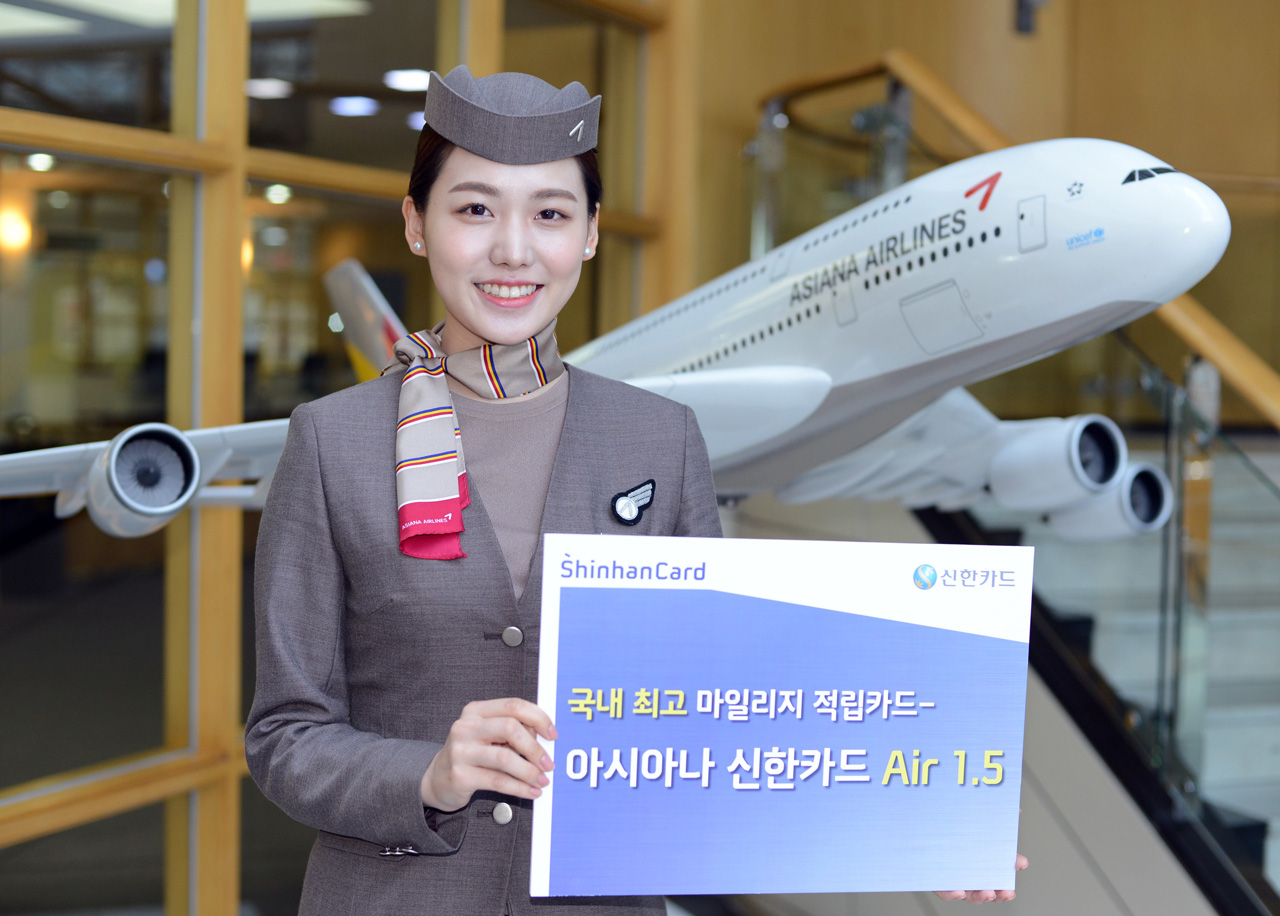 A stewardess of Asiana Airlines holds a copy of Asiana Shinhan Card Air 1.5 claimed to give the most mileage accumulation to its cardholders as benefits among the credit cards in operation in Korea. (Photos: Shinhan Card)