Seoul Mayor Park, a special envoy to the ASEAN for President Moon Jae-in, meets Philippine, Indonesian and Vietnamese leaders
Seoul Mayor Park is heading a special envoy delegation to the ASEAN for President Moon Jae-in, including Rep. Kim Hyun-mi of the MPK, who was appointed to be minister of land, infrastructure and transport, and Rep. Shin Kyung-min.
Seoul Mayor Park Won-soon, acting as a special envoy to the ASEAN for President Moon Jae-in, said, "The ASEAN (Association of Southeast Asian Nations) with a population of 650 million, which enjoys an annual growth rate of 4 percent to 5 percent, will emerge as a breakthrough in the Korean economy."
Mayor Park made the remarks from Hanoi, Vietnam, the last leg of his official visit to ASEAN countries, on May 25. He has been accompanied by Rep. Shin Kyung-min of the Minju Party of Korea (MPK). "Dispatching a special envoy to the ASEAN has served as an opportunity to diversify our diplomacy, which has focused on four powers." After touring the Philippines, Indonesia and Vietnam in the capacity of a special envoy, Mayor Park said he learned that ASEAN is the future for Korea.
"Japanese Prime Minister Shinzo Abe visited all ASEAN countries one year after he took office," Mayor Park said. He said he will suggest President Moon do the same. Despite the short notice, all ASEAN leaders greeted the Korean special envoy delegation in what he said was an exceptional privilege. Park called for the elevating of relations between Korea and ASEAN based on amicable ties and the strengthening of economic cooperation.
Mayor Park was appointed to be a special envoy to the ASEAN on May 19. Despite the short notice, Mayor Park met with Philippine President Rodrigo Duterte on May 22, Indonesian President Joko Widodo on May 23. He also met with General Secretary of the Communist Party of Vietnam Nguyen Phu Trong; Vietnam's No. 1 power, President Tran Dai Quang of the Socialist Republic of Vietnam; and Vietnamese Prime Minister Nguyen Xuan Phuc on May 25.
Regarding North Korean nuclear and missile issues, Mayor Park said that the new government will never condone North Korea's provocative activities. Mayor Park said the Philippine, Indonesian and Vietnamese leaders he met during his visit agreed to back the need for imposing sanctions against North Korea and solving the issues through dialogue.
He predicted that President Moon's first summit with Philippine and Vietnamese presidents may take place around November. President Moon will hold talks with Vietnamese leaders and Philippine President Duterte on the sideline of the APEC Summit Meeting, to be held in November. Park said President Moon is expected to meet with Indonesian President Joko Widodo during the upcoming G20 Summit Meeting slated for July in Germany.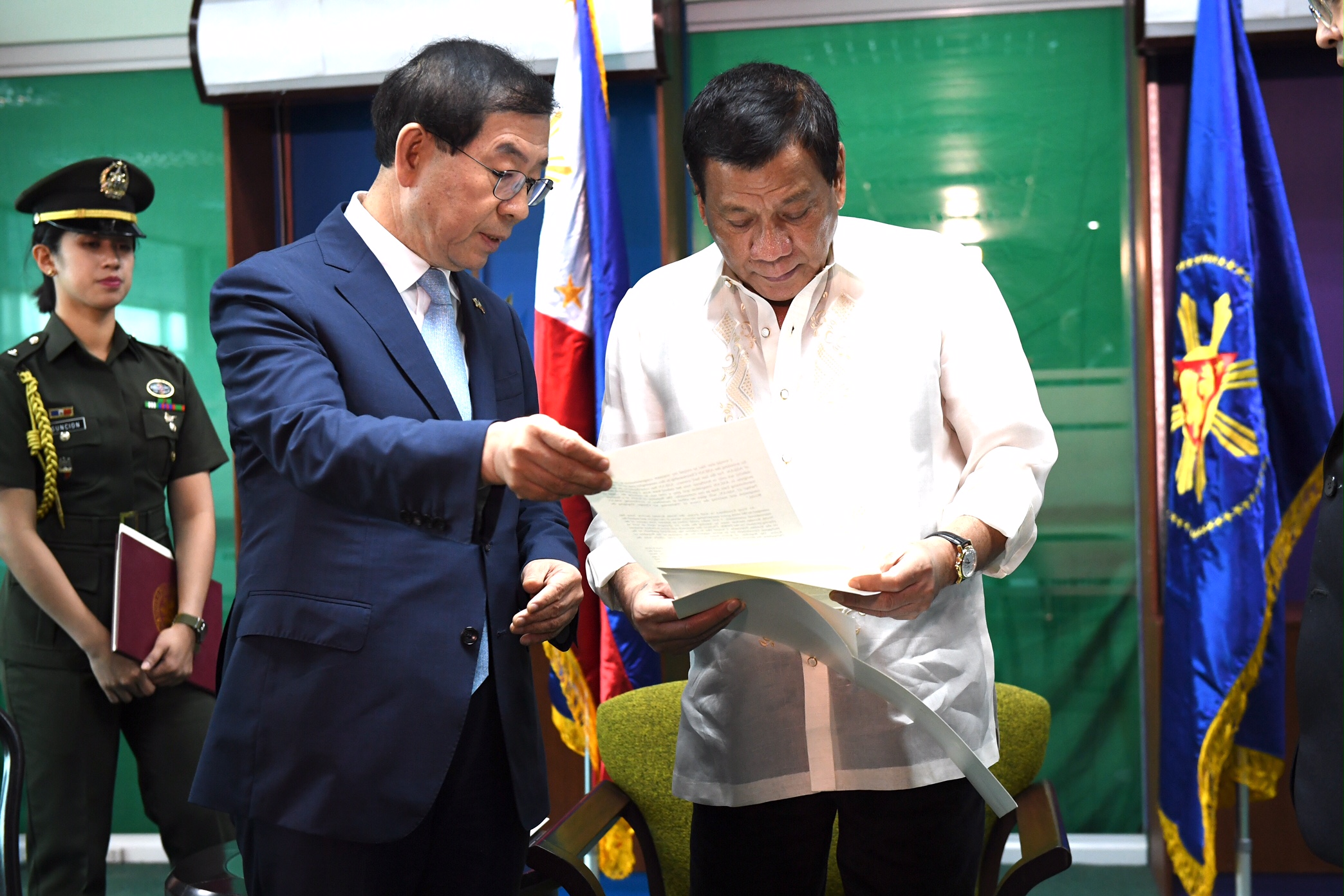 Seoul Mayor Park meets with Philippine President Rodrigo Duterte in Manila on May 22. (Photos: SMG)