"The most essential thing in our present age is to restore traditional ethics. People who practice filial piety at home are faithful to the state, and 3.5 million members of our association devote themselves to putting fading ethics back on the right track," said Chairman Lee Pil-woo of the Central Fraternity Association of Gyeongju Lee Genealogy.
Chairman Lee made the remarks while attending the 2017 General Meeting of the Central Genealogy Association of Gyeongju Lee. He gave prizes and cash to 50 exemplary sons and daughter-in-laws who are devoted to helping their parents. Lee called for the participating genealogy association members to live up to the values of filial piety and loyalty of the state. Lee has been reelected as SNU-ACADA chairman; chairman of the Central Fraternity Association of Gyeongju Lee Genealogy; and chairman of the 11th National Assembly Parliamentarians Committee. Lee is also chairman of the Association of Chungcheongbuk-do Residents in Seoul.
Chairman Lee recently donated 1 billion won to expand the genealogy association building, solving a long-pending issue of the genealogy association. Chairman Lee became the second genealogy association member to donate a huge sum of money for the expansion of the association building following the late Samsung Group founder Lee Byung-chull. The genealogy association building, located in Haehwa-dong, Seoul, is also utilized as a cultural space.
Chairman Lee had a meeting with this reporter at his office in Nonhyeon-dong, Seoul, after returning home from a trip to the United States in which he had a reunion with his family members living in Log Angeles. He gave words of encouragement to his granddaughter, who is studying at a graduate school of Harvard University under a scholarship.
"I'm feeling excited and happy whenever traveling abroad. I have an instinct the love of traveling. I'm recharged with golf and other exercises while traveling the Los Angeles area west of the United Sates," he said.
Chairman Lee was reunited with his friends living in the United States, and they shared their views on the significance of the national security and security alliance between South Korea and the United States.
Lee normally goes climbing at famous mountains in Korea over weekends. He is always rearmed with new energies with rest and practicing golf and other exercises.
Chairman Lee stresses integration as the most urgent task of the President Moon Jae-in government. He has emphasized cohesion among members of fraternity organizations he has headed. Chairman Lee's successful operating of the SNU-ACADA and cohesion and harmony with which the genealogy association is run have become the subject of envy from outside people.
"The most important thing at home is cohesion. The Chinese saying 'gahwamansaseong' means that when one's home is harmonious, all goes well.
The state is also the case. Democracy means that despite conflicts with numerous views, if a public consensus is agreed by a majority vote, all have to support it. In that case, the state will be stabilized and people's lives will be enriched. Korea is grappling with several problems, including ones associated with national security, national economy, and social conflicts. The nation should be united with one voice to overcome hardships amid the difficult situation of the international community," he said.
The chairman has maintained closer relations with former presidents for 62 years. He was closer to former presidents ranging from Syngman Lee, the 1st chief executive of the nation, and Park Chung Hee to Chun Doo Hwan, Kim Young-sam, Roh Moo-hyun and Lee Myung-bak. In particular, Lee is so amicable with former president Lee, who calls him an "uncle" during their private meetings. Despite his close relations with former presidents, Chairman Lee has been staying away from inner power circles and the acquisition of graft. He is steadfast with his commitment to principal management as a businessman.
Lee is reputed to earn money with passion and honesty. The book "99 Wisdoms to Make Life a Success," which he published some time ago, indicates how he has been leading his life with passion and virtue, and how wise he has been to tide over any hardships he has been encountering.
Lee was born to a traditional Confucian farming family in Yeongdong, Chungcheongbuk-do. Lee himself was born from the ancestors of the Gyeongju Lee genealogy, including renowned ancient Confucian scholar Ikjae Lee Jae-hyun, noted for the practicing of filial piety.
Under the teachings of stern yet tenderly parents, Lee was schooled in Chinese literature from the age of four.
Lee believes in lifetime learning. At seven, he learned a thousand Chinese characters from the Chinese literary classic Zhouyi from his father. Lee, who read Confucian scriptures, was dubbed a prodigy.
SUN-ACADA Chairman Lee Pil-woo gives a plaque of appreciation to former prime minister-ex SNU president Chung Woon-chan, who lectured on shared growth at the National Policy Forum.
(Photos: Chairman Lee's Office)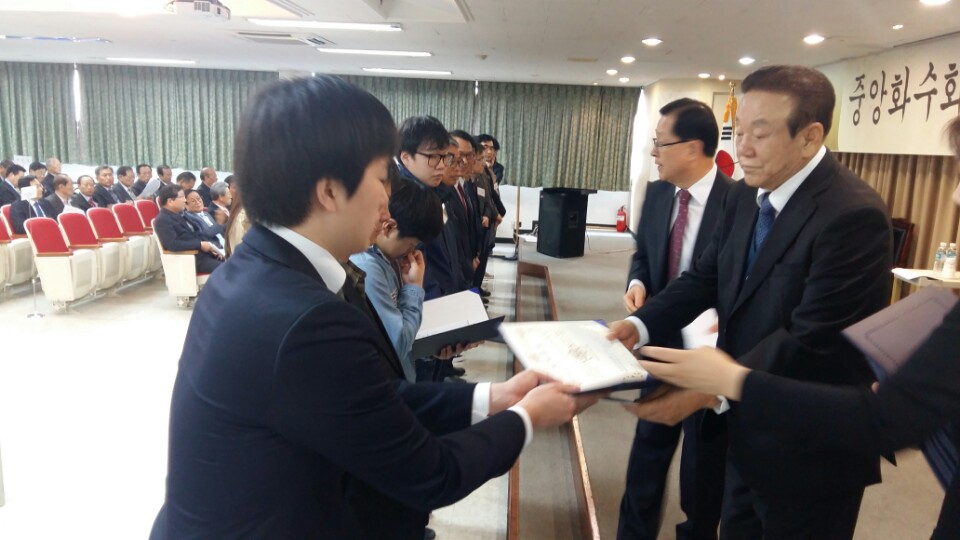 Chairman Lee Pil-woo of the Central Fraternity Association of Gyeongju Lee Genealogy presents scholarships and filial piety awards to youths at an association's meeting.
He attained filial piety, loyalty and classical scholar's spirit while learning Chinese literature, which have now become his lifelong spiritual values. Chairman Lee, now a businessman, is spearhead a campaign to promote filial piety and is devoting himself to conducting a scholarship as part of his loving of his native town.
The Goyang Yeongdong County Scholarship he launched with a donation of 1oo million won 10 years ago has seen its assets surge to 10 billion won, doling out about 100 million won of scholarships to students. The scholarships are distributed through such organizations, including the Gyeongju Lee genealogy association and the Association of Chungcheongbuk-do Residents in Seoul in which he is heading.
Chairman Lee is making the Chunghyomun, his retreat mansion at his native town at Gaerongni, Chupungnyeng-myeon, Yeongdong, an educational center to teach such values as filial piety, benevolence, and justice to students. Yeongdong is renowned for having fostered so many sons and daughter-in-laws devoted to field piety during ancient times. One of the notables is renowned scholar Gaeae Kim Soo-on, who was recognized for his superb academic achievements together with Korea's greatest-ever musician, Park Yeon (1378-1458), who mastered a compilation of aak at the order of King Sejong the Great of the Joseon Dynasty some 600 years ago.
The two hailed from Yeongdong, which still has a memorial that was built at the order of King Taejong of the Joseon Dynasty in recognition of the musician's filial piety. Chairman Lee expected the Chunghyomun, which is under construction, to serve as an educational institution to teach high standards of field piety by inviting renowned lectures of Korean studies.