Prime Minister Lee Nak-yon took office on June 1 after getting the nod from the National Assembly as the first prime minister of the President Moon Jae-in government. Parliament approved President Moon's selection as prime minister by a wide margin, winning 164 votes out of 188 votes cast on May 31. The main opposition Liberty Korea Party officially boycotted the vote, and 20 lawmakers voted against the selection.
His celebration over the fact that his long-standing dream of becoming prime minister was short. Upon his inauguration, Prime Minister Lee had a tight schedule, including reorganizing the government to arranging a supplementary budget bill. Lee, a former journalist and politician, first dreamed of taking the office when he began his journalism career as a reporter of the vernacular daily Donga Ilbo. His first beat was covering the prime minister's office. He had been serving as Jeollanam-do governor when he was tapped as prime-minister nomine on May 10. Issues over damage caused by drought and avian influenza will be the first tests for Lee's capabilities as prime minister of the new government.
Regarding the division of work with Cheong Wa Dae, Prime Minister Lee said in an interview that the Prime Minister's Office and Cheong Wa Dae will likely begin regular meetings over how to delineate certain tasks. The presidential Chief of Staff and Chief of the Presidential Policy Office, as well as the minister of the Office of Policy Coordination at the Prime Minister's Secretariat, are expected to participate in the regular meetings, and the results of those discussions will be released soon. Asked about who his role model would be as a "responsible prime minister," Prime Minister Lee said, "I'm studying taking cues from former Prime Minister Lee Hae-chan of the former President Roh Moo-hyun government."
Ex-Premier Lee had working luncheons with former President Roh when they held office to draw up "big picture" plans. Guidelines would be set out in areas the Chief Executive pays a keen attention to, said Lee, adding that communication is vital to implementing a successful agenda. "Couples who live a long life find it not easy to know what each other is thinking," he added. The more frequently people meet, Lee said, they will get to know what they think even though details are not given.
Prime Minister Lee said he was satisfied with his recommendations for minister-level officials to the president. "I will recommend figures with whom I have confidence. When I have no confidence, I will consult with Cheong Wa Dae." Lee said his recommended picks have failed to get through a screening process by Cheong Wa Dae, so screening needs to be reinforced.
Regarding the policy continuity of the previous government, Prime Minister Lee said the new government should not deny them any consideration of policy continuity. Looking back, he said be wants to improve for the future, not target specific figures. Lee said a focus needs to be on the four-river project of the former President Lee Myung-bak, which has caused environment problems, and countermeasures should be taken.
Asked about enacting a supplementary budget bill, Prime Minister Lee said the youth jobless rate, which rose to a record high of 11.2 percent in April, was an urgent task. Lee said the public sector should work to curb poverty and a widening income gap, which could have an adverse impact on communities. Given the emergency fiscal situation such as jobless issues, the supplementary budget would "give a shot in the arm to local governments," he said.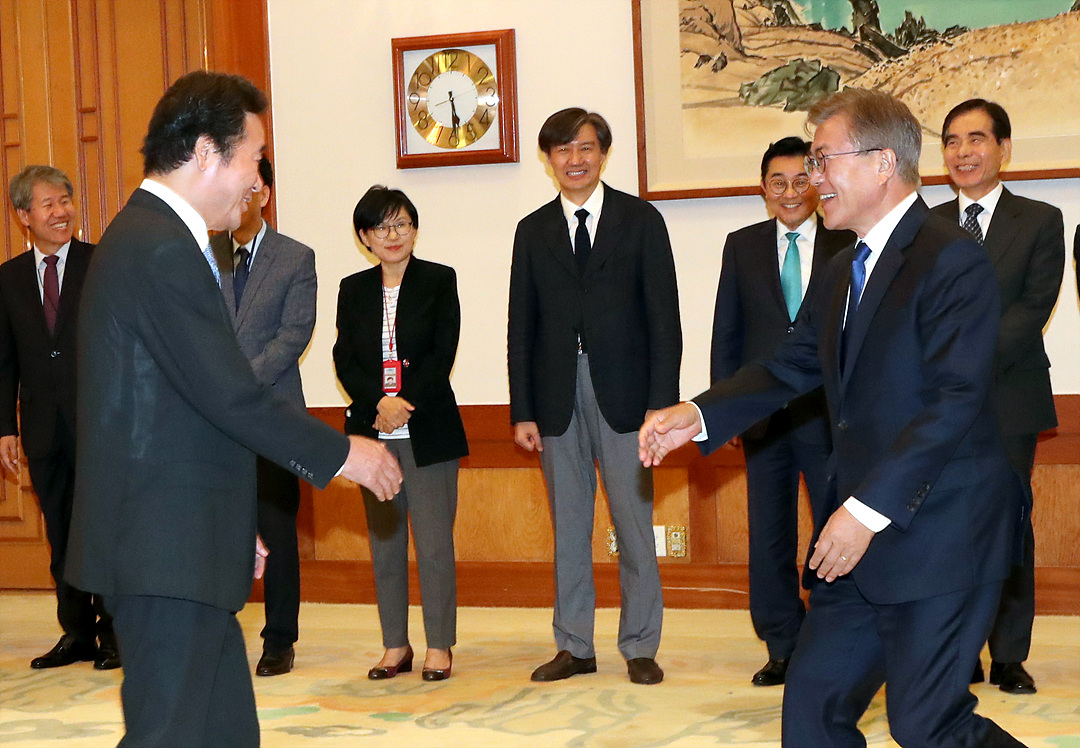 President Moon Jae-in welcomes Prime Minister Lee Nak-yon at a ceremony to present an appointment letter at Cheong Wa Dae, as presidential aides look on. (Photos: Cheong Wa Dae, Prime Minister's Office)