SK Telecom has signed an agreement on the joint development of self-driving automobile platforms with the global graphics processing unit (GPU) company Nvidia.
"Self-driving cars hitting the road will exchange traffic information with a control center in real time through G5 mobile network 200 times faster than the conventional LTE wireless communication," said SK Telecom President Park Jung-ho, adding that "they will find roads using the 3D super-definition map despite an increment weather or nighttime when camera and sensor functions are lowered.
"The cars will be outfitted with an artificial intelligence-based self-drive car platform, to be developed by SK Telecom and Nvidia," he said. SK Telecom's Park gave a peek into the future feature of Seoul's roads during a meeting with Korean correspondents in San Jose, California, on May 12. The meeting came shortly after SK Telecom President Park inked the agreement with Nvidia CEO Jensen Hwang.
"Nvidia, the global No. 1 maker of CPUs, an essential component for autonomous cars, has joined forces with SK Telecom, a leading company in big data and telecommunication technology, to spearhead a self-driving car alliance," he said. "Self-driving cars starting and changing lanes on an autonomous mode will hit Seoul streets in 2021 at the possible earliest year," Park said.
SKT is venturing into the self-driving car business under a partnership with Nvidia. SK Telecom is the first telecom service provider with which Nvidia has signed a strategic partnership agreement.
The two companies will collaborate in making 3D super-definition maps capable of identifying geographical features at a unit of lessen than 25 cm. A combination between map data secured by SK Telecom and Nvidia's map production solutions will raise precision and reduce production costs. They will jointly develop a technology to update 3D maps in neighborhood areas on an autonomous mode. "Tesla's autopilot-enabled car accident causing a fatality in 2016, caused by the mistaking of the cargo department of the car, could have been prevented by a 3D super-definition map," said Park. He went on to say that Nvidia's CEO Huang acknowledges that SK Telecom's T-map is suitable for self-driving cars.
The two companies will cooperate in the 5G-based car communication area. 5G communication will not only enable cars on the road to exchange large amounts of information, immediately coping with emergency situations, but also will contribute to improving safety and offer motorists such conveniences as movie and teleconference services. "SK Telecom will lead in the commercialization of a vehicle to everything (V2X) technology using 5G communications by 2019," President Park said.
SK Telecom and Nvidia have agreed to the evolving of other self-driving car technologies by combining SK Telecom's mobile navigation and big data analysis technology and Nvidia's hardware and software.
Self-driving car technologies have evolved with a focus on the development of sensors and cameras. The agreement is expected to expedite the development of technologies capable of communicating with other vehicles and IoT, he said.
SK Telecom has attached priority to the development of self-driving car technologies. The Korean telecom service provider demonstrated the connected car "T5," a previous stage of an autonomous car, during the Mobile World Congress 2017 held in Barcelona, Spain, last February.
SK Telecom has become the sole Korean company to be a member of the global 5G Automobile Association.
These moves come in the context of SK Telecom President Park's strategies to explore new revenue sources and new ICT areas to brace for the advent of the 4th Industrial Revolution.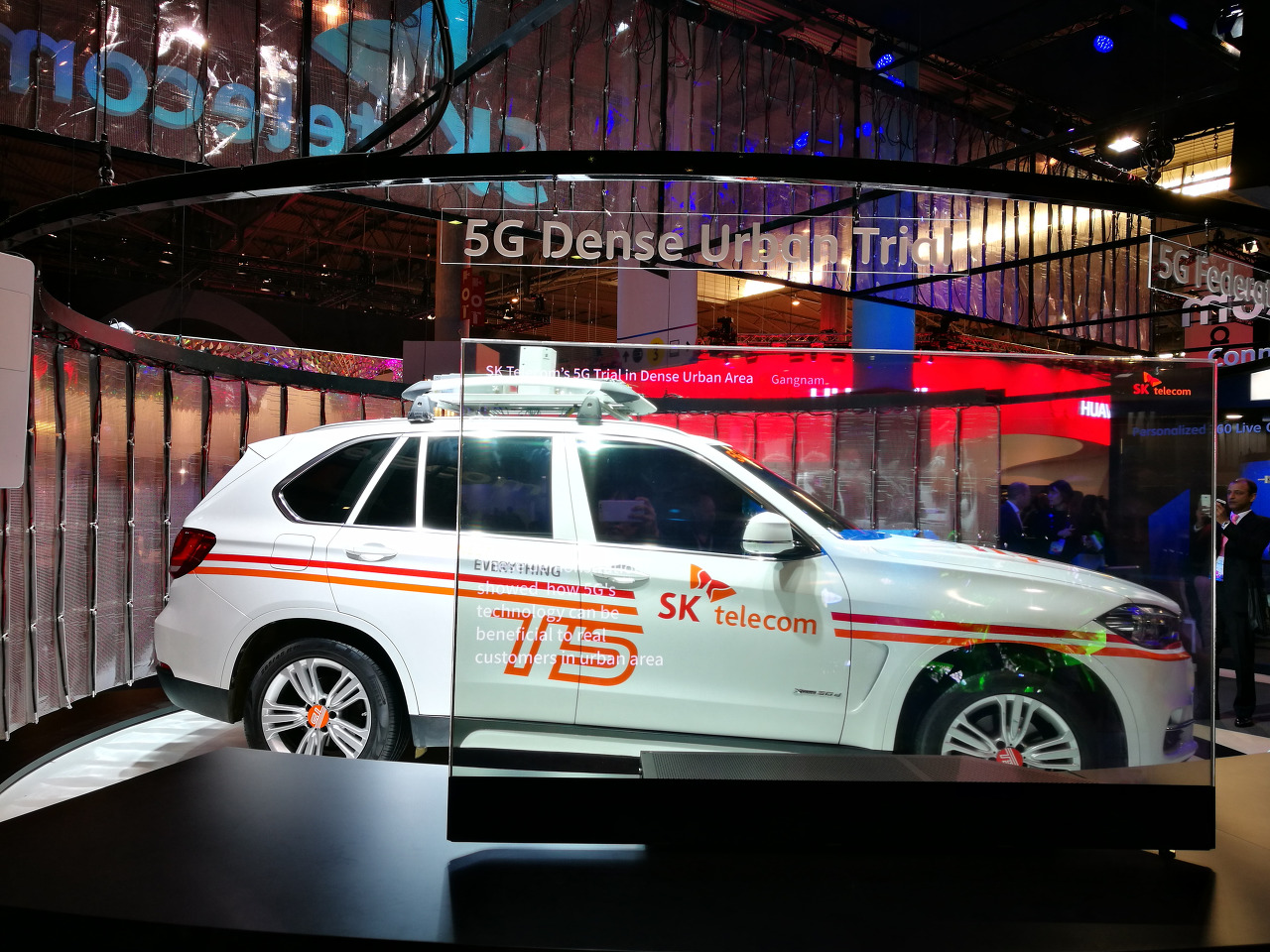 SK Telecom displays the connected car "T5," a previous stage of a autonomous car, during the Mobile World Congress 2017 held in Barcelona, Spain, last February.