Moon Jae-in, a human rights lawyer-turned politician on the ticket of the Minju Party of Korea (MPK), was sworn in as the 19th president on May 10, one day after he won the presidency in a landslide.
President Moon took office in an inauguration ceremony at the National Assembly Rotunda Hall to begin his five year term. Unlike his predecessors, who had a transition period, new President Moon took office upon his election in a simplified inaugural ceremony in which he administered the oath of office to National Assembly Speaker Chung Sye-kyun before delivering his inaugural speech.
In the speech, President Moon stressed leadership of integration, pledging to become a president serving all people, saying, "Each of people who did not support me is my people." He vowed to "work with a humble attitude" and become a "president who meets people's needs and expectations."
"Politics of divisions and conflicts should be changed, and (we) should put an end to conflicts between conservatives and liberals," he said. President Moon also emphasized open-mindedness and communications with people. He vowed to eradicate a culture of "authoritarian" presidency, saying the opening of an "era of Gwanghwamoon" presidency in which his office will move from the presidential mansion of Cheong Wa Dae to the Gwanghwamoon Government Complex. He disclosed his willingness to regularize meetings with opposition parties, saying they are a partner of state affairs management.
"President's imperial authority will be shared to a maximum as much as possible," President Moon said. He went on to say that law enforcement agencies will be made independent from politics, and such agencies will be made to secure restraint tools.
Regarding economic policies, President Moon attached priority to creating jobs and reforming chaebeol, family-controlled conglomerates. He said collusive links between politics and business will disappear under the President Moon Jae-in government. He also pledged to ease rift among regions, strata and generations and solve issues involving irregular workers. The National Election Commission declared Moon the victor in the snap presidential election on the morning of May 10. The election took place on May 9, earlier than originally scheduled, in the wake of former President Park Geun-hye's impeachment and ouster.
Moon of the MPK dominated the poll by garnering 13.42 million votes, or 41.08 percent of the total. Moon defeated first runner-up Hong Joon-pyo of the Liberty Korea Party, who earned a 24 percent share, and second runner-up Ahn Cheol-soo of the People's Party, who took 21.4 percent.
Moon made a feat of winning 5.57 million votes more than the first runner-up, the biggest gap since 1987, when a direct presidential election system was introduced.
The latest presidential election was characterized by the easing of the conventional regionalism trends as Moon got more votes than any other candidate in all regions, except Gyongsang buk-do, Daegu and Gyeongsangnam-do. Candidate Hong made last-minute efforts to rally support from conservatives, falling short of overcoming Moon's dominance.
In particular, Moon dominated voters in their 20s and 30s with a 47.6 percent share and a 56.9 percent portion, respectively, compared to Hong's 8.2 percent share and 8.6 percent, respectively. On the other hand, Hong won over voters in their 60s and 70s with a 45.8 percent share and a 50.9 percent portion, respectively, compared to Moon's 24.5 percent and 22.3 percent, respectively. Voters in their 50s gave Moon more votes than Hong at a ratio of 36.9 percent and 26.8 percent, respectively.
President Moon's first job in office has been making appointments for key government posts and presidential chiefs. Moon tapped South Jeolla Province Gov. Lee Nak-yon as the first prime minister of the new administration. Moon comes from Geoje, South Gyeongsang Province, while the Prime Minister-nominee Lee hails from South Jeolla Province. Lee's pick requires the nod from the National Assembly.
Taking a que from former President Barrack Obama, President Moon himself introduced his picks, including the prime minister nominee, during a meeting of reporters. "I've promised to appoint the first prime minister of the new government as a figure committed to ensuring integrity, integration and harmony during my campaign," he said. Moon said Gov. Lee's his prime minster pick is a figure qualified to spearhead integration and harmony of the new government.
Moon named Im Jong-seok and Ju Young-hoon as his chief of staff and security chief, respectively. He also tapped Suh Hoon, a former deputy director of the National Intelligence Service (NIS), as new NIS head, while naming Cho Kuk, a law professor of Seoul National University, and Prof. Cho Hyun-ok of Ewha Womans' University, as senior president secretary for civil affairs and senior president secretary for personnel management respectively. Yoon Young-chan, SNS chief for Moon's campaign and former Naver executive vice president, was named senior presidential secretary for public communications.
Hong Nam-ki, 1st vice minister of the Ministry of Science, ICT and Future Planning and a presidential secretary of the ex-President Roh Moo-hyun government, was tapped as the minister of the Office for Government Policy and Coordination & Prime Minister's Secretariat while Lee Jeong-do, who began his public career as a seven-class local county official, was named as presidential sectary for general affairs. The president has many urgent tasks on his shoulders, including the North Korean arms issue.
He is expected to make good on pledges made during his campaign, and implement his national agenda. The ruling MPK holds 119 of the 300 parliamentary seats. In a gesture of cooperation and partnership with the opposition, President Moon met with opposition party leaders, including floor leader Chung Woo-taek of the Liberty Korea Party.
On the North Korean issue, President Moon's task focuses on how his new government will bring engagement-oriented policies back, even though North Korea has conducted six nuclear tests, while at the same time balancing recent moves by the United States to pressure China and ratchet up the international community' pressure on the North to give up his nuclear arms.
The new Korean government will also have to address the controversial deployment of a U.S. anti-missile system, already in place in South Korea, an issue China adamantly opposes. South Korea's ties with Japan have soured due to the "comfort women" issue as well as territorial and textbook issues with both countries.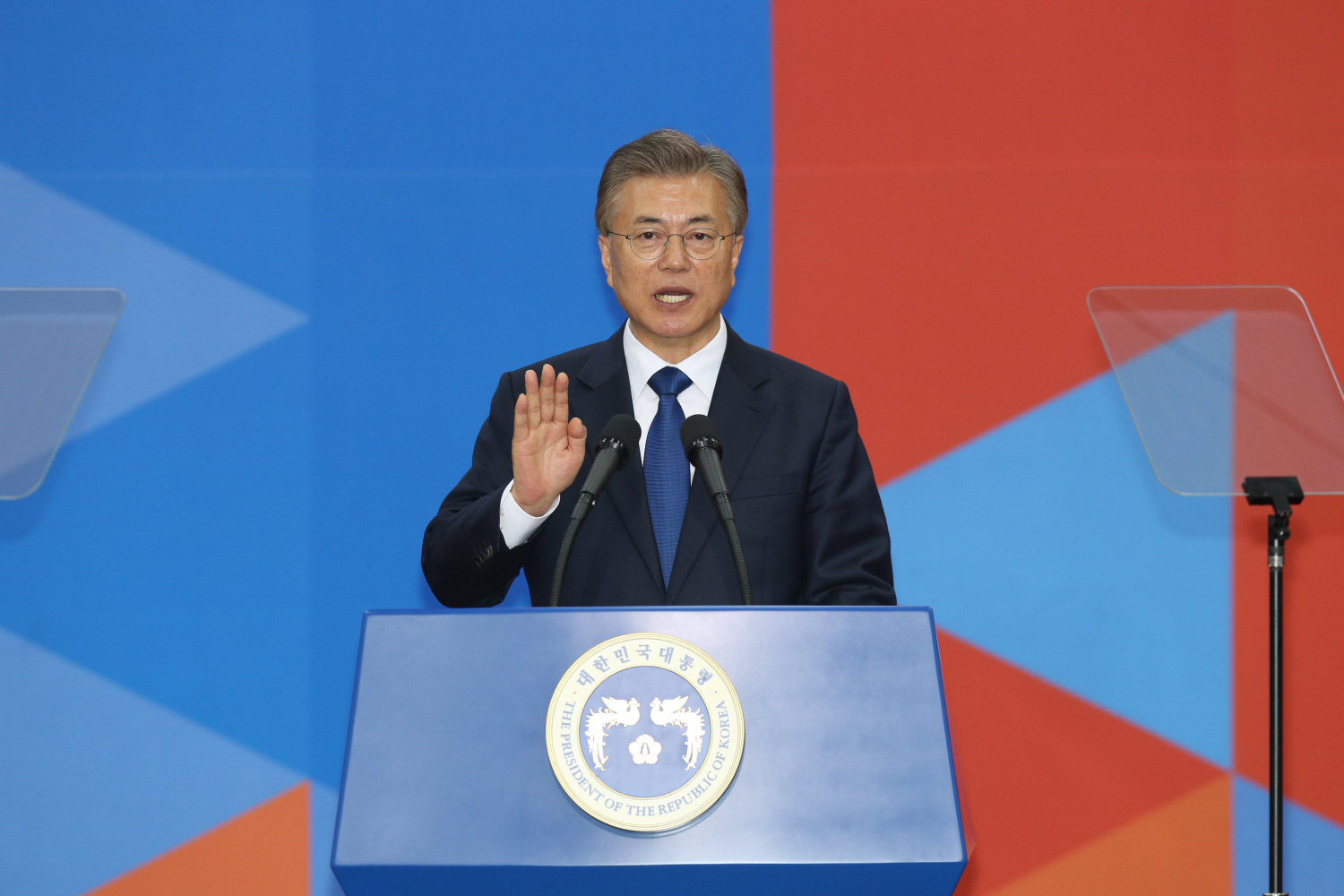 President Moon Jae-in administers the oath of office during an inauguration ceremony.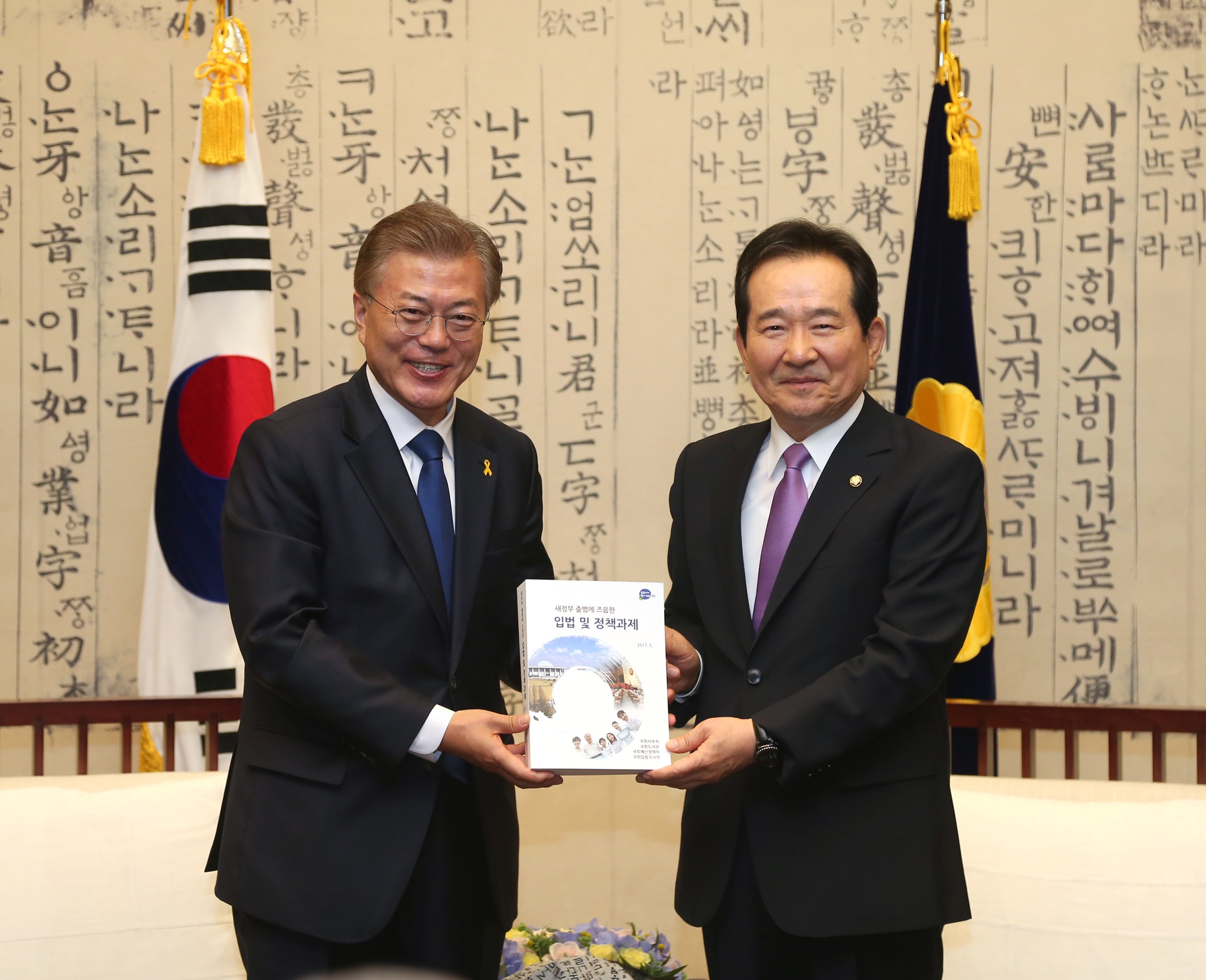 President Moon Jae-in and National Assembly Speaker Chung Se-kyun hold a copy of the book "Legislation and Policy Tasks," a collection of legislation and policy tasks, published jointly by four institutions of the National Assembly after President Moon received it from the latter prior to his inauguration. (Photos: Cheong Wa Dae, National Assembly)
President Moon's 'J-Nomics'
On the economics front, the new chief executive will have to tackle such issues as extremely high youth unemployment, stagnant economic growth, a low birth rate and an aging population.
The new government's so called "J-nomics," named after the initial of President Moon's given name Jae-in, is the brain-child of former and current MPK policy-makers as well as experts from Moon's economic counseling group, including Prof. Jong Yoon-jae of Sogang University; Prof. Emeritus Kim Kwang-doo of Sogang University; Prof, Kim Sang-jo of Hansung University; Rep. Kim Jin-pyo; and ex-lawmaker Lee Yong-sup.
As part of his efforts to make good on creating jobs, one of his public campaign pledges, President Moon ordered the establishment of a presidential committee for job creation upon his inauguration. He promised to create 810,000 jobs in the public sector, including 174,000 government officials, during his term. Moon's job creation agenda appears similar to former president Park Geun-hye's, but the former takes a government-oriented format.
The new government plans to aggressively adopt fiscal expansion policies. Chances are high that the government will come up with a supplementary budget plan to pour 10 trillion won into thee economy for job creation. Revealing his vision on "human-oriented" economic growth last month, Moon said that fiscal growth will be redoubled from current annual average of 3.5 percent to 7 percent.
J-nomics may be summed up as a Keynesian theory of fiscal expansion/economic recovery and income-oriented growth based on job creation and rising incomes. Prof. Kim Sang-jo, one of Moon's economic brains, said the Korean market has no proper function of job creation, so the government will pump prime it. Unlike predecessors' fiscal expansion into such things as companies and civil engineering works, he said the new government will focus on day care, education, medical services, recuperation, safety and environment to improve people's lives. For instance, Moon vowed to raise the minimum wage from the current 6,470 won to 10,000 won by 2020 and give each of job-seeking youth 300,000 won per month.
Experts warn that if fiscal expansion policies fail, it could lead to snowballing national debt, which would result in the downgrading of Korea's sovereign credit rating. The daunting task for fiscal expansion is how the new government will secure fiscal resources. Earlier, President Moon indicated that tax rates could be increased, which is counter to international trends of Korea's large trading partners' Japan and the United States.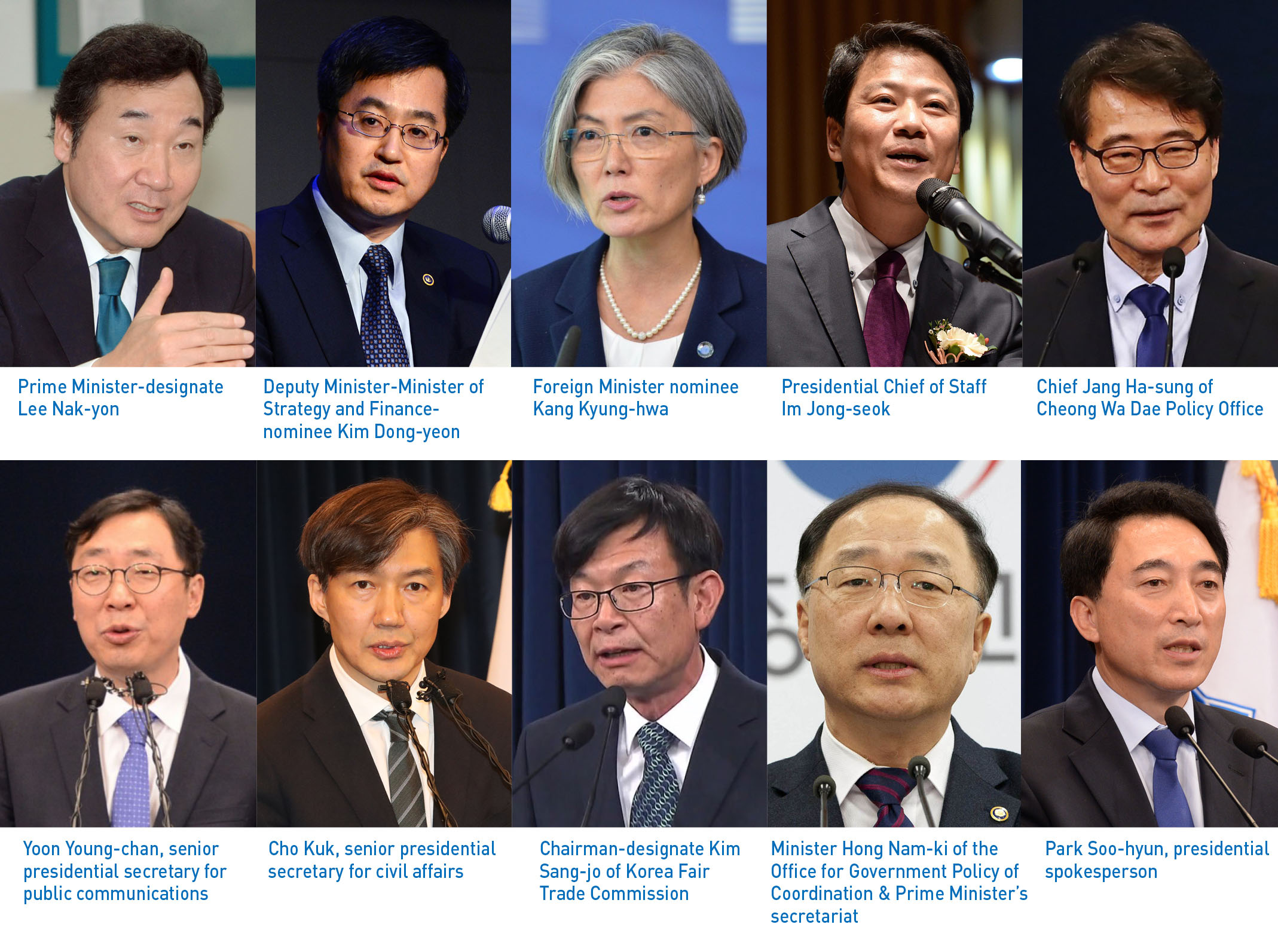 Pres. Moon Names Representatives to Head Committees for Job Creation & Power Transition
President Moon Jae-in named Rep. Kim Jin-pyo of the MPK, a veteran lawmaker and former economic deputy prime minister, as chairman of the advisory committee for state affairs planning. Because Moon won the presidency in a snap election, his term started without a transition period. The committee will act a transition team.
Kim, a four-term lawmaker, served as the vice chairman of Roh's transition team in 2003. He also served as deputy prime minister for education in the Roh government.
Lee Yong-sup, former DPK lawmaker, who served as home affairs minister and transportation and construction ministers for Roh, was named the vice chairman of the newly created presidential committee for job creation. Moon will head the committee, one of his priority projects. Rep. Kim is a veteran government hand who served as the Deputy Prime Minister and the Minister of the Strategy and Finance, as well as the Deputy Prime Minister and the Minister of the Education Ministry in the Participatory Government of President Roh Moo-hyun.
A graduate of the Seoul National University College of Law, he passed the Civil Service Examination in 1974 and started his government career by working as a clerk at the National Tax Office.
His notable achievements while with the tax office include taxation on the financial incomes and reform of the National Pension Service. He earned an MA at the University of Wisconsin Graduate School in Madison, Wis. He was the senior Secretary in charge of Economic Affairs at Cheong Wa Dae, the presidential office, which was occupied by President Kim Dae-jung. With the government changing hands as President Roh Moo-hyun won the Presidential Election, Kim became the vice chairman of the Power Transition Committee. He was acquainted with President Moon Jae-in, who was then the Chief Presidential Secretary to President Roh. He also served as the Minister of Education in the Roh administration.
The Advisory Committee for State Affairs Planning will play the role of taking power from the Park government.
Former President Park was impeached and forced to resign. The power transition committee has to complete the takeover of power in 70 days, including drawing up major policies and targets under the new president by the members of the committee who were recommended by the ruling party and the presidential office.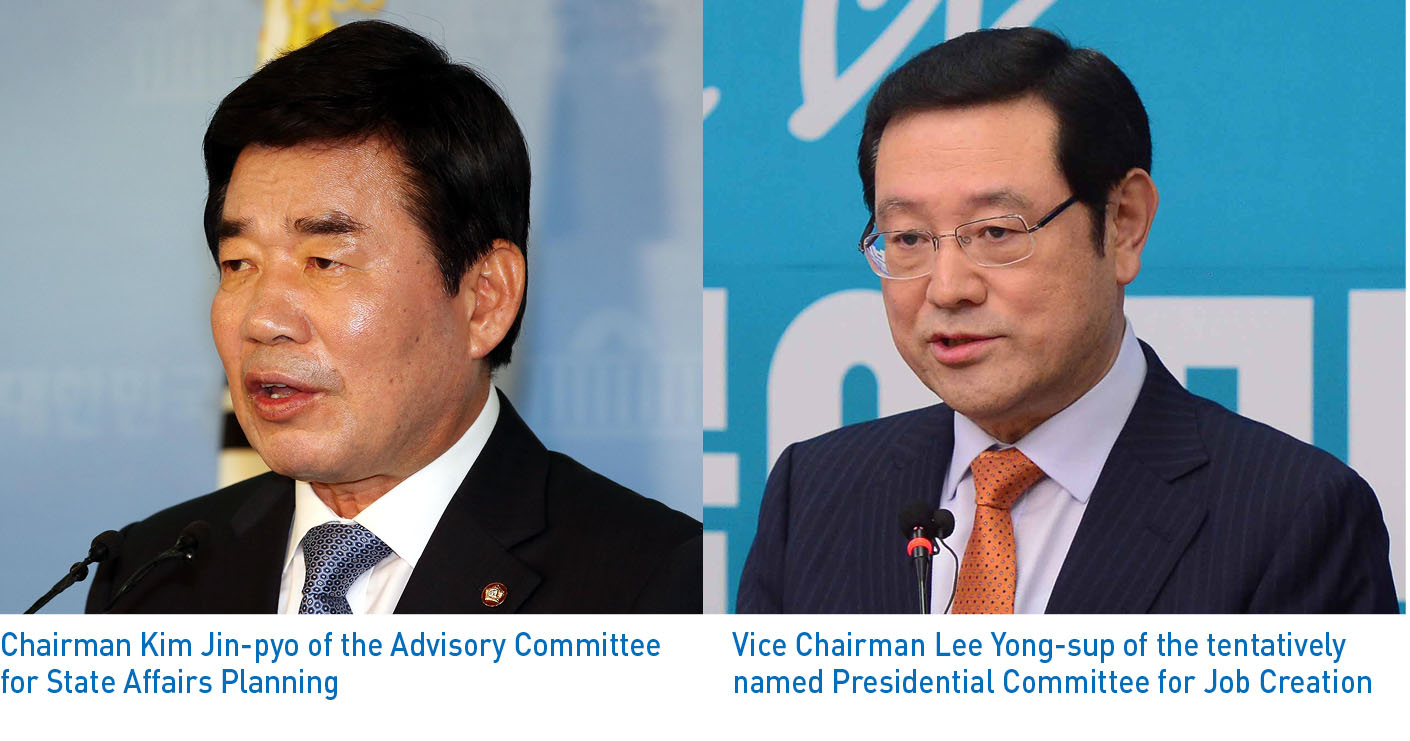 Chairman Kim, in an interview with the media, said the conservative government officials for the past decade didn't listen to the opposition, brushing them off as just political ploys, and the role of the advisory committee is to let the conservatives feel the pain about the mistakes they made. "We will set the order of the new policies and make sure where the funds will come from so the new administration headed by President Moon in the next five years will have a clear road map and the plan to push national policy tasks," he said.
Calling the new administration's vision and philosophy are the earnings-led growth, the Moon government's earnings led growth focuses on the creation of jobs as the biggest economic growth engine, he stressed.
In the meantime, Rep. Lee had been rumored as a possible prime minister candidate in the Moon administration in recognition of his experience in government. In a tweet after his appointment as vice chairman of the Presidential Committee for Job Creation, he said the position is more important than the job itself in the business community and he will try to create as many jobs as possible while the committee solves many problems in our society. He went on to say that it would not be an easy job, but the president has a strong desire to be successful so expectation should be kept high.
Vice Chairman Lee said it is not desirable to create jobs with funds as those jobs cannot last in the long-term, thereby hurting the health of the treasury. The public sector can be an important subject for the mission as the sector can provide better public services when they have more people to grow.
Reports said he can do very well in creating jobs, as he has loads of experience as former head of the National Tax Office, as Deputy Prime Minister, Minister of Government Administration Ministry and Minister of Land, Infrastructure and Aviation. During the election, he campaigned on a "people centered" economy led by job creation and presided over by President Moon as chairman of the Emergency Economic Measures Committee for the Presidential Campaign Team.
Vice Chairman Lee is expected to run the committee as he sees fit with President Moon as honorary chairman. The job creation committee was born on the very first order issued by President Moon as the chief executive and will overlook all matters having to do with job creation around the country by government organizations, including checks on government policies on jobs, seeking new job creation with the "4th Industrial Revolution," a resolution of non-regular jobs and problems associated with daily workers in big cities, among others. The committee has 30 members — 15 from the government while another 15 recommended by the private sector. Government officials include the Minister of Strategy and Finance, the Minister of the Trade, Industry and Energy, and the Minister of Employment and Labor, the Office of Government Policy Coordination, the Prime Minister's Secretariat, totaling 11 altogether.
Vice Chairman Lee, 66, born in Hampyeong, South Jeolla Province, is a graduate of Chonnam University and earned an MA at the Graduate School of the University of Michigan and earned a Ph.D. in economics at Sungkyunkwan University in Seoul. He also served as legislators in the 18th and 19th National Assembly.
He was the administrator of the National Tax Office, the ministers of Government Administration and the Land, Infrastructure and Aviation under the Roh Moo-hyun administration and therefore, considered to have a broad knowledge of where the jobs can be created.
President Moon Jae-in made what may be called his first step toward implementing his election pledge of having public institutions lead the way in creating good jobs by announcing plans to "usher in an era of zero irregular work in the public sector during my term" during a May 12 visit to the Incheon International Airport Corporation.
In addition to government irregular employment policy, the statement could also been seen as announcing that the methods of assessing public institution management are in for a qualitative change.
The same day, Moon ordered government agencies to carry out full-scale surveys of irregular employment conditions in the public sector and draft road maps for minimizing the issue. His direction may mark the first step toward a resolution of irregular employment at public institutions.
In South Korea, irregular workers suffer low wages, no benefits and poor job security. After two years, their positions must either be made permanent or eliminated. "The labor community has been demanding it for the past ten years, but the government hasn't once conducted a survey of indirect public sector employment in things like state-subsidized projects or social services commissioned from the private sector," said Woo Moon-sook, head of the irregular employment strategy bureau for the Korean Confederation of Trade Unions (KCTU) non-organized irregular worker strategy office.