President Cho Hwan-eik of Korea Electric Power Corp. (KEPCO) disclosed his company's willingness to participate in an international bid to acquire a British government project to build the Moorside Nuclear Power Station in northwestern U.K.
President Cho made the remarks at a meeting with reporters in Sejong City on March 21 after a regular meeting of KEPCO's board of directors where he was officially reelected for another year for the second time after finishing his initial three-year term. When Cho took office in December 2012, the power company posted a poor business performance, chalking up 11 trillion won in accumulative loses over five consecutive years.
He will be at the helm of the nation's largest public entity until February 2018, becoming the longest-ever serving CEO of KEPCO, with a term of five years and two months. Cho's reelection is owed to his innovative leadership to overcome a crisis, industry analysts say.
"If details of the sale of the NuGen, the consortium for the nuclear power project, including debts, are set, we'll be the first to jump in the race," President Cho said.
NuGen is to build three AP1000 nuclear reactors for the Moorside Nuclear Power Station on a site near Sellafield, in Cumbria by 2025. The price tag is 15 billion pounds (about 21 trillion won).
NuGen, a UK joint venture between Toshiba and ENGIE, has been working on the Nuclear Power Station since it was awarded the project from the British government. But Toshiba, which has a 60 percent stake in NuGen, is now considering withdrawing from the nuclear power business due to heavy losses.
There is a high probability that Toshiba will give up on the British project. Now the British side is said to be considering KEPCO as a strong contender to replace Toshiba. If KEPCO succeeds in acquiring the British project, it will be the second time Korea would land an overseas nuclear power project, and eight years after the nation won an order for a nuclear power project from the United Arab Emirates.
Since 2006, Toshiba has been a powerhouse in the global nuclear power market, along with GE Hitachi Nuclear Energy, Areva/EDF and Russia's Rosatom. Toshiba's acquisition of Westinghouse is not a boon to the Japanese company, however.
Toshiba's orders for the construction of four nuclear power units in Georgia and South Carolina have been on hold for four years, incurring snowballing losses.
To make matters worse, the AP1000, a third-generation nuclear reactor developed by Westinghouse, has required a longer construction period than expected, incurring additional costs, on top of stricter safety regulations.
Toshiba also suffered huge losses in the course of acquiring Stone & Webster, an American nuclear power engineering company. Japanese reports said Toshiba's losses in the nuclear power business stood at an estimated 700 billion yen (7.1 trillion won).
The UK has 15 nuclear units in operation, which now generate a combined 8.9Gw of power. The country plans to build 10 more nuclear units by 2030 with the goal of raising the capacity of nuclear power to 18GW.
An acquisition of Toshiba's stake has more to do with semiconductor companies, not KEPCO, Cho said. Regarding the acquisition of the NuGen, Japan and the British government are holding closed-doors negotiations, the outcomes of which is not clear yet. President Cho said his company is ready to explore nuclear power markets overseas.
KEPCO is to submit a proposal for a nuclear power tender in South Africa, slated for the end of this year. Saudi Arabia is also ordering a nuclear power project in two or three years, he said.
Cho also spoke about his company's willingness to explore new business opportunities in smart homes, smart grids and digital transformation stations, using such technologies as IoT, A.I. and big data. KEPCO plans to invest 764 billion won by 2020 in upgrading next-generation energy management systems and explore convergence/multidisciplinary business models.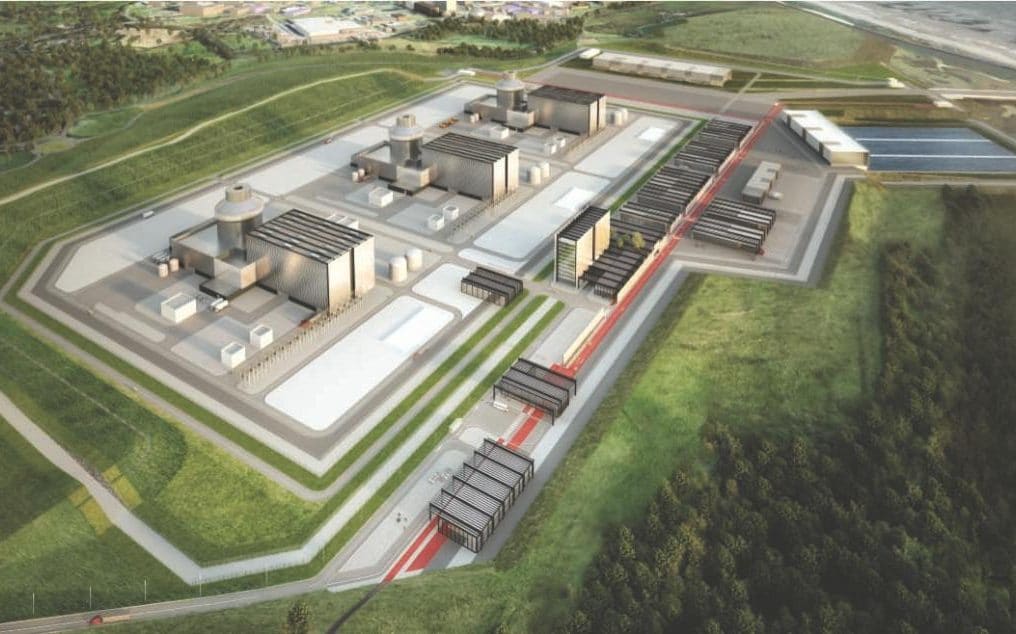 A bird-eye view of the upcoming Moorside Nuclear Power Station in northwest of the United Kingdom.