KB Financial Group will take up the Code 2017 Project as its strategic task for this year, Chairman Yoon Jong-kyoo declared in his New Year's speech. The project is designed to push the digitalization of operations of the group and its affiliates to lead the future of the financial industry in Korea. The "C" in Code stands for Customers with KB, "O" stands for One-Firm KB, "D" stands for Digital KB, with "E" standing for Evolution and Dynamic KB. The phrase denotes the four major areas to be achieved in the project.
In more detail, the letter C means that customers get the best value of KB Group's service, O means the group will generate segregated synergetic value, D means digital reform to lead the financial industry, while E means evolution and dynamic KB so that the group will create dynamic platform.
Chairman Yoon said KB should focus on digital finance to lead the financial industry's future with segregated competitive power, as past practices cannot be of help to the group to create customer satisfaction.
KB set up a number of entities to rival Internet banks, Liiv, Liiv Mate, and Liiv Cambodia, a global digital bank, to strengthen its Fintech approaches.
Liiv App, created by Kookmin Bank last June, is being considered as the realization of a finance entity in daily lives.
The KB Financial Group announced on March 27 that the group selected two companies, "Gonggam Lab" and "Eight Byte," as the companies to be nurtured as fintech startups. As a result, KB Financial Group has cultivated a total of 22 fintech companies to provide customer services on various platforms operated by KB Financial Group affiliates.
KB Starter No. 21 "Gonggam Lab" is a company that developed "House Much," a data-based real estate market price estimation system. House Much predicts and provides real-time forecasts of apartment, studio apartment and villa prices in the nation by using various prediction algorithms. KB Kookmin Bank plans to elevate the level of housing finance services about studio apartments and villas in addition to existing services about apartments by combining Gonggam Lab's technology with the real estate information sector.
A software security token developed by KB Starter No. 22, "Eight Byte" can be operated with the app only and without a credit card, a financial authentication certificate and an OTP (One Time Password), and enables users to use highly secure financial transaction services with a PIN code only. KB Savings Bank signed a supply contract with "Eight Byte Co.," started a full-scale development and will improve customer convenience in the security and authentication sector.
"The KB Financial Group will continue to discover start-ups with specialized technologies and ideas, and expand customized supports such as providing space for residents, partnering with external organizations, investment, and mentoring among others to empowering them to grow with KB," a KB Financial Group officials said.
Created in March 2015, KB Financial Group's KB Fintech Hub Center has been discovering and promoting fintech startups and building cooperation systems in order to help fintech put down roots in South Korea. All of KB Financial Group affiliates are capable of offering fintech services. Though, that doesn't mean that each affiliate has professional fintechers on standby.
"Our center is supervising and coordination our group's fintech projects to prevent affiliates adopting overlapping finteh services. Many fintech firms have differentiated technologies and services, but they just don't know where they can find their customers and who their customers are," they said.
"There are many financial companies under KB Financial Group. If those fintech firms come to our center, we match them up with KB affiliates. Our center has been rigorously assisting KB Financial Group in embracing fintech."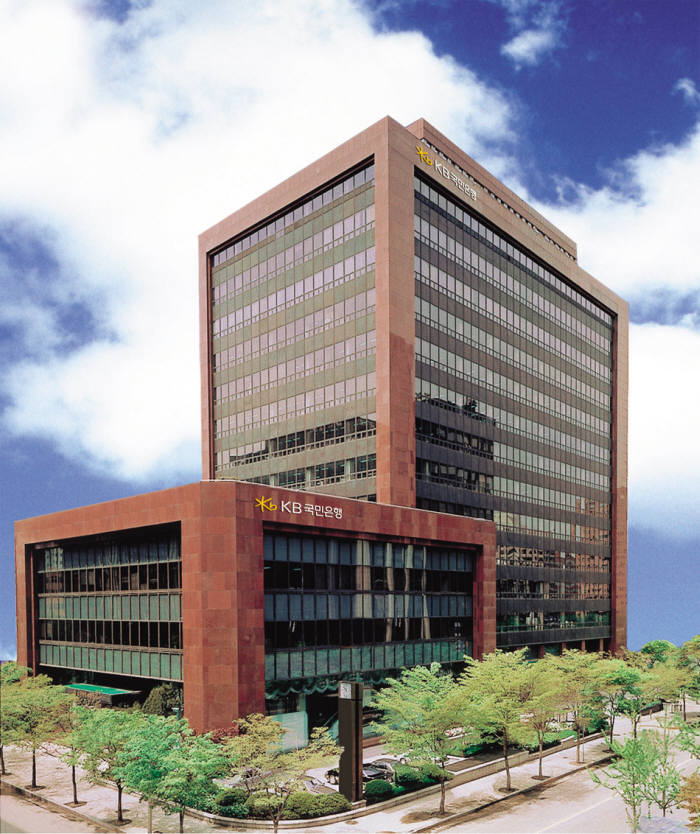 A view of KB Financial Group headquarters building in Seoul.