Korea Asset Management Corp. (KAMCO) bought the assets of "C" Company, a maker of shipbuilding materials, for 19.3 billion won and leased them back to the company to help keep it operating. The move will help it pay off its financial debts and regain its market credibility. C Company is located in an industrial complex in Busan.
The move is the first following the reform of laws on spurring the operation of industrial complexes and the national economy and establishment of plants that provide support to businesses operating inside the complex. It's also part of government's initiatives to support to companies engaged in the production of shipbuilding materials as well as regions around shipbuilding complexes. The government hopes to refloat stagnant regional economies.
C Company has been able to recoup its normal operation since winning KAMCO's support, relieving its liquidity problems with capital from KAMCO to purchase its assets and other financial problems to improve its commercial credit in the market.
Some 62,000 companies, or 35 percent of the total manufacturing firms that need financial support, are located in industrial complexes, which cannot take normal business measures of asset sales, prompting KAMCO to take action. KAMCO looks for ways to expand the number of companies eligible for support, along with the means to delay corporate tax payments by revising laws and regulations in consultations with the government.
Since 2015, KAMCO made deals with 10 companies, paying them a total of 161 billion won to buy their assets and. It is expected to provide 500 billion won worth of liquidity to business firms, including large corporations, to help them with their restructuring.
President Moon Chang-yong said KAMCO will expand its support to firms in a similar situation as C Company amid the economic slowdown through the Asset Purchase and Lease Back Program
KAMCO played an important role in facilitating the restructuring process and helping to develop Korea's financial markets. First, KAMCO purchased distressed assets from banks and other financial institutions, which allowed lending to resume at a time when liquidity was scarce. This objective was complemented by increased supervision to ensure that banks were operating on sound commercial principles.
Second, KAMCO's resolution of NPLs contributed to the good progress made in Korea in recovering public funds injected by the government for financial sector restructuring. In addition, KAMCO disposed of many of these distressed assets through a number of innovative methods, including by issuing asset-backed securities, which launched an important new market in Korea.
The development of a market for distressed assets was critical to Korea's success in resolving NPLs. In many countries, the Asset Management Companies experience failed because the creation of AMCs did not lead to the development of a market for NPLs. Such a market is typically missing in less developed countries because information asymmetries and a lack of creditor coordination make it very difficult to price NPLs.
KAMCO played a market-making role by overcoming such informational and coordination problems. Its active marketing activities brought together and intermediated between sellers and investors of NPLs.
Most notably it successfully convinced major international players looking for distressed assets to become interested in the Korean market. Participation of foreign investors, in turn, encouraged participation of domestic investors. Initially KAMCO's catalytic role was monopolistic, but, as the market deepened, it became much less dominant.
KAMCO's incentive to dispose of NPLs rapidly was conditioned by a strong desire on the part of the Korean society for a quick recovery of public funds injected for financial sector restructuring. Korea has an admirable tradition of fiscal conservatism and a deep rooted resistance to public debt.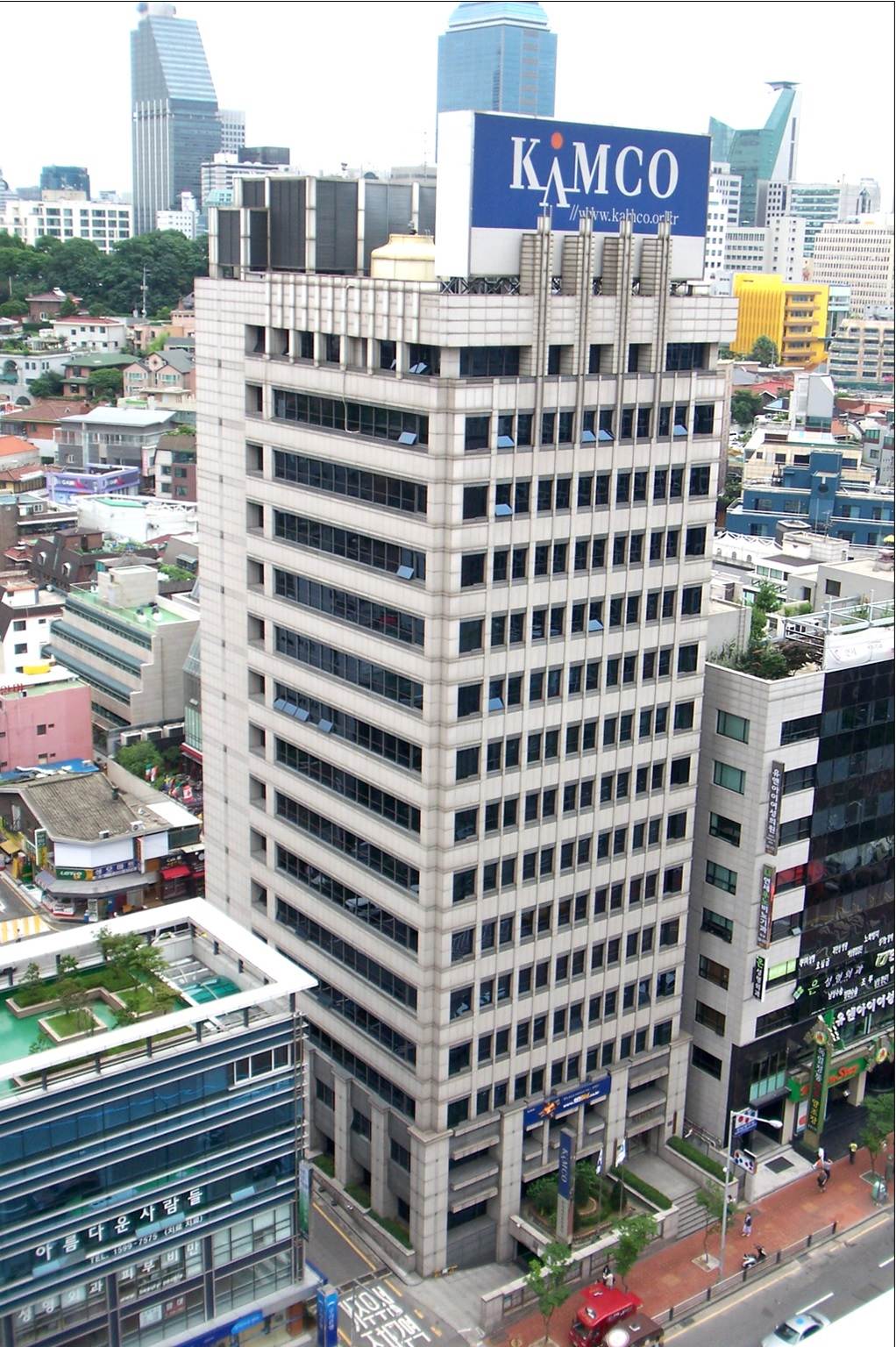 A view of the Kamco's Seoul office.(Photos: Kamco)