President Wi Sung-ho of Shinhan Bank said on March 7 that he will steer the bank in expanding the gap it has over rival in the domestic financial market, while striving to be a world-class bank overseas, giving insight into how he plans to run the bank as CEO.
Wi, who was inaugurated in a ceremony on March 7, said the bank will engage in M&As in the Asian market and invest in stakes in foreign banks to emerge as a leading global bank. He also said he is thinking hard about the future of the bank, as he sees many different players in the industry wondering if the current banking business model will survive into the future.
The bank will be mixed with a different professional nature in its operations to generate new value added profit. The new CEO said what counts in the end is manpower driving profit-making and growth. Shinhan Bank needs segregated and talented manpower to be a leading bank.
Wi also noted that for the first time in the history of Shinhan Financial Group, both chairman of Shinhan Financial Group and president of Shinhan Bank had been taken over by people who joined the financial group as clerks, setting a good example for young employees that they can be promoted through the ranks and named as top officials.
The 58-year-old CEO officiall took over as President and CEO of Shinhan Bank with shareholder approval on March 7, serving the remaining two-year term of his predecessor, Cho Young-byoung, who has been promoted to chairman of Shinhan Financial Group. The five-member subsidiary management committee, including outgoing Shinhan Group Chairman Han Dong-woo, said it highly evaluated Wi's leadership during his tenure at Shinhan Card, as well as his experiences of serving as the Shinhan Bank Vice President and the Shinhan Financial Group Deputy President.
Wi has been the CEO of Shinhan Card for the past three years and notched a significant performance, consolidating its No. 1 position in the domestic credit card sector.
From January to September last year, Shinhan Card posted a net profit of 532.2 billion won ($465 million), up 2.04 percent year-on-year. During the same period, Samsung Card, the nation's second-largest card issuer following Shinhan, posted 283.7 billion won. Except for the two issuers, their rivals — including KB Kookmin Card, Woori Card, Hyundai Card and Lotte Card — suffered decreases in their net profits during the same period amid harsh market circumstances.
Wi, an economics graduate of Korea University, joined Shinhan Bank in 1985, and came up through the ranks to be promoted to vice president the last position with the bank before his promotion to take over as president of Shinhan Card in August, 2013.
Shinhan Bank said in Dec. 26, 2015 it has acquired a controlling stake in an Indonesian bank to capitalize on rapidly growing demand in the world's fourth most-populous country. Shinhan Bank took a 75 percent stake in Centratama Nasional Bank (CNB), which has 41 sales networks across Indonesia, on Dec. 24, 2015, in a move to expand into the market. In late November, 2015, Shinhan Bank acquired 98 percent of Bank Metro Express (BME) that has 19 networks, the bank said. "As the local financial market is rapidly growing, international banks are showing a greater interest in entering Indonesia or expanding their operations there," the bank said. "We are one of them."
As of Dec. 26, 2015, Shinhan Bank has advanced to most major Southeast Asian markets, including Vietnam, Cambodia, Indonesia, Singapore, Myanmar and India, it said. Shinhan Bank said it was planning to launch the combined bank of CNB and BME under the name Shinhan Indonesia Bank in 2016. It did not provide details of the acquisition prices.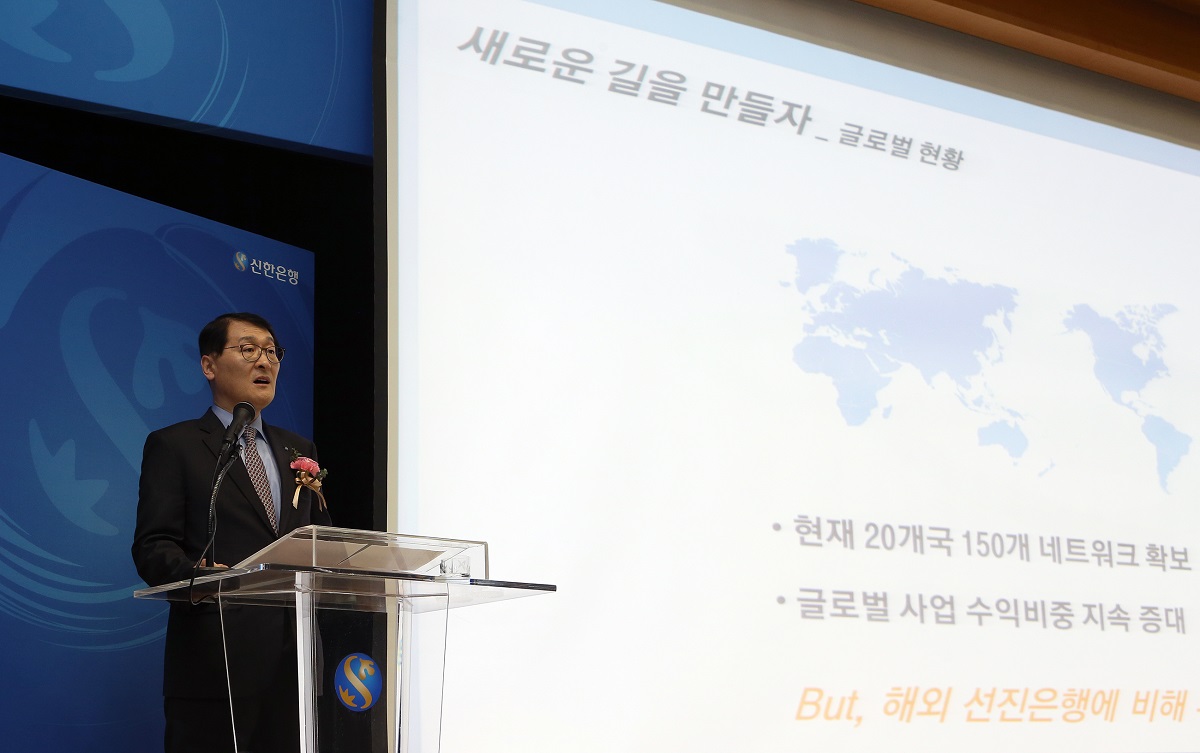 President Wi Sung-ho of Shinhan Bank makes his presentation as the new president of Shinhan Bank at his inaugural ceremony held on March 7 at the bank's auditorium in Seoul.