A mid the stark reality of tepid inter-Korean relations, resulting from North Korea's provocative nuclear and missile tests, 100,000 members of the civilian group Central Association for National Unification of Korea, known as Mintong, have volunteered to serve a cause of realizing the peaceful reunification of the Korean Peninsula.
Mintong joined forces with the Korean Senior Citizens Association (KSCA) to deliver to the people the message of hope for reunification and make preparations to that end. Mintong Chairman Lee Jeong-ik signed an MOU with KSCA Chairman Lee Sim to agree on the implementation of joint unification projects at the Conventional Hall of Chungmu Art Hall on March 15.
Among about 500 people on hand at the signing ceremony were Vice Minister Kim Hyung-seok of the Ministry of Unification; Mintong Chairman Lee; KSCA Chairman Lee; former speaker Kang Chang-hee; ex-Prime Minister Lee Soo-sung; Kim Min-ha, Mintong adviser; and Choi Yeol-gon, Minton adviser; and Sohn Jae-shik, Mintong honorary chairman. Also participating in the event were heads and executives of city and provincial chapters of Mintong, as well as city and provincial leaders of KSCA.
In a speech at the signing event, Mintong Chairman Lee compared KSCA's joining with Mintong's cause of unification to the launching of a 300,000 ton-class cruise liner. "I urge you to join forces and redouble efforts to realize all people's desire for unification." "The signing of the deal is made possible since we've felt the necessity of doing so with KSCA to implement unification projects, and I'm very pleased to make an alliance with the KSCA, one of Korea's largest civilian organizations," Lee said.
Under the stewardship of KSCA Chairman Lee, who takes the helm of the body under the catchphrase "from Seniors Served in the Past to Ones Steering This Society," Lee said the civic body has lots of missions to be accomplished.
KSCA conducted a campaign to raise money for the Unification Sharing Fund, which was launched by the vernacular daily Chosun Ilbo in July 2015. The body achieved charming outcomes: 1.5 million KSCA members joined the fundraising campaign for one month and donated a combined 1.5 billion won.
In a speech at the signing ceremony, KSCA Chairman Lee said, "KSCA has signed an agreement with Mintong to deliver a message of hope for unification."
Lee called for unification through sharing and giving, not by force. KSCA wants to promote people-to-people exchanges through its branches in 16 countries across the world. In particular, Lee said, KSCA wants to recruit Korean-Japanese who left the pro-Pyeongyang organization Chochongnyeon, but have yet joined the pro-Seoul body Mindan. In a commemorative speech, MOU Vice Minister Kim said, "Inter-Korean relations are not rosy, given the fact that North Korea conduced a nuclear test twice last year and test-fired mid- and long-range missiles on top of the recent terrorist act of assassinating (Kim Jung-nam) in Malaysia."
But Kim urged the participants to play a pivotal role in realizing the national agenda of unification by ramping up their determination and making joint efforts with the government to unify the Korean Peninsula.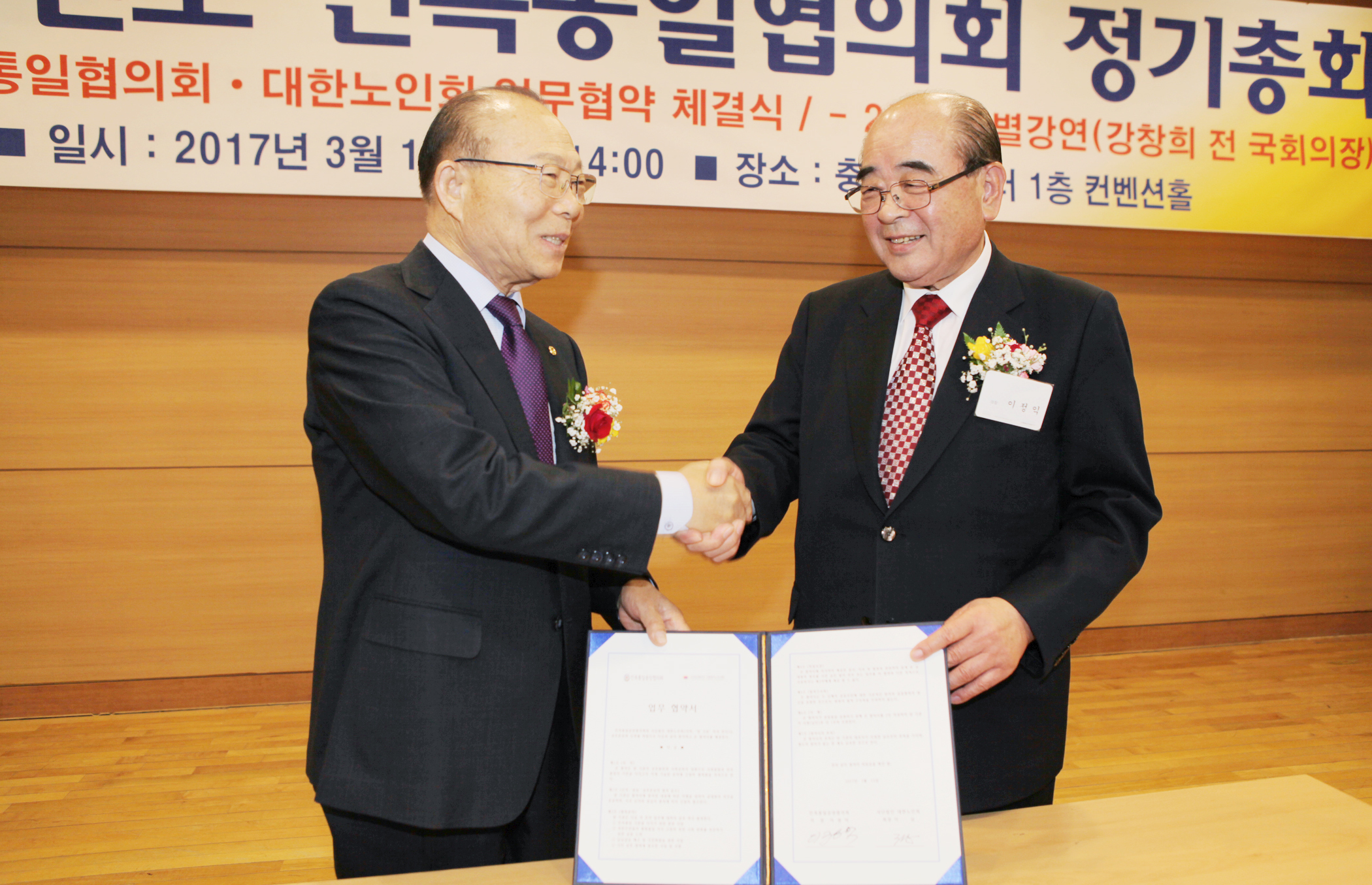 Mintong Chairman Lee Jeong-ik shakes hands with KSCA Chairman Lee Sim after signing an MOU on unification. (Photos: NewsWorld)
Spearheading Nationwide Civilian Movement for Unification
"I extend thanks to members who are engaged in unification drives at each district for a long period of time, and I want Mintong to continue its endless function of making people's desire and actions for unification part of their life," Mintong Chairman Lee once said. In an interview, Chairman Lee expressed a sense of pride over the outcomes of the nationwide convention. He also expressed appreciation for Mintong's members' dedication to the cause.
Mintong is a bipartisan, pan-national civic unification body established with the goal of nurturing national capabilities to realize the Republic of Korea's unification. The organization is designed to establish and implement unification policies to brace for "a united Korea" by coping with political situations of neighboring counties. Mintong dates back to the establishment of a small civic organization on Dec. 15, 1977, in which Lee Su-ja of the Institute of Unification Education spearhead the launching of a unification movement on a voluntary basis.
The body, which hosted a nationwide convention in 1970, was transformed into what is now known as "Mintong" in 1981 with the goal of making unifying the Korean Peninsula a civic movement. Since its establishment, Mintong has played a leading role in carrying out civic activities to bring about public awareness and build a foundation for unification, implementing projects to publicize unification, and establish peaceful views on unification and nurturing a desire for peaceful unification.
Mintong, headed by Chairman Lee, is a nationwide unification body with 17 city and provincial consultative councils as well as about 200 city, country and ward councils.
Approximately 100,000 members across the nation conduct such activities as the nurturing of unification proponent forces, public education, publication and public relations projects, and organizational management development. Mintong also hosts walkathons "to be in one mind toward unification," unification quiz contests and unification exhibitions, on top of a drive to share content on unification via mobile apps.
Since he took office, Chairman Lee has conceived and implemented projects to spread the work on unification nationwide, and publicize Mintong's activities. Chairman Lee has devoted himself to spearheading reforms at Mintong, which reached a point of inertia related to "organizational blinders" at an initial stage, and realizing its strategic tasks ― augmenting membership, expanding education on unification to primary and secondary school students and other youth, and securing an expanded budget.
Lee has been a corporate leader for 40 years and has a firm conviction for the unification of the Korean Peninsula. Mintong members across the nation continue to hold municipal and provincial conventions, lectures on unification, a project to support North Korean refugees, literature contests and other diverse projects. In particular, an annual literature contest on unification, one of Mintong's representative events, is designed to hammer home the importance of unification and its necessity via literature, spurring the restoration of the homogeneity of both Koreas and reawakening Korean people's future vision through co-existence.
Chairman Lee, regretting the reality of youth indifference toward unification, decided to embark on education initiatives. He has since expanded each district's lectures on unification at primary and secondary school students from once annually to five times a year. The move has been found to have a great effect in raising students' awareness toward the operative and necessity of inter-Korean relations and peaceful unification.
"Mintong is committed to nurturing youth as unification leaders, have people established with right views of unification by expediting the enlightening of the general public and imbuing them with a determination of unification," he said. Stressing that the expansion of inter-Korean people-to-people exchanges is a foundation for peaceful unification, Chairman Lee said, "Concern and support for North Korean refugees, which will be a strong unification asset in the future, should be expanded."
Following the signing ceremony, former Speaker Kang gave a lecture, titled "The Spirit of the Times to Overcome Difficulties: Noblesse Oblige." He cited exemplary practices of noblesse oblige ― a virtue in which leaders from several walks of life conduct sacrifices and fulfill their responsibilities ―in Korea and abroad.
Kang stressed a "me first" attitude in which people take responsibility for the cause. He called for "being honest," maintaining a humble heart for sharing, taking greater responsibility and enacting small, but important, contributions.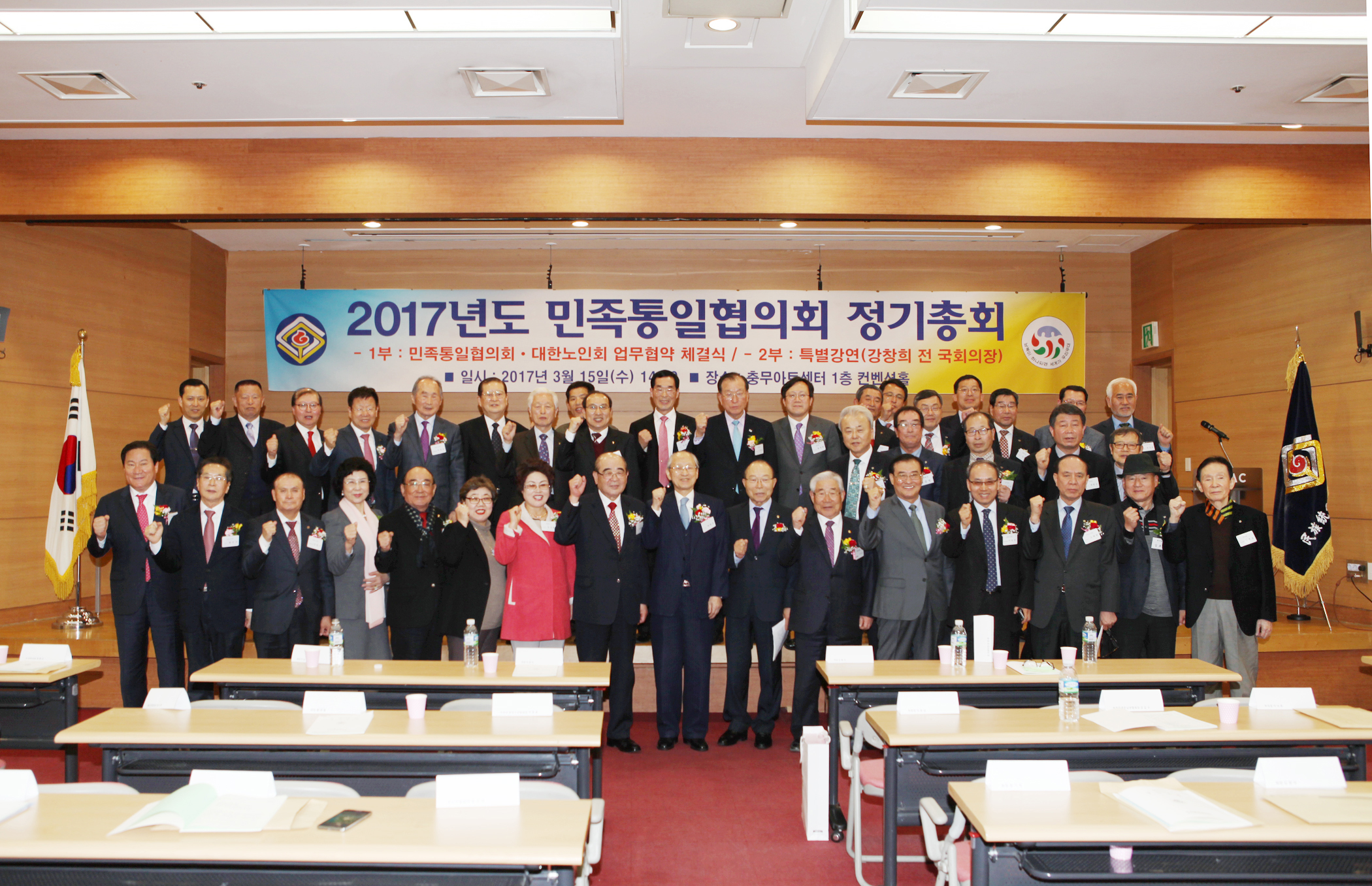 City and provincial chaper leaders from Mintong and Korea Senior Cizens Association gesture during a ceremony to sign an MOU on unificaiton.